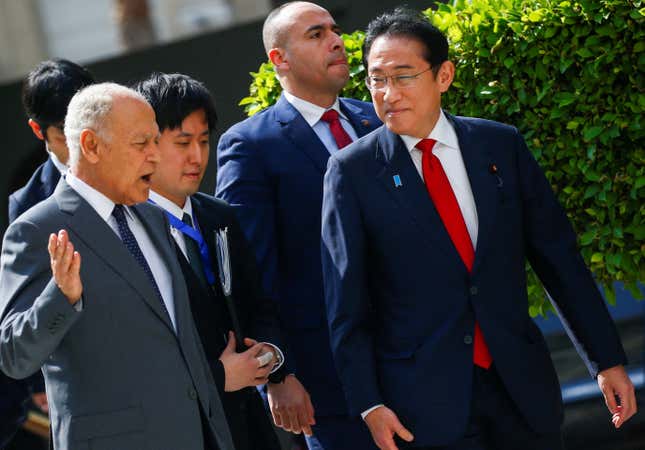 Japanese prime minister Fumio Kishida held talks with Egyptian president Abdel Fattah el-Sisi on April 30, on the first leg of a weeklong tour of Africa. The trip comes as the Japanese government looks to strengthen ties with the global south, ahead of hosting the annual G7 conference in Hiroshima this month.

How HubSpot created a "Connect Four" program
While in Cairo, Kishida addressed the Arab League—an influential confederation of Arab-majority countries—on the importance of strengthening the rules-based international order, invoking Russia's invasion of Ukraine as an example of deteriorating geopolitical norms.
Kishida also pledged additional humanitarian aid and economic support for the region, vowing to help resolve the ongoing crisis in Sudan.
This approach by the Japanese PM highlights a growing concern that the developing world is turning away from the US and its allies, and looking toward China and Russia for economic and diplomatic support.
Chinese president Xi Jinping and senior Chinese officials "have been going all over Africa and Latin America," Kishida has told aides, according to a report by Nikkei Asia. "At this rate, we'll lose to them."
Now, with the G7 countries poised to issue their strongest condemnation of the Russian invasion later this month, Japan sees the support of neutral parties in the developing world as crucial to isolating Russia on the international stage.
This strategy seems to be working: Just two weeks before Kishida's visit to Cairo, Egypt canceled plans to manufacture rockets for the Russian army and decided to supply Ukraine with ammunition instead.
China's economic influence in Africa
In addition to El-Sisi, Kishida is scheduled to visit Mozambican president Filipe Jacinto Nyusi, Ghanian president Nana Addo Dankwa Akufo-Addo, and Kenyan president William Ruto. Coincidentally or not, China has forged close ties with all of those countries in recent years.

China has invested heavily in Mozambique—one of the most resource-rich African nations—beginning construction on a new liquified natural gas project last November. It's expected to be the second-largest of its kind in the world, according to Chinese state media.
Just last month, Ghana's finance minister traveled to Beijing, where Chinese officials offered to restructure the country's debt to mitigate its ongoing economic crisis.
China is Kenya's largest global trade partner, with exports jumping 27% last year. Since 2000, Kenya's trade with China has increased nearly 30-fold. This economic boom has influenced the nation's perception of Beijing, with polling in 2021 revealing that the share of Kenyans holding positive views of China had climbed from 58% to 82% in just a year.
Japan's push in Latin America
It's not just Africa. Kishida's foreign minister, Yoshimasa Hayashi, is on a tour of five nations in Latin America, including Barbados, Chile, Paraguay, Peru, and Trinidad and Tobago.
According to Hayashi's office, the minister will discuss China's increased influence in the region, as shown by last month's decision by Honduras to switch diplomatic ties from Taiwan to China, not long after a Chinese company built a $300 million hydroelectric damn in the country, fully funded by Beijing.
Japan hopes to counter China's investments in natural resources development, specifically in Chile and Peru's mining sectors, with Beijing directing $73 billion toward Latin American raw materials extraction between 2000 and 2018.
Chile and Peru, along with Japan, are members of the Comprehensive and Progressive Agreement for Trans-Pacific Partnership (CPTPP), a trade deal China has repeatedly tried to join for broader access to South America's minerals market.
On his trip, Hayashi will likely encourage Peru and Chile to block China's admission to the CPTPP, citing the agreement's high standard for trade liberalization.
Related stories
💰Paraguay's presidential election is a referendum on China's dollar diplomacy in Latin America
🇨🇳 Lula's state visit to Beijing reveals Brazil's foreign policy balancing act
🌎 The world needs lithium more than ever, and Latin America knows it