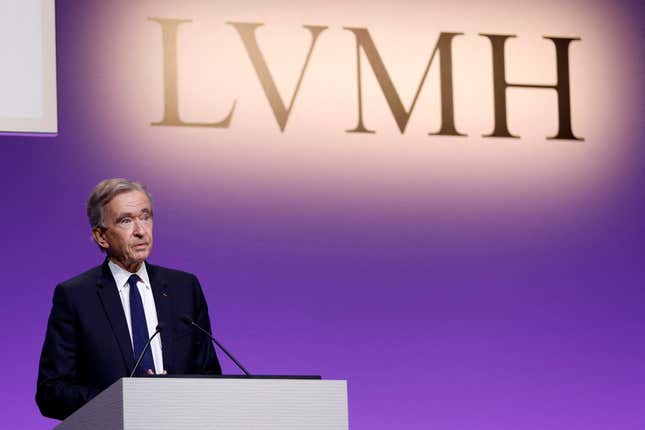 China's crackdown on technology firms and covid lockdowns had cooled foreign companies' enthusiasm for doing business in the country. Recent high-profile visits from global leaders signal a change is afoot.

This week, global business leaders—Tesla and Twitter chief Elon Musk, JPMorgan Chase CEO Jamie Dimon, Starbucks' Laxman Narasimhan—received a warm welcome as China tries to disperse fears that the world's second-largest economy is hostile to foreign capital.
Apple's Tim Cook and Pfizer's Albert Bourla visited the country in March, and GM's Mary Barra was there last week. Next in line is Bernard Arnault, CEO of French luxury giant LVMH, as Bloomberg reported today (June 1) quoting unidentified sources.
A bid to boost luxury sales in China
China is a key market for luxury companies. The country' pandemic-era lockdowns had squeezed luxury sales by 10% in 2022. But starting this year, luxury spending in one of the largest consumer markets in the world bounced back faster than the country's overall economy. In April, LVMH, the conglomerate that includes luxury brands such as Louis Vuitton, Tiffany & Co., and Dior, posted a 17% increase in its March quarter revenue from a year earlier.
The double digit growth in retail spending is not seen as sustainable since it reflected a rebound from covid lockdowns. Caution is creeping in.
Arnault's visit would come at a time when China's economic recovery has shown a loss of momentum. In May, the country's manufacturing activity contracted at a worse pace than expected, and services expansion also eased.
Uncertain time for luxury
Analysts expect demand in the US to cool as a rise in cost of living makes consumers less prone to luxury purchases. Deutsche Bank, in a research note last week, said that a slowdown in the US is "a building concern, especially given signs of softening demand from more economically sensitive aspirational consumers."
The note had an immediate impact on the shares of luxury companies. Arnault's LVMH slumped 8% in the past 10 days on looming worries about a slowdown in consumer spending in the US, which could hamper profits later this year. Arnault's net worth, a lot of which is tied to LVMH shares, plunged by about $16 billion in the same period, according to the Bloomberg Billionaires Index. The French billionaire lost his spot as world's richest person on that ranking as yesterday (May 31), with Musk reclaiming the top spot.
Musk's riches have swelled over the past month, with Tesla's share price rising 26%. Investors are betting on Musk's renewed focus on the electric vehicle manufacturer's ambitions since Linda Yaccarino is due to take over as Twitter CEO.

"Tesla investors are likely to celebrate this move too, with Musk's very hands-on approach at Twitter leading to concerns he had taken his eye off the ball at this EV giant," Sophie Lund-Yates, analyst at UK-based Hargreaves Lansdown told Reuters last month.