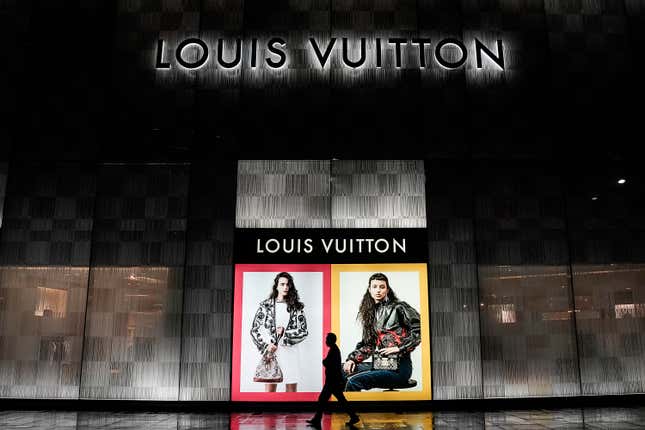 Luxury powerhouse LVMH reported a strong performance in its second quarter earnings released today (July 25) as consumers in Asia and Europe fueled its sales growth despite concerns of a spending slowdown in other markets.

Why a tightening of credit conditions could lead to a weak economy
Revenue in Asia, excluding Japan, rose 23% (pdf) compared to the same period a year ago, as the continent continues to be a lucrative market for the $500 billion company. Sales in the region had already jumped 14% in the first quarter of this year as China emerged from zero-covid restrictions.
Europe also proved a bright spot in LVMH's results, with sales rising 22% year-on-year. US demand, however, was weaker compared to other regions, increasing just 3% compared to the same period last year. Deutsche Bank analysts noted in May that investors should keep an eye on a drop in US luxury consumption, sparking a selloff that month erased billions from luxury companies' valuations. LVMH's stock took a 5% hit at the time, but has since partially recovered.
Stock rout aside, LVMH's business has proven robust despite soaring inflation, a war in Europe—which caused the company to suspend operations in Russia, with one brand, Sephora, exiting the market altogether—and economic turbulence. Though luxury brands have continued to mark up prices, it has not appeared to impact affluent customers' appetites for expensive goods.
The majority of LVMH's business segments, including fashion and leather goods—a core part of the French conglomerate's sales—saw double digit growth in revenue. A rebound in Asian markets, thanks in part to China's relaxing of covid restrictions, has also buoyed LVMH's business growth.
LVMH's 2023 second quarter results, by the digits
$46.6 billion (€42.2 billion): Revenue, up 15% year-on-year
17%: Increase in sales, compared to the previous year
50%: Reduction in operating free cash flow due to investments in real estate and inventory like jewelry
Bernard Arnault is courting the Chinese market
LVMH CEO and chairman Bernard Arnault visited China in June, his first trip to the country since its zero-covid rules were dropped, where he was spotted at a luxury mall in Beijing before making stops in Chengdu, Shanghai, and Hong Kong.
The French billionaire and the world's second richest person was one of several chief executives making the rounds in China last month, which remains a key market for American and European companies alike. Luxury shoppers in Asia, especially in China, have been the drivers behind LVMH's surge in sales post-covid.
In June, LVMH opened a sprawling new Sephora in Shanghai, marking another effort to tap into the Chinese market. The so-called "Store of the Future" is part of the company's "ongoing commitment to deepen…engagement" with China's beauty community, said Maggie Chan, managing director of Sephora Greater China, in a press release.
Chinese consumers are projected to spend $444.7 billion on luxury goods in 2023, according to market research firm Euromonitor, as reported by the South China Morning Post. LVMH reported that 37% of its revenue came from Asia in 2022.
One more thing: LVMH is a partner of the 2024 Paris Olympics
LVMH confirmed on Monday (July 24) that it will sponsor the Olympic and Paralympic Games held in Paris next year. The group's brands, including Dior, Louis Vuitton, Chaumet, Moët Hennessy, and Sephora will be directly involved in designing or sponsoring aspects of the event, from refreshments to medals to the Olympic Torch Relay.
The fashion group has committed $166 million (€150 million) towards supporting the games, according to Bloomberg. LVMH also supported the Paris organizing committee's bid to become host for the 2024 Summer Olympics, providing $2.3 million in backing.
"Sports is a tremendous source of inspiration for our Maisons," said Arnault in a statement announcing the partnership.
Related stories
🧒 When did customers of luxury brands get so young?
💪 Here's where the strong dollar is making luxury goods cheaper
💎 Russians are scooping up luxury goods and electronics as a wartime hedge