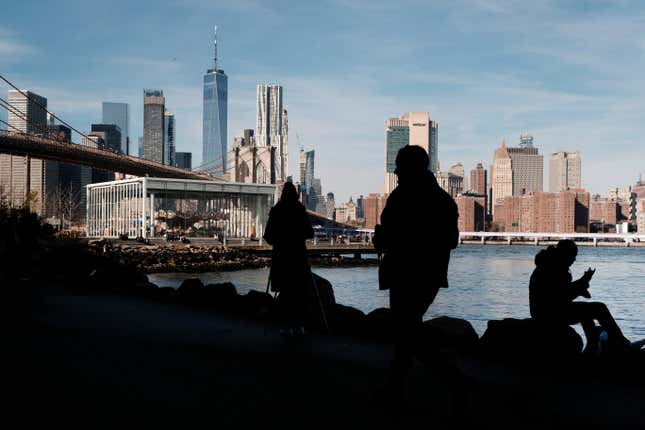 Spring has sprung in Manhattan, and so have rental prices.

A new report from Douglas Elliman, a real estate brokerage, and Miller Samuel, an appraisal and consultancy firm, found that rent in Manhattan reached record highs in March. Prices for renting an apartment hit a median of $4,175 (pdf), breaking the previous record of $4,150 set last July.
Ben Emons Part 2: The Fed, Apple shares
Compared to last year, median rental prices in Manhattan rose 10.7%, but that doesn't appear to have cooled appetite for new leases. According to the report, March signings were at the second highest level on record, while new listings also increased for the fifth month in a row.
Manhattan wasn't the only borough hit with higher rent. Median rental prices in Brooklyn jumped 16.4% year on year, reaching $3,493. Northwest Queens, which includes the neighborhoods of Astoria, Long Island City, and Sunnyside, saw a 13.9% increase year on year, reaching $3,300.
The peak season for New York City rentals runs from July to August, meaning that prices could be pushed even higher this summer. That possibility appears to have been on apartment shoppers' radars: The market share of two-year leases increased 56.3%, hitting a 20-month high, as tenants have sought to lock in rental prices at their current level.
Manhattan's rental market in March, by the digits
$4,150: Median rental price for a one-bedroom apartment
$5,680: Median rental price for a two-bedroom apartment
2.54%: Vacancy rate, up 1.2% from the previous year but below the decade average of 3% for March
39: Days on the market, down from 61 days in March 2022
43.5%: Increase in new leases from March 2022
New York City has seen a post-covid population rebound
During the pandemic, New Yorkers left the city in droves. According to data from the New York City Comptroller's Office, in 2020, the number of change of address requests to move out of the city topped 837,000 (pdf), marking a 36% increase from the year prior. Manhattan, out of all the boroughs, saw the greatest number of move outs which may have been a reflection of the island's higher number of transient residents, as well as wealthier population who had the means to make a sudden move.
But the exodus was only temporary. When New York City reopened in September 2021, there was a migration back into the city. Fourteen neighborhoods, including nine in Manhattan, even saw net residential gain that exceeded pre-pandemic trends.
That trend continued into 2022—Manhattan saw an increase of 17,472 residents, marking the greatest population comeback in the US at the time, according to a New York Times report. Much of that growth was due to international migration.
Related stories
🏠 New Yorkers should expect lower rents in 2023, but no big discounts
🌆 This building was designed to be the ultimate residence for the hybrid post-covid lifestyle
😕 NYC's new plan to forcibly hospitalize homeless people is a waste of taxpayer money