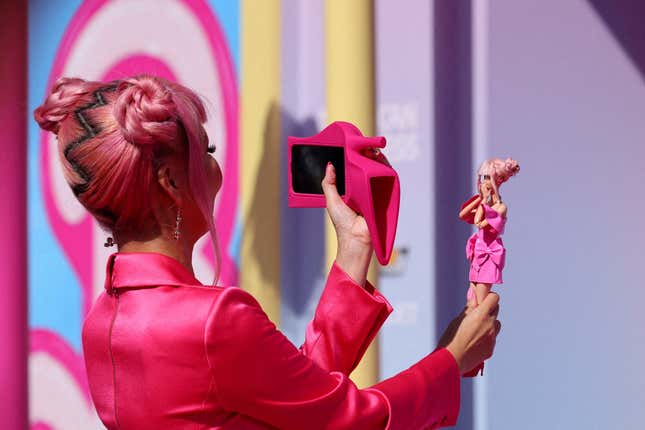 Mattel's toy sales have been flagging for months, but it has a strategy: more films like Barbie. The company has announced a slate of dozens of toy movies in development, to get those toys flying off the shelves.

Should you keep investing in Big Tech?
The movie lineup is nothing short of eclectic. In the works is a live-action film about the gummy, clamshell-dwelling Polly Pocket, one about the View-Master stereoscopic goggles that debuted in 1939, and another about Barney, the enthusiastically despised dinosaur.
Mattel is offering up its untapped toy IP to Hollywood executives, hoping that it can be molded into a money-making, Marvel-styled franchise. Whether that strategy will work remains to be seen. Hasbro, another US toy conglomerate, took a stab at its own cinematic universe in the 2010s. It has flopped quietly.
Barbie has given the struggling Mattel financial hope
Making big movies is a risk, but Mattel is willing to take it. The company's sales were down 12% in the second quarter compared to the year prior, according to its earnings report released yesterday (July 26), while its adjusted operating income plummeted by $47 million—a nearly 60% drop compared to last year. Mattel also announced that its president and COO Richard Dickson is departing for Gap.
Greta Gerwig's Barbie, which is having its pop culture moment, has revealed a potential financial lifeline. The movie raked in $155 million in the US in its opening weekend, smashing multiple box office records in the process. Mattel's stock has seen a nearly 20% surge, leading up to and following the film's release. Meanwhile, Gerwig's feminist spin on the plastic doll has also lent it an appealing sheen for younger consumers.
"The Barbie movie is a showcase for the cultural resonance of our IP," said Ynon Kreiz, Mattel's CEO and chairman, in an earnings report statement. "This also speaks to the potential of Mattel Films and the significant progress of our strategy to capture the full value of our IP."
Mattel isn't playing around when it comes to its film strategy: no fewer than 45 movies based on its toy brands are in development, according to The New Yorker. Fourteen of those movies have already been formally announced, including a Polly Pocket film directed by Lena Dunham and starring Lily Collins, and a Hot Wheels film produced by JJ Abrams's Bad Robot studio.
All the films announced so far for the Mattel Cinematic Universe
🇺🇸 American Girl
🦖 Barney
🎈 Christmas Balloon
🛞 Hot Wheels, with JJ Abrams's Bad Robot
🎱 Magic 8 Ball
👨‍🚀 Major Matt Mason, starring Tom Hanks
⚡ Masters of the Universe
🚗 Matchbox
💅 Polly Pocket, with Lena Dunham, starring Lily Collins
🤖 Rock 'Em Sock 'Em Robots, with Vin Diesel's One Race Films
🚂 Thomas & Friends
🃏 UNO
🥽 View-Master
🐶 Wishbone
Can Mattel succeed where Hasbro failed?
Mattel's chief competitor Hasbro, maker of toys like GI Joe and Transformers, embarked on its own multi-film endeavor in the 2010s, but so far, it has failed to take off. Screenwriters Michael Chabon and Brian K. Vaughn, as well as the filmmaker Akiva Goldsman, were brought on board in 2016 to map out a story connecting the GI Joe, Micronauts, Visionaries, M.A.S.K. (Mobile Armored Strike Kommand), and ROM toys.
Paramount released several preambles to their yet-to-launch Hasbro universe. Two films in a G.I. Joe trilogy were released, one in 2009 and another in 2013, both of which had turned a profit but received middling to negative reviews. (In a so-bad-it's-good review, critic Alan Scherstuhl called G.I. Joe: Retaliation "dumb as cattbutt.") A GI Joe reboot film, Snake Eyes, was released in 2021 and bombed, earning just $13 million. The third film in the trilogy, G.I. Joe: Ever Vigilant, is rumored to have been shelved.
Grand plans for other Hasbro movies have yet to take shape. A crossover film between Transformers and GI Joe is reportedly meant to launch the cinematic universe at some point, but no date has been set for release.
Related stories
🤔 Why do most movie sequels fail?
🎞️ No one needed Barbenheimer more than AMC