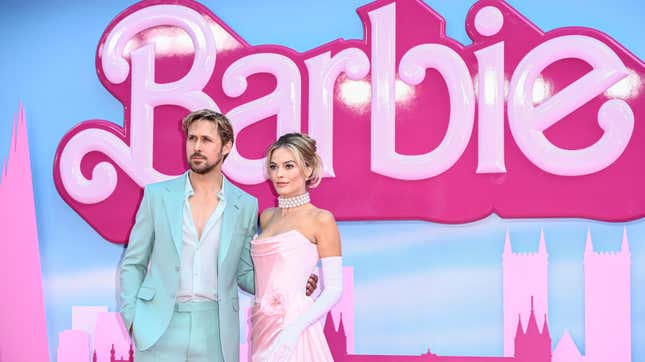 For all the hype about the "Barbenheimer" double billing, one of the two movies was more of a priority than the other for US moviegoers this past weekend. The Greta Gerwig-directored Barbie movie amassed over $155 million at the US box office, while Christopher Nolan's Oppenheimer scored a more modest but still impressive $80.5 million. Barbie's opening US weekend box office is one for the books: it's the biggest of the year so far and also the biggest US box office opening for a female director ever.

Why a tightening of credit conditions could lead to a weak economy
The result was replicated overseas, too. The R-rated historical drama Oppenheimer, based on the book American Prometheus, raked in another $93.7 million. Barbie, in which the world's most popular doll faces an existential crisis, had it beat abroad, too, making over $182 million outside the US.

The movies, which have a combined running time of about five hours, were expected to provide a boon for US theatres. The National Association of Theatre owners projected that more than 200,000 moviegoers would attend same-day viewings of the two films. Movie chain AMC Theatres said 40,000 double-feature tickets had already been sold last week.
A non-exhaustive list of what may have given Barbie an edge over Oppenheimer
👧 The Margot Robbie- and Ryan Gosling-starrer Barbie is a PG-13 entertainer targeted for everyone—the tagline literally says it's for everyone who loves Barbie and for everyone who hates Barbie. Oppenheimer, which tells the story of American scientist J. Robert Oppenheimer and his role in the development of the atomic bomb, boasts of a star-studded star cast in Cillian Murphy, Robert Downey Jr., Emily Blunt, Florence Pugh, Matt Damon, and Rami Malek, but it is R-Rated.
😍 Barbie mounted a marketing campaign for the ages, creating buzz with merchandise and fashion-focused red carpets. Barbie doll creator toymaker Mattel and Warner Bros. went all out forging over 100 partnerships, from creating custom Crocs to tailoring a special Prada line to launching a bright fuchsia Xbox to listing a Barbie dreamhouse on Airbnb, among other things. (All of this happened before the Hollywood actors strike began.)
The records Barbie broke, by the digits
$153 million: Captain Marvel held the title for the largest opening for a female-directed film stateside before Barbie. The Marvel movie was co-directed by Anna Boden and Ryan Fleck, though. The biggest solo female director opening, until now, was Patty Jenkins' Wonder Woman at $103 million
$16.5 million: The biggest domestic opening director Greta Gerwig clocked before Barbie, with her 2019 film Little Women during Christmas weekend
$134 million: How much 2021 release Suicide Squad, Margot Robbie's biggest opening until Barbie, made during its opening weekend
$32.8 million: Ryan Gosling's largest domestic opening prior to this was 2017's Blade Runner 2049 
Company of interest: Warner Bros.
Over the years, Nolan's biggest titles, including The Dark Knight trilogy, Inception, Dunkirk, and Tenet, were backed by Warner Bros. But for the first time in 20 years, the Burbank, California-based studio didn't back his project.
In 2021, a disgruntled Nolan parted ways with the studio over its decision to put its entire 2021 movie slate simultaneously on HBO Max, even though the one-year arrangement didn't apply to his current or future movies. Universal then stepped in to sponsor the $100 million drama about J. Robert Oppenheimer and the creation of the atomic bomb.
As the studio behind Barbie, Warner Bros. turned box office foe for Nolan.
One more thing: The "Saw Patrol" double feature
Horror flick Saw X and kids film PAW Patrol: The Mighty Movie are set to be released together on Sept. 29, and their respective studios have begun a tongue-in-cheek competition inspired by Barbenheimer. Entertainment company Lionsgate, which moved up the Saw X release by a month, tweeted "Reporting for Saw Patrol, sir." Paramount Pictures quote-tweeted a post about the double billing, asking for seven tickets.
Related stories
🗺 Vietnam banned the Barbie movie because of a dispute in the South China Sea
🎟️ No one needed Barbenheimer more than AMC