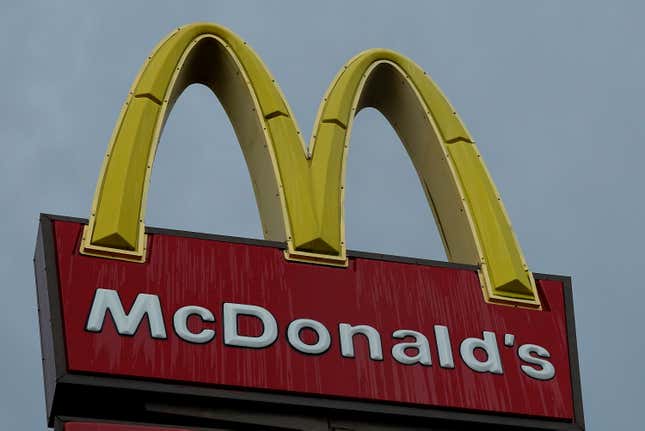 Three McDonald's franchisees in Kentucky were fined for violating federal child labor laws.

Marcus Samuelsson on the New York City restaurant scene
In a statement released May 2, the Department of Labor (DOL) announced that Bauer Food LLC, Archways Richwood LLC, and Bell Restaurant Group LLC would face a total of $212,544 in civil penalties for the violations.
Across the three operators, investigators discovered that 305 children worked hours exceeding or outside of federal limits, and performed jobs forbidden to minors. One restaurant in Louisville, Kentucky employed two 10-year-olds who, at times, worked until 2am and were unpaid, according to officials.
"Too often, employers fail to follow the child labor laws that protect young workers," said Karen Garnett-Civils, wage and hour division district director in Louisville, in a statement. "Under no circumstances should there ever be a 10-year-old child working in a fast-food kitchen around hot grills, ovens and deep fryers."
Bauer Foods, which operates 10 McDonald's restaurants, said that it did not authorize the work. "The two 10-year-olds allegedly employed were children of a night manager who were visiting their parent at work and were not approved by franchisee organization management to be in that part of the restaurant," the operator said in a statement emailed to Quartz.
A McDonald's executive said the company was troubled by the findings of the DOL investigation. "These reports are unacceptable, deeply troubling and run afoul of the high expectations we have for the entire McDonald's brand," said Tiffanie Boyd, senior vice president and chief people officer of McDonald's USA in an email to Quartz.
What other child labor violations were committed at McDonald's operators?
According to the DOL, Archways Richmond LLC, which operates 27 McDonald's restaurants, employed over 240 minors, aged 14 to 15, who worked beyond legally acceptable limits and outside of the permitted times of day. Quartz contacted the operator for comment, but did not immediately receive a response.
Meanwhile, Bell Restaurant Group allegedly employed 39 minors of the same age range and violated work hour restrictions, including employing two children during school hours. Quartz was unable to contact Bell Restaurant Group LLC for comment, while its umbrella company, Brdancat Management Inc., refused to comment.
It is not the first time that McDonald's franchises have been charged with breaching child labor laws.
Last June, a McDonald's franchisee in Tennessee was charged over $3,000 after a 15-year-old suffered burns while using a deep fryer. In December, the DOL found over 100 violations occurred in McDonald's restaurants in the Pittsburgh area. Most recently, in February the DOL charged seven restaurant locations in Erie and Warren, Pennsylvania with over 150 violations of labor protections for minors.
Is McDonald's legally responsible for the child labor violations?
In short, no. In 2019, McDonald's scored a landmark legal victory: the National Labor Relations Board approved a settlement in a case that found it is not responsible for labor violations at restaurants run by independent operators. The decision has allowed the fast food giant to maintain its lucrative franchise model.
But that decision now appears to be working against McDonald's upper management. Amid mounting labor violations, it has been seeking to tighten rules on its franchises while still shirking responsibility as a "joint employer."
Given the earlier ruling, many independent owners are pushing back on McDonald's efforts to tighten the reins, claiming that if it doesn't want shoulder legal liability, it has no say in the operations of franchisees.
Related stories
🪢 McDonald's wants to tighten franchise rules, and restaurant owners are not lovin' it
😶‍🌫️ McDonald's ex-CEO is paying an extra $400,000 for obscuring the reason behind his termination