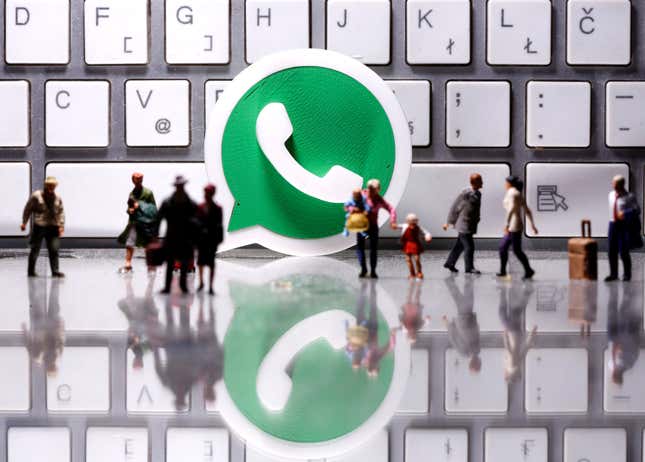 Zoom, the video call platform that shot to popularity during the covid pandemic is about about to lose its market share to a more powerful competitor—Meta's WhatsApp.
WhatsApp, used by billions around the globe for text-based chatting, video, and voice calls, has announced that it is introducing a feature that allows users to share their screens during a video call. Beta testing of the feature is complete, and Meta has started rolling it out in phases across Android, iOS, and Windows desktop platforms.
Zoom's user data backlash could hurt its chances
Fresh from a backlash after it changed its terms of service to give itself rights to user data, Zoom's core business faces its biggest threat yet, given WhatsApp's high global monthly user base of over 2.7 billion people. In April, Zoom said it helps just "over 300 million daily meeting participants stay connected." This is just 11% of WhatsApp's user base.
As Zoom fights claims that it plans to use user data to train its AI models without their consent, WhatsApp users are getting the option to share their entire screen or an app on their smartphones, the same way it works with Zoom and Google Meet.
While Zoom still maintains a leading market share of the global video call industry, it is the ability of WhatsApp's new feature to support video calls in landscape format that threatens to eat into its revenues. WhatsApp's convenience is pegged on a user's mobile contact list, making it a popular option for informal meetings, such as checking up with friends and family, planning birthdays, or celebrating weddings and parties. Incorporating formal work meetings takes a bite out of Zoom's bread and butter. 
WhatsApp has more features
Meta, which reported a 16% rise in profits in the second quarter of 2023 to $7.8 billion, has the financial muscle needed to propel WhatsApp to becoming the go-to platform for any kind of meetings. In February, WhatsApp introduced a picture-in-picture feature for video calls done on Apple phones. Last month, it started allowing users to share short video messages in chats. Now, Meta's plans to offer the enhanced WhatsApp video call features for free for a maximum of 32 users further thwarts Zoom's efforts at retaining users in the post-pandemic era.
As more companies, including Zoom itself, ditch full remote work and tell their employees to adopt a hybrid working environment, the videoconferencing darling's stock price has tanked 39% in the past year. Online revenue fell 8% in the last quarter, and its valuation may never be as high as during the pandemic.
Meta has been experimenting with video calls on WhatsApp since 2016, and its latest move has its eyes set on gaining a substantial share of the global video conferencing market, which is projected to grow from $7.76 billion in 2023 to $17.05 billion by 2030.