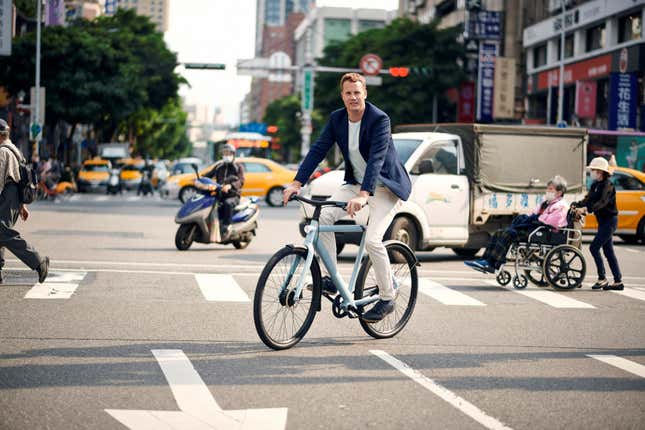 Micromobility.com, an e-scooter company quoted in Nasdaq, has put in a bid to buy VanMoof, a Dutch e-bike start-up that declared bankruptcy last month. The announcement is sure to increase interest in the little-known Italian-turned-American company, whose share price plunged below $0.1 in recent weeks, putting it at risk of being delisted from the stock exchange.

Why a tightening of credit conditions could lead to a weak economy
An initial non-binding offer has already been submitted to VanMoof, according to a statement issued on Monday (July 31), while a binding offer is expected to be ready on Friday (Aug. 4), micromobility.com CEO Salvatore Palella said on a Spaces call today (Aug. 1). No financial details have been disclosed.

The Amsterdam-based company, once dubbed the "Tesla of e-bikes," announced its bankruptcy on July 17. The news came as a surprise for a startup that once called itself "the most funded e-bike company in the world" after raising $128 million in a single funding round in September 2021. Costly maintenance for the bikes, as well as the use of only proprietary parts, may have contributed to the company's demise. VanMoof said it was legally not allowed to comment at this time on its bankruptcy when contacted by Quartz.

"We love the VanMoof brand," said Palella on the call. He discussed VanMoof's community of customers as a key reason for micromobility.com's interest in the brand, and said they'd keep the stores open. On Spaces, Palella also addressed the result of a recent social media poll where he asked followers whether he should stay on as company CEO. Of the 1,152 votes received, 80.4% expressed a preference for "time for a change." Palella said he got the message, and would be looking into the possibility of succession.
VanMoof's would-be buyer, Micromobility.com, is facing its own financial troubles
Last year, Bolt Mobility, a Florida-based e-bike service co-founded by Olympian Usain Bolt, mysteriously dropped off the map. Its domain, micromobility.com, was then purchased by e-scooter company Helbiz, according to a report from TechCrunch, which then rebranded itself after the domain.
The move was an apparent attempt to recover from Helbiz's Nasdaq delisting. The company, which went public in August 2021 through a merger with a special purpose acquisition company (SPAC), first received a delisting notice in July 2022 after its stock closed below $1 per share for over 30 consecutive business days, and received another notice in January after failing to fulfill the Nasdaq's audit committee rules. The company announced a reverse stock split and a new ticker symbol, MCOM for micromobility.com, in March, after falling out of compliance with Nasdaq rules.
Earlier this year, the newly branded micromobility.com also launched its e-commerce platform and announced plans to open a chain of physical stores, beginning with a shop in New York City's SoHo.
But according to an SEC filing (pdf), and first reported by TechCrunch, Helbiz only had $429,000 in cash and cash equivalents at the end of 2022, and reported a $82 million net loss, calling into question how it could afford a physical store, let alone purchase VanMoof. Quartz contacted micromobility.com with questions on its financial situation.
James Gross, CEO and co-founder of Micromobility Industries, attributed micromobility.com's financial survival to its signing of a Standby Equity Purchase Agreement (SEPA) with New Jersey-based fund Yorkville Advisors.
"Micromobility.com has to stay in the press to keep retail investors buying their stock. They have an agreement with another fund that will continue to let them borrow money as long as they can get discounted shares," he explained in an email to Quartz. "If retail investors are entertained by headlines like 'We put in a bid to buy Vanmoof,' the money printer continues. If retail leaves them for another junk stock, it is over."
Charted: Micromobility.com stock has tanked over the past year
A list of Micromobility.com's services, past and present
🛴 Rentals of the Wheels e-bike, a brand that was acquired in 2022 
🚴 Ridesharing for e-scooters, e-bikes, and mopeds, operating in over 40 cities across the US and Italy, with Serbia coming soon
💵 Retail of e-scooters, e-bikes, and other merchandise in the US
🍔 Food delivery operating in Milan, New York, Los Angeles, and Austin, Texas
⚽ Sports live streaming service in Italy (now ended)
VanMoof customers are in a state of limbo
In the wake of Vanmoof's bankruptcy, there has been confusion among its customers regarding the future repair and maintenance of the high-end bikes, which sell for over €2,000 ($2,250) each. The company has issued its own assurances.
"Your bike will remain functional and rideable, as we aim to keep our app and servers online and aim to secure the ongoing services for the future," VanMoof stated on its website. Deliveries and repairs, however, have stopped with no timeline for when they might restart.
As a failsafe, a Belgian e-bike company called Cowboy has developed a free app for VanMoof-ers, called Bikey. The app can save the e-bikes' unique digital keys should VanMoof servers go offline. "Just generate your local key and enjoy peace of mind again," reads the app description, a sly reference to VanMoof's once-touted (now defunct) "Peace of Mind'' bike maintenance and security services.
Related stories
🚲 Quartz Obsession: Micromobility
🛴 Parisians overwhelmingly voted to ban rented electric scooters
💭 Micromobility companies wanted to change the world. Did they succeed?