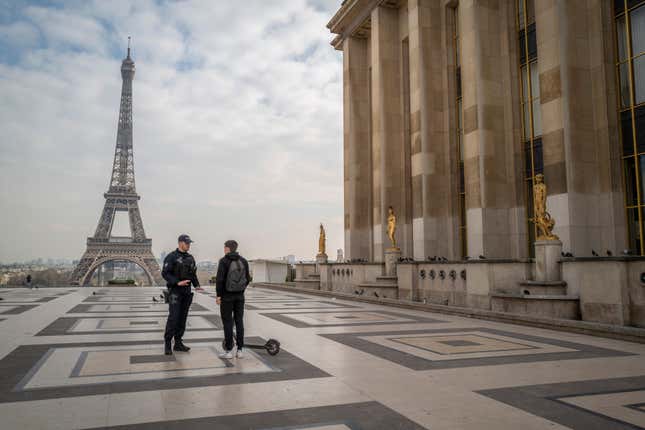 Residents of Paris overwhelmingly voted to ban rented electric scooters, with 89% choosing to restrict the devices in a low-turnout municipal election on April 2. Only 100,000 Parisians voted, a fraction of those eligible.
Change stalled? How to unite different teams around a goal
The decision reflects a growing frustration with the public transit alternative, with Paris mayor Anne Hidalgo describing the machines as a "nuisance." The vote is a blow for e-scooter companies in a major global market, given that more than 20 million e-scooter trips were reported in Paris last year.

"It's a great victory for local democracy," Hidalgo said at a press conference announcing the results, pledging that the scooters would be off the road by September.

The French National Academy of Medicine endorsed the ban, calling the ubiquitous devices a "major health problem." The French National Road Safety Department said that more than 500 people in France were seriously injured while riding an electric scooter last year.
Currently, only a handful of e-scooter companies are permitted to operate in Paris—established US player Lime, as well as European startups Dott and Tier—all of which vigorously campaigned against the ban.
Representatives for the companies argued that the low voter turnout discriminated against young voters, who make up the majority of e-scooter users. They added that the three operators hoped to negotiate new regulations that could help avoid an outright ban.

E-scooter companies are also concerned that the vote could set a precedent for other big European cities to push ahead with similar restrictions, especially tourism hubs like Rome and London.


E-scooters in Paris, by the numbers:
20 million: E-scooter trips reported in Paris in 2022.
34: People who died in e-scooter accidents in France last year, when 570 were seriously injured.
3: E-scooter rental companies now operating in Paris. They must remove all scooters from the city by September.
2018: Year Lime, the first major entrant into the Parisian e-scooter market, started renting in the city.
€1: Cost ($1.09) to unlock a Lime scooter in Paris. After that, it costs €0.15 (16 cents) for every minute of additional riding.
€1.90: Cost ($2.07) of a one-way metro ticket, including connections, in Paris.


What e-scooter companies are currently in Paris?
Lime: One of the first serious e-scooter players, Lime was founded in 2017 in San Francisco. It sells short-term rentals for bicycles as well as scooters, and is reportedly considering an IPO.

Dott: This Amsterdam-based heavyweight operates over 50,000 scooters in 35 cities across Europe. Dott reported a 94% annual increase in rides last year.
Tier Mobility: A German e-scooter and bicycle company, Tier rents its vehicles in 16 European countries and has raised more than $560 million in initial fundraising campaigns.


The Silicon Valley ethos behind the origin of e-scooters
Electric scooters have exploded in popularity around the world, appearing in major cities overnight as part of a shoot-first, ask-questions-later business approach taken by many Silicon Valley–inspired start-ups.

When Bird—the first large-scale renter of e-scooters—launched in Santa Monica, California, in 2017, hundreds of vehicles appeared, literally overnight, without any invitation. No laws specifically banned Bird's scooters; in fact, there weren't any laws regulating e-scooters hired via an app. The company had found a legal gray area, and with it, lots of profit.
As Bird expanded across the US, as well as internationally, many dismissed the e-scooter as a novelty product. But it was low-cost transportation, tailor-made for navigating sprawling cities, and it had staying power. Within a year of its sneaky launch, Bird was valued at roughly $2 billion.

Within two years, Bird was in 120 cities worldwide and had spawned countless rivals hoping to cash in on the soaring demand. Now, e-scooters are common sight anywhere from New York to Shanghai.

Although there have been frequent calls for increased regulation, the Paris ban arguably represents the strongest obstacle yet for the rapidly growing industry. With the e-scooter market expected to reach $51 billion by the end of the decade, the ripple effects of the decision could be monumental.
Related stories:
🇪🇸 Spin is pulling out of cities that won't regulate e-scooters
🇮🇳 Safety fears singe India's e-scooter market