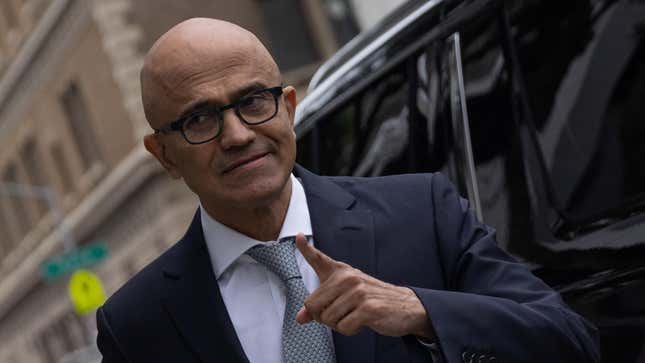 Microsoft shares fell more than 3% on a fiscal fourth-quarter earnings report that was heavy on optimism for artificial intelligence but light on revenue growth from the company's workhorse cloud business.
Earnings expectations for Microsoft and other tech giants
"Every customer I speak with is asking not only how but how fast they can apply next-generation AI to address the biggest opportunities and challenges they face and to do so safely and responsibly," Microsoft CEO Satya Nadella said on an earnings call with investors, name-checking companies from Mercedes to IKEA to Airbnb as examples of businesses using AI.
For the three months ending June, Microsoft posted total revenue of $56.2 billion, up 8% from a year ago. Revenue was driven by cloud computing services, which can be found in a range of Microsoft's products from commercial office products to AI-related products. Microsoft Cloud's quarterly revenue rose to $30.3 billion, up 21% year-over-year.
But Microsoft's Azure cloud services unit showed revenue growth was below Wall Street estimates. Azure, which provides infrastructure that AI services run on, and other cloud services revenue grew 26% in the fourth quarter, compared with 27% in the previous quarter, the company reported. "It remains early when it comes to long-term cloud opportunity," Nadella said. Amy Hood, Microsoft's chief financial officer, said the company saw a record number of $10 million contracts for both Azure and Microsoft 365, suggesting a growing interest in AI-fueled products.
Microsoft's stock has benefited from its AI potential
The AI hype has propelled many tech stocks this year, including Microsoft, which is up 46% so far this year. Investors were eyeing Microsoft's earnings to determine whether the optimism has been warranted.
Microsoft, which invested more than $10 billion into OpenAI, said it plans to charge businesses $30 per user for the use of its AI copilot to help analyze data in Excel and summarize meetings in Teams. Earlier in the year, the company announced it will add ChatGPT to its Office tools and its Bing internet search brand.
The opportunity for Microsoft is big. Hood told investors that for the full year of 2024, the company expects Azure and other cloud services revenue to grow another 25% to 26%.
Growth from Microsoft's AI products will be gradual
The AI future, however long it takes to materialize, will be costly, as generative AI tools require servers with specialized chips. Hood said Microsoft expects to increase capital expenditures in each quarter of 2024 as it scales to "meet demand signals" from customers. "Even with strong demand and a leadership position, growth from our AI services will be gradual as Azure AI scales and our copilots reach general availability dates," said Hood. For investors, the question right now is not how much the world uses AI but when.