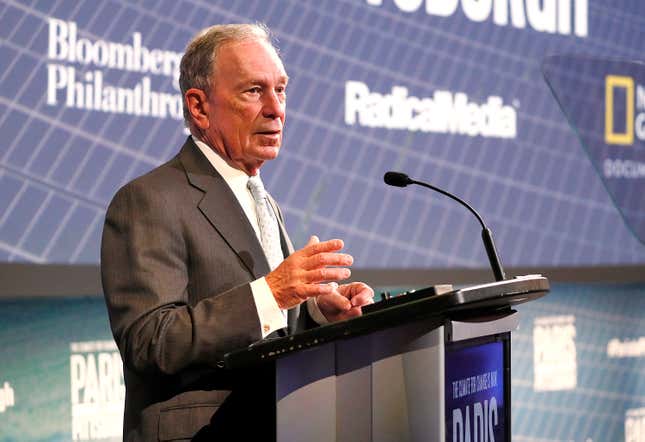 Mike Bloomberg, the billionaire founder of Bloomberg LP, plans to leave his media and financial information juggernaut to his charity, a spokesperson for the business confirmed, clearing up years of speculation about what will happen to the company when its 81-year-old leader steps back.
Eric Beiley Part II: Where rates are heading
Bloomberg is worth an estimated $94.5 billion, most of which comes from his 88% ownership stake in Bloomberg LP. While it is unclear how much the company is worth—Bloomberg is a private company and not required to share that information—the donation could end up becoming the largest private philanthropic contribution ever.
Ty Trippet, a spokesperson for the company, disclosed the plans in an interview with the Financial Times.
"He has committed to giving the company away to Bloomberg Philanthropies when he dies, if not sooner," Trippet said.
The company confirmed the statement when Quartz inquired; it declined to elaborate further.
A perpetual purpose trust
The FT reports that Bloomberg is likely to put the company in a "perpetual purpose trust," which is a type of trust set up to benefit a philanthropic cause as opposed to an individual. In this case, all of the company's profits would benefit Bloomberg Philanthropies and would potentially be overseen by Bloomberg's two daughters.
Yvon Chouinard, the billionaire founder of Patagonia, made a similar decision in 2022 when he gave away the outdoor apparel company to a similarly structured trust that is devoted to fighting climate change. Specifically, the trust redirects all profit not reinvested in the company to a nonprofit called the Holdfast Collective.
According to Forbes, Bloomberg's lifetime giving has approached $15 billion. In 2010, Bloomberg signed the Giving Pledge, a public commitment for billionaires to donate a majority of their wealth to address societal needs. Bloomberg Philanthropies' areas of focus have included the arts, education, environment, government innovation, and public health.

Related stories
🌎 Patagonia says it's owned by the Earth now. Here's what that looks like
⚖️ Bloomberg is playing by the rules. And that's the problem
🗳️ Bloomberg is running the billionaire vote-buying campaign we expected from Trump