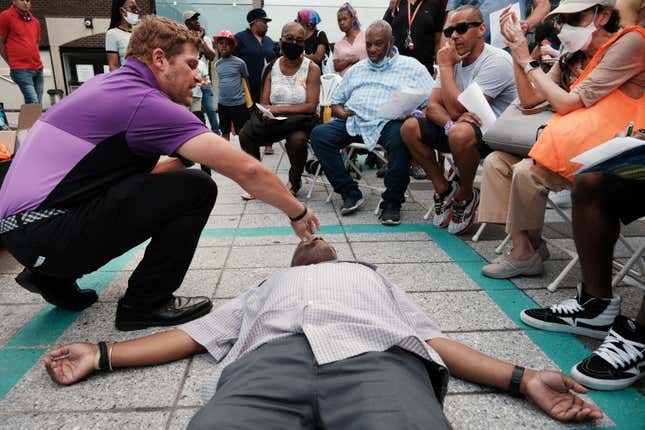 Opioid overdose treatment Narcan, made by Emergent Biosolution, will finally be available over the counter in the US. The Food and Drugs Administration (FDA) announced the decision on Tuesday (March 28) in an important win for advocates of measures to reduce the harm of drug use.
Ben Emons Part 2: The Fed, Apple shares
Narcan is the brand name of naloxone, which is administered as an injection and, as in the case of Narcan, as a nasal spray. It works by binding itself to opioid receptors in the brain and reversing the effects of opioids. It works in seconds, and the effects last between 30 and 90 minutes. So, while a patient experiencing overdose will still need urgent medical attention after being administered naloxone, the drug buys lifesaving time.
Health experts, including the Centers for Disease Control and Prevention (CDC) recommend friends and family of opioid users carry naloxone with them, as well as people who may live or work in areas where opioid misuse is frequent. But access hasn't been easy so far, even if officials in all states already allow sales without individual prescriptions: not all pharmacies carry it, or are aware of the possibility to dispense it without prescription, nor is much of the population.
Thanks to this latest FDA approval, however, Narcan will be available in pharmacies all over the country without prescription, likely starting toward the end of the summer.
Does naloxone work?
Overdoses killed close to 100,000 people in 2021, and the vast majority of them are caused by opioids, particularly synthetic.

Narcan is a very effective antidote to opioid overdose. Experiments in other countries have shown that over-the-counter availability of naloxone can drastically reduce deadly overdoses, particularly when coupled with training in its administration and in recognizing the signs of an opioid overdose. A 2019 study found that if naloxone was made available widely and affordably, fatal opioid overdoses could go down by more than 20%.
"Making Narcan available over the counter represents a decisive, practical and humane approach to help people and flatten the curve of overdose deaths," said Chuck Ingoglia, who leads the National Council for Mental Wellbeing, in a statement commenting on the FDA's decision. "No single approach will end overdose deaths, but making Narcan easy to obtain and widely available likely will save countless lives annually. Making Narcan easy to obtain also signals our willingness to take meaningful steps to help those with a substance use challenge."
Who makes Narcan nasal spray?
Ideally, making naloxone available over the counter would mean easy accessibility for all who need it, next to common household staples such as aspirin or acetaminophen.
But harm reduction advocates are concerned it might not work out quite like that yet. A main sticking point is the price tag.
Emergent Biosolutions has not disclosed the price it plans to apply to over-the-counter Narcan, but prescription Narcan can cost over $100 for two doses, though the final price is often much lower with coupons and discounts. Still, a similar price point could dissuade customers, or lead pharmacies to keep it in locked containers, as they do with infant formula, or even day-after pills. This, in turn, will add an obstacle to making the drug ubiquitous, as clients might fear stigma asking for Narcan from a pharmacy clerk.
"We hope the agency also ensures the drug is affordable. We won't accomplish much if people can't afford to buy Narcan," said Ingoglia.

RiVive, a low-cost nasal spray produced by Harm Reduction Therapeutics, a nonprofit pharmaceutical company, is fast-tracked for approval over the counter, too, and should get a decision by April.