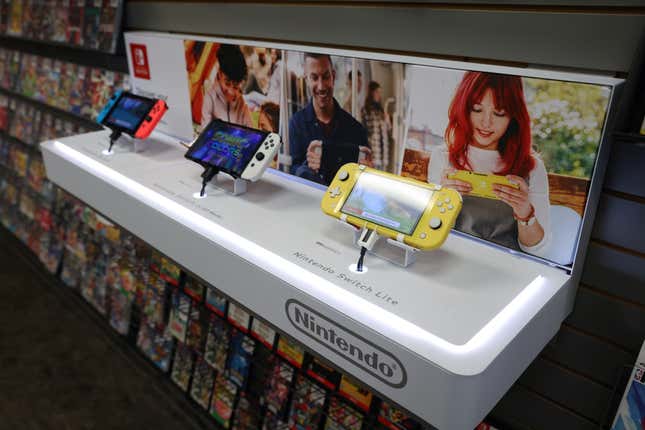 Nintendo's annual results today (May 9) tell the story of a games console's birth, its meteoric success, and its perhaps inevitable decline. The Switch turns just six this year but, despite still holding its position as one of the company's most successful pieces of hardware ever, its popularity is firmly on the wane.

Eric Beiley Part II: Where rates are heading
For the full fiscal year from April 2022 to the end of March 2023, Nintendo reported revenue of 1.6 trillion yen, down 5.5% year-on-year. That was in large part due to declining sales of Switch consoles, of which there are several models, which fell 22.1% compared to the previous year.
Nintendo said that semiconductor shortages have also added to declining sales in the past two years, making it harder for the company to meet demand.
What's next for the Nintendo Switch
The Switch launched in 2017 and the following four years saw splendid sales figures. Hardware sales for the Switch suite increased by almost 12% in 2019 compared to the previous year and another 24% in the results reported in March 2020, just as the global covid-19 pandemic came into full force. The following year, during which many people experienced protracted periods of lockdown, Switch hardware sales jumped more than 37%.
In February this year Nintendo Switch total sales surpassed that of the Game Boy, according to the Nintendo Life, which also pointed out the console had outsold the PS4 made by rival company Sony. But consoles don't maintain their popularity forever. "The Nintendo Switch had a fantastic run but definitely passed its peak," said Serkan Toto, CEO of Tokyo-based games consultancy Kantan Games, in an interview with CNBC.
In October 2021 Nintendo launched a new version of the Switch called the OLED in an attempt to attract new buyers. But even releasing new consoles and games couldn't stop the shine coming off the now-not-so-new console. Switch sales declined by 20% the following year.
Today's results consolidate the decline. Nintendo will be hoping the release of a new Zelda game on Friday (May 12) will fend off an even sharper Switch sales decline this year. The Legend of Zelda: Tears of the Kingdom, initially meant for release in 2022, is one of the last big titles slated for the Switch. Nintendo is rumored to be working on a next-gen game console to be released in 2024.