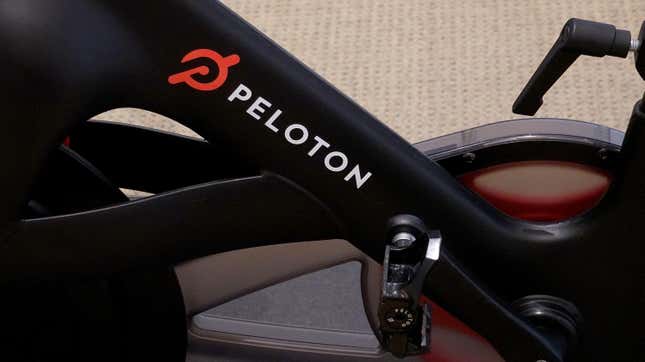 Three months ago, Peloton recalled nearly 2.2 million bikes over a defect that could lead to the seat falling off the bike frame. The company offered all affected Peloton original Bike owners in the US free replacement seats. Apparently, too many people took them up on the offer.
Should you keep investing in Big Tech?
Post the recall, hundreds of thousands of Peloton owners asked for replacement seats. So far, the company has not been able to fulfill even half of those requests. As a result, customers-in-waiting aren't extending their subscriptions to the interactive fitness platform that they use with the bikes.
Peloton witnessed subscriber numbers dip by 29,000 quarter-over-quarter in the three months ending June 30, 2023. While some of that could be chalked up to a seasonal slowdown in hardware sales as consumer spending shifted toward travel and experiences, the company also grappled with "higher than anticipated" Connected Fitness (CF) subscription churn, Barry McCarthy, CEO and president, wrote in the company's Aug. 23 shareholder letter.
An estimated 15,000-20,000 members impacted by the seat recall "elected to pause their monthly subscriptions in Q4 pending the receipt of a replacement seat post," Peloton said.

Peloton business after the seat recall, by the digits
35: Reports of seat posts breaking, which led to…

…13: Reports of injuries, including a wrist fracture, lacerations, and bruises, according to the US Consumer Product Safety Commission (CPSC)
750,000: Requests for replacement seat posts, "which was more than we expected," as per the company
340,000: Seat replacement requests Peloton has fulfilled so far. It expects to send the remaining replacements by the end of September, "which is slower than Members wanted but 3 months sooner than we had originally communicated to Members," as per McCarthy, a Netflix and Spotify veteran
$40 million: Additional cost this recall as well as anticipated future recall-related expenses added to the March-June quarter for Peloton
$2 billion: Peloton's valuation today, down from around $50 billion two years ago
$642 million: Peloton's revenue for the quarter ending June 30, 2023, down from $679 million a year earlier
$242 million: Peloton's loss in the March-June quarter, wider than expected
24%: How much Peloton's stock fell after the latest earnings
Charted: Peloton stock hits all-time low


A brief history of Peloton recalls
October 2020: After 120 reports of pedal breakages and 16 reports of injuries, Peloton announced the recall of out-of-warranty PR70P clip-in pedals—the first generation of pedals that were fitted on bikes sold between July 2013 and May 2016.
May 2021: Peloton announced the voluntary recall of about 125,000 Peloton Tread+ treadmills after reports that adult users, children, pets, and objects had been pulled underneath the treadmill, posing a risk of injury or death. More than 70 incidents were reported, including the death of a six-year-old. Peloton is offering customers a full refund through November 6, 2023.
Also in May 2021: After complaints that 18 touchscreens loosened and six detached and fell off, Peloton recalled the Tread treadmill. No injuries were reported in the US but there were reports of minor injuries such as abrasions, minor cuts, and bruises, in Canada and the UK.
May 2023: Peloton orders a voluntary recall and free bike seat replacement option for more than two million of its original bike model.
A non-exhaustive list of Peloton's push to fix its business
In attempting to claw its way out of a dismal post-pandemic 2022, nothing has been quite the shot in the arm Peloton desperately needs. But it's not for lack of trying.
💵 The company's decision to launch Peloton bike rental services across the US last September has garnered over 48,000 subscribers. The company sees potential in the model, and has expanded it to Germany.
♻️ In December, Peloton started selling refurbished products at lower rates. Over 6,500 sales have been made in the segment.
👀 In May, the company announced a brand relaunch and a revamped Peloton app with new subscription tiers. Since the relaunch on May 23, the company has clocked more than 900,000 app downloads—over 600,000 from non-Peloton members "New users are more likely to be male, a key demographic opportunity for Peloton," the company said
🌈 "For the last ten years Peloton has been the Henry Ford of stationary bikes. We sold any color bike frame you wanted as long as you wanted black," McCarthy wrote, adding that the company is working "to bring a variety of limited edition bike frame colors and graphics to both the consumer and commercial markets"
🏃 The Consumer Product Safety Commission approved Peloton's design for a new rear guard for its treadmill, which it will begin retrofitting on existing Tread+ products later this year. Over 17,000 members have already put in their request. Moreover, the Tread+ treadmill will be ready for reorders by the holiday season. The delivery date is unclear but 10,000 units are already in the company's inventory.
Quotable: "Significant upside" or "nothing at all"
"Not since I stepped into the CEO role have we had as many new irons in the fire to drive both short- and long-term growth. It's a BIG deal, and it serves to remind us that Peloton's transformation continues with urgency to pursue sustained, profitable growth. I expect these initiatives to accelerate our growth this fiscal year, but not this quarter. For the most part we have no operating history with these new initiatives which means we don't know how to model their impact on our growth. For financial planning purposes this means we've forecast some of the expense and none of the revenue these initiatives might generate in FY24. That means there could be significant upside to our financial performance later this year, or none at all. I'm signaling significant potential upside but considerable uncertainty, in the spirit of radical transparency."

—Barry McCarthy, CEO and president, in the Aug. 23 shareholder letter
Related stories
🚲 Peloton tried to switch into the right gear—but then seats started falling off its bikes

🏋️ Peloton is trying to be everything, everywhere, all at once
🏬 Peloton lets go of its grip on brick-and-mortar sales to partner with Dick's Sporting Goods