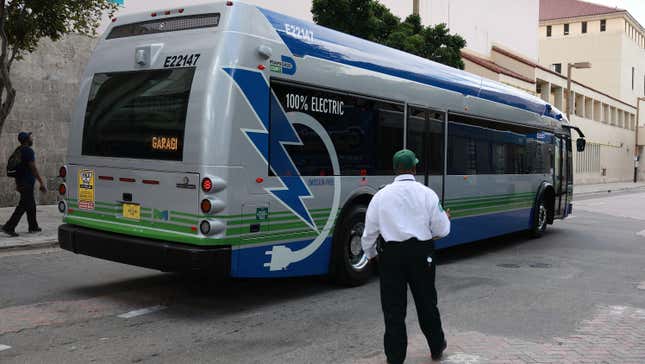 A once-prolific manufacturer of electric vehicles including buses, trucks, and highway equipment, Proterra has driven into bankruptcy court with plans to either recapitalize its businesses or sell them off.

Should you keep investing in Big Tech?
The Burlingame, California-based company, filed for Chapter 11 protection in the district of Delaware on Monday (Aug. 7), listing assets and liabilities of at least $500 million each, according to Bloomberg. The filing gives Proterra protection from creditors while it looks for ways to repay them.
In the meantime, it'll be business as usual at Proterra, which will use existing funds to power operations, including paying employees, vendors, and suppliers.
Quotable: Proterra to "maximize" all parts of its business
The foundation we have built has set the stage for decarbonization across the commercial vehicle industry as a whole, and we recognize the great potential in all of our product offerings to enable this important transformation. This is why we are taking action to separate each product line through the Chapter 11 reorganization process to maximize their independent potential. —Proterra CEO Gareth Joyce in a statement on Aug. 7, 2023
Proterra, by the digits
1,300+: Electric buses to over 135 transit agencies across 43 US states and Canadian provinces
40 million: Real-world service miles that Proterra's zero-emission, electric transit buses have amassed since launching in 2010
20+: How many commercial vehicle applications the company's battery technology, spanning Class 3 cargo vans through to Class 8 semi-trucks, as well as off-highway equipment in the construction and mining segments, in the US, European, and Asia-Pacific markets.

100 megawatts: How much heavy-duty EV charging infrastructure the company has installed to support commercial vehicle fleets across North America
$1.6 billion: The company's valuation as of its January 2021 merger deal with a blank-check company.
$244 million: The company's net loss in the quarter ended March 31, up manifold from $50 million during the same period a year ago. "We have a history of net losses, have experienced rapid growth and anticipate increasing our operating expenses in the future, and may not achieve or sustain positive gross margin or profitability in the future," the company warned in a regulatory filing
Charted: Proterra stock keeps slipping throughout 2023
Rabbit hole: Most budding EV companies are struggling
Despite robust demand, it's not the best of times for electric vehicle (EV) manufacturers.
In June, Ohio-based Lordstown Motors filed for bankruptcy. Another star EV maker Rivian—whose stock surpassed Ford's and General Motors' during its public debut in 2021—has witnessed its share price plummet to a tenth of its peak and lost Ford as an investor.
High interest rates, pricier raw materials, and a paucity of parts are big barriers to the business—especially in the face of stiff competition from Elon Musk-led frontrunner Tesla, which keeps slashing prices, and legacy carmakers that are getting in the game. The latter have a second advantage—they "can use the profits from those already being manufactured automobiles to pay for electric cars," Brian Moody, executive editor at Autotrader, told Marketplace.
In the same vein, Proterra CEO Gareth Joyce said the company "faced various market and macroeconomic headwinds, that have impacted our ability to efficiently scale all of our opportunities simultaneously." Even the broader implications of the instability of global financial markets, including regional bank failures, as well as geopolitical events such as Russia invading Ukraine last year, can be felt at the company, a regulatory filing says.
Related stories
💸 An Ohio EV maker filed for bankruptcy and sued Taiwanese chipmaker Foxconn on the same day
❌ Why BMW, Nissan, Rivian, Hyundai, Volvo and Volkswagen no longer qualify for Biden's EV tax credits
🚦 Biden's EV subsidies are creating winners and some seriously sore losers at home and abroad