Everyone who has anything to sell is preparing for the Black Friday shopping weekend. Google has added new features to its shopping platform, and is lowering prices to push its smart home hardware. Amazon is discounting Whole Foods turkeys for Prime members and chipping away at the Thanksgiving spirit.
But what about that other Silicon Valley giant, which prominently displays its own shopping service every time you log on?
Facebook's shopping feature, Marketplace, focuses on getting users to buy stuff from one another, more like a Craigslist than Amazon. But the company is slowly expanding the service to include retailers, and the potential is massive: 550 million people already visit Facebook groups monthly where you can buy and sell things, the company says. Presumably, because Facebook knows so much about you, including your political preferences, it ought to be great at matching buyers with sellers. 
In this frenzied holiday season, we were curious: What's it like to shop on Marketplace, a year after its launch?
The short answer: it's kind of like going to a yard sale, except online. 
Here's a sampling of products I found on my Marketplace feed, available for purchase in the New York area. These are things that Facebook thinks a 27-year-old woman, living in Brooklyn without children, might want to buy:
A bundle of cleaning products
A free Ikea bed and shelf
Two different kinds of Louis Vuitton Neverfull leather bags for $400 and $500
"Lots of metal" for $5
A car that seemed way too cheap until you clicked and found out that $500 wasn't the price but the monthly payment.
A brand new one bedroom for rent
A Magic Bullet set
A 14K Jesus chain, pick up today, only for $100
A $60 Barbie Dreamhouse wedged between several real apartments
Multiple $100 sofas.
A play kitchen
Used restaurant equipment
A used iPhone 5s
Someone trying to buy used iPhones
A lot of $3 folding chairs
An industrial-sized washing machine that is an unattainable dream to most New Yorkers
Some laundry detergent
A 2008 MacBook for $250
Brand new Ugg boots, right above "Old sweaters and polos"
Hair braiding services
More  laundry detergent
More Ugg boots
More iPhones
More cars
More play kitchens
Some toilet paper and paper towels
A "24-month Turkey Outfit" aka Thanksgiving-themed baby clothes "worn once"
Multiple American Girl doll clothing items and accessories, including a horse and stable
Multiple North Face jackets
Multiple dog crates
Yeezy sneakers, not "free" as advertised when you click on the post
A gigantic pile of used work pants and shirts for $3 (Each? The whole thing?)
An ad of sorts for a person in Long Island who is very proud of their Christmas decoration display
Organic cookies, at a whopping $20 per dozen
According to other media reports, what you see in your Marketplace is supposed to be tailored to your preferences, based on past online behavior (Facebook did not immediately respond to a request for comment). The hodgepodge of objects on my Marketplace appeared rather random, with maybe a slight gender bias, and the impression that I have children (which I do not). With some gender differences, this list looked roughly similar to those of my Quartz colleagues, regardless of their location: a yardsale-meet-Streeteasy-meet-eBay mix.
That said,  it's easy to see how it would be preferable to Craigslist when you're, for instance, scouring listings for heavily-discounted or free Ikea furniture to furnish your first apartment.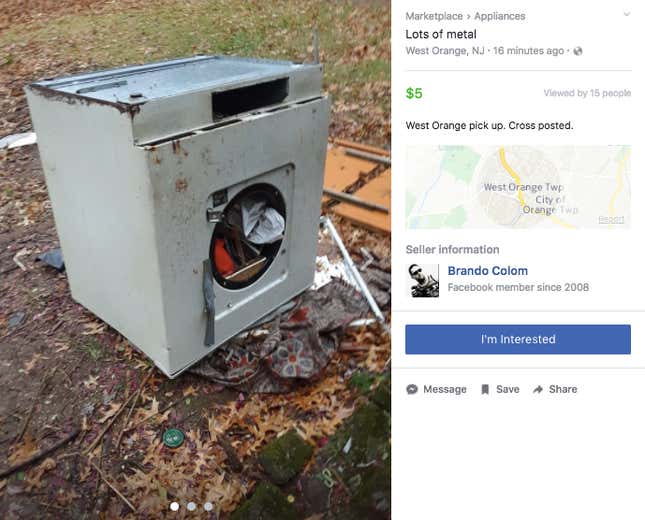 It was definitely more innocent than an equivalent feed on Craigslist, which tried to sell me significantly more jackhammers, a pair of costume werewolf hands, and an anatomical model of an anus. The merchandise is tamer presumably because your name and your private Facebook account is attached when you're the seller, which isn't to say that Marketplace has not attracted scammers since it launched.
Marketplace started as a peer-to-peer platform, but this is changing. The apartments and cars were in my feed because Facebook has deliberately paired up with car dealers and apartment listing websites in the last year. According to a Recode interview with Deb Liu, Facebook's vice president in charge of the feature, the company is planning to include in Marketplace ticket sales and products from retailers' Pages. They are looking at what kinds of products users are engaging with, so that "if people are searching or looking for something, we want to make that available to them."
Which means that in addition to dangling creepily accurate ads in front of you, Facebook will be trying to make it as easy as possible for you to buy the product, right from the platform.