With an "engagement chicken" playing a central role in Prince Harry and Meghan Markle's engagement story, royal watchers want to know: What's on the menu for the happy couple's spring wedding?
The wedding breakfast
In keeping with royal wedding tradition, the newly married couple will be expected to host a wedding breakfast immediately following the ceremony, a British luncheon menu typically including a seafood appetizer, a meat-based main dish, and a dessert. Past royal menus included dishes named for the new bride or groom—for example, Prince Philip's Filet de Sole Mountbatten, which was served in 1947.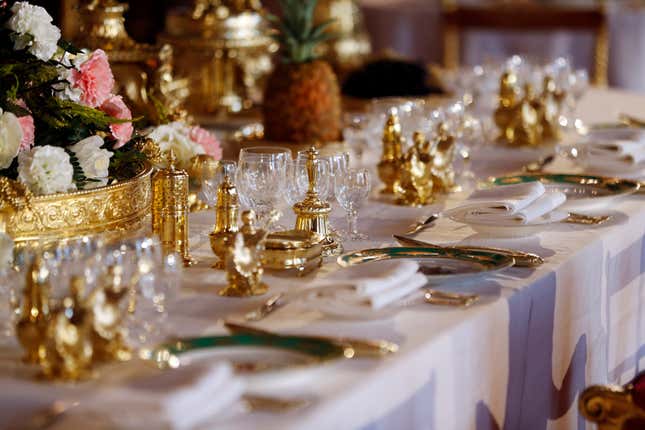 In 1923, the wedding breakfast of Prince Albert and Lady Elizabeth Bowes-Lyon (later known as the Queen Mother) included a menu of Suprèmes de Saumon (salmon) Reine Mary, Côtelettes d'Agneau (lamb) Prince Albert, Chapons (rooster) á la Strathmore and Fraises (strawberries) Duchesse Elizabeth, according to Food and Wine's history of British royal wedding menus.
As well as that sole, Queen Elizabeth and Philip Mountbatten's wedding in 1947 featured Perdreau en Casserole avec Haricots Verts et Pommes Noisette (braised partridge) and Bombe Glacee Princesse Elizabeth (ice cream with strawberries).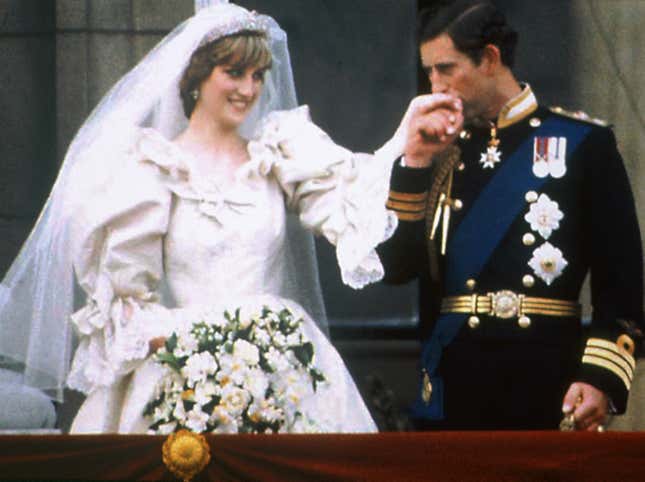 At Diana Spencer and Prince Charles's wedding in 1981, the main course was named Suprême de Volaille Princesse de Galles—a chicken breast stuffed with fine lamb mousse. Named for the Princess of Wales, the dish was "a twist on a lamb cutlet stuffed with chicken mousse that had been served at the palace for decades," reported Epicurious.
From French haute cuisine to refined British grub
French preparations have traditionally been used to signal the height of culinary sophistication—going back to the wedding breakfast of Queen Victoria's son Albert to the Grand Duchess Marie of Russia in 1874.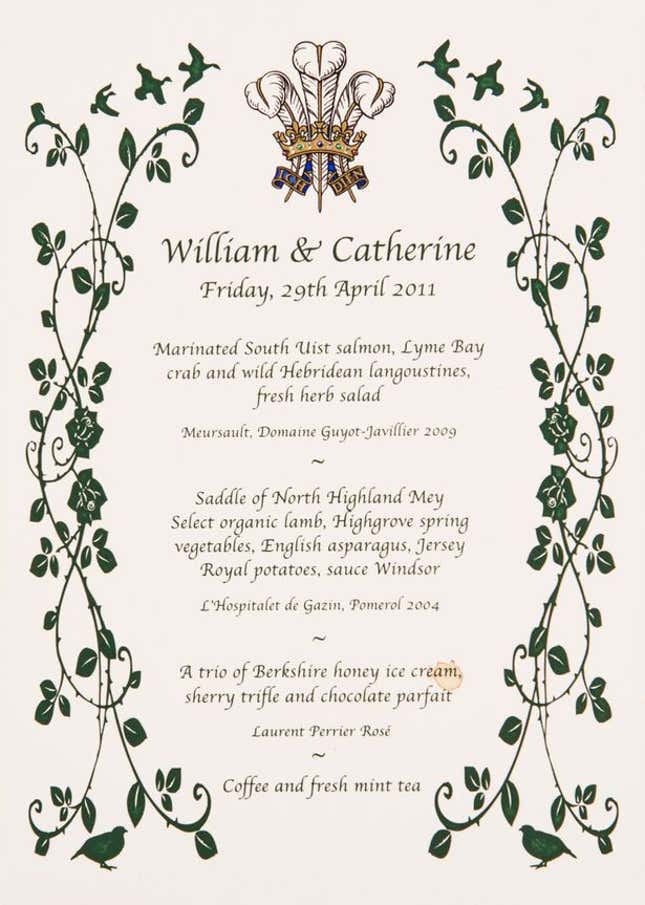 But Prince William and Kate Middleton's wedding breakfast in April 2011 was decidedly less fussy, and displayed the culinary pride Britons have built in recent years for their own cuisine. The couple celebrated with a menu of locally sourced ingredients, including a starter of marinated South Uist salmon and Hebridean langoustines over an herb salad, Highland lamb sourced from Prince Charles' organic farm, and a trio of Berkshire honey ice cream, sherry trifle and chocolate parfait for dessert.
Of course, British food's reputation for stodginess wasn't always undeserved. The wedding of Prince Andrew and Sarah Ferguson in 1986 featured Eggs Drumkilbo—a mold of hard-boiled egg, lobster and mayonnaise topped with a seafood aspic—the Queen Mother's favorite.
The cake
British royal wedding cakes have traditionally been tiered fruit cakes enshrined in ornate Victorian sugar sculptures and white icing. Queen Victoria's wedding cake in 1840 was a 300-pound behemoth, a testament to her love of sweets, and an early indication of her reputation for overindulgence.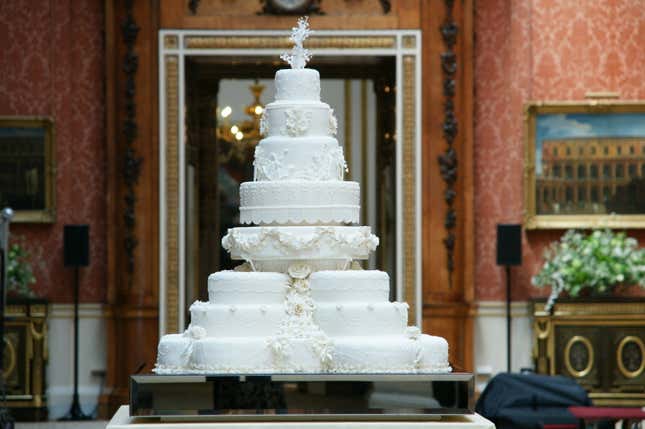 Queen Elizabeth and Prince Philip had a 9-foot-tall, 500-pound cake made with ingredients donated by the Australian Girl Guides and then dispersed to charities after the ceremonies. Princess Anne and Captain Mark Phillips' 1973 wedding included a cake that was made to be the exact height of the bride—five-feet six-inches tall. And Prince Charles and Diana celebrated with 27 cakes. Most were gifts, and in keeping with tradition, the cakes were distributed to charities, schools and hospitals across the country. Prince William and Kate's eight-tier fruit cake was designed by the celebrity baker Fiona Cairns.
What's in store for Harry and Meghan?
Prince William and Kate Middleton's wedding, where Prince Harry held Master of Ceremonies duties, probably offers a good blueprint for the next royal wedding. Three receptions were held at Buckingham Palace, beginning with the wedding breakfast, followed by the Queen's luncheon, and then an intimate evening reception hosted by Prince Charles.
Expect the ingredients to be locally sourced from throughout the United Kingdom. But while the UK is building its reputation as a wine region specializing in bubbly, the last century of wedding wine pairings indicate that the wines will probably be French. William and Kate chose the champagne Pol Roger NV, a favorite of Winston Churchill. Prince Harry and Meghan Markle might also consider that the oldest royal warrant, a designation for official vendors to the royal family, went to the Champagne Lanson Pére Et Fils, and was issued in 1760.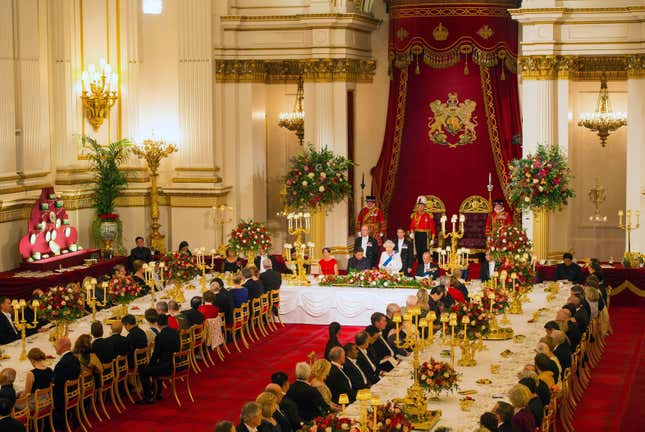 At William and Kate's wedding, the Queen held a reception for 650 guests, offering a selection of canapés prepared by a team of 21 chefs, and led by royal chef Mark Flanagan. According to the Spruce, the team made approximately 10,000 canapés and the menu included nods to British classics both refined and comforting: bubble and squeak (sautéed potatoes and cabbage) with confit shoulder of lamb, quail eggs with celery salt, yorkshire pudding with roast beef, Scottish smoked salmon on beetroot blini, and smoked haddock fishcake with pea guacamole. (No word on whether this is where the New York Times got the wildly unpopular idea of adding peas to guacamole in a recipe published four years later.) 

Kate and William's wedding dinner was prepared by the Michelin-starred Swiss chef Anton Mosimann, and was in line with Prince Charles' interest in sustainable and locally-sourced ingredients. The Telegraph reported a dinner of dressed crab from Wales with mousse, crayfish and prawns, a main course of Highgrove lamb fillet done three ways, and a trio of desserts.
With Markle's Los Angeles roots and her self-proclaimed "foodie" status, fans from her side of the Atlantic might hope to see some references to American culinary traditions on the royal menu. Turkey meatballs or a seafood boil would be perhaps too bold (or messy) a choice, but could the godmother of new American cuisine, Alice Waters, be sent over to the Buckingham Palace kitchen? One can dream.
Fish tacos or quinoa bowls might not make the cut, but a crisp Sonoma pinot noir, paired with spring lamb from Prince Charles' Highgrove farm, would be just perfect for the occasion.