In frigid, mountainous Pyeongchang, South Korea, most of the athletes in the 2018 winter Olympics will be wearing warm (or even self-heating) uniforms. The figure skaters, however, will take the ice in costumes.
The distinction matters. Unlike other sports, where the clothes are designed for utility more than appearance, in figure skating the costumes are a crucial component of a skater's whole creative presentation, alongside the music and the routine itself. It's the skating, of course, that the Olympians will be judged on, but when all the elements come together, the costume can become part of the margin between victory and loss.
That's why skaters and designers spend a lot of time working out how a costume should look, as well as how it feels. "You're out there four minutes, and that can seem like a lifetime if something is wrong with the dress," says Pat Pearsall, a designer with some 20 years in the business who has created looks for multiple Olympians, including team USA's Mirai Nagasu this year. "It has to fit well, it has to feel good. They have to feel like it is exactly portraying what they want that program to portray. My job is to figure out what that needs to look like, and make it."
For the past few decades, that look has often been short dresses made of colorful stretch fabrics, embellished with crystals numbering into the thousands. Just look at the sparkly extravaganzas in I, Tonya, director Craig Gillespie's movie about American Olympian Tonya Harding.
It wasn't always that way. In the 1920s and 1930s, skaters often dressed in clothes that looked as if they could have strolled off the ice and into everyday life. But then synthetic fibers came along, leading to the rise of stretch fabrics.
While Pearsall says heavy, velvet dresses with circular skirts were still the norm in the 1960s, stretch was already starting to infiltrate. Fabrics such as Lycra allowed for close-fitting yet flexible costumes, and steadily what women and men wore on the ice began to look more athletic—not to mention more elaborate and dramatic. Crystal embellishments and eye-catching colors gradually swept across the on-ice looks.
Women's costumes in particular have also gotten more revealing. Flesh-colored mesh, which lets designers add cutouts to a costume or make it look strapless without risking a wardrobe malfunction, is now everywhere. Presently, the International Skating Union, competitive figure skating's governing body, states that (pdf) skaters' costumes must be "modest, dignified and appropriate for athletic competition—not garish or theatrical in design." It adds that clothing "must not give the effect of excessive nudity," and men must wear trousers, not tights.
The images below, many straight from the Olympic games, offer a glimpse at the figure-skating fashion of each era. Darrell Ingham, the senior archive editor at Getty Images, selected the images from nearly a century of figure-skating looks, drawing from Getty's London archive of nearly 80 million pictures, as well as the vast stores it got access to when it became the official photographic agency of the International Olympic Committee in 2016. Together, they outline the history of figure skating's distinctive look, which has adapted to the needs of skaters as well as those of the camera. "They're there to catch the eye," Ingham says of Olympic costumes. "You want to be seen. That's quite vital."
1928: Ellen Brockhöft of Germany skates in a skirt and jacket that resemble a woman's day wear on ice.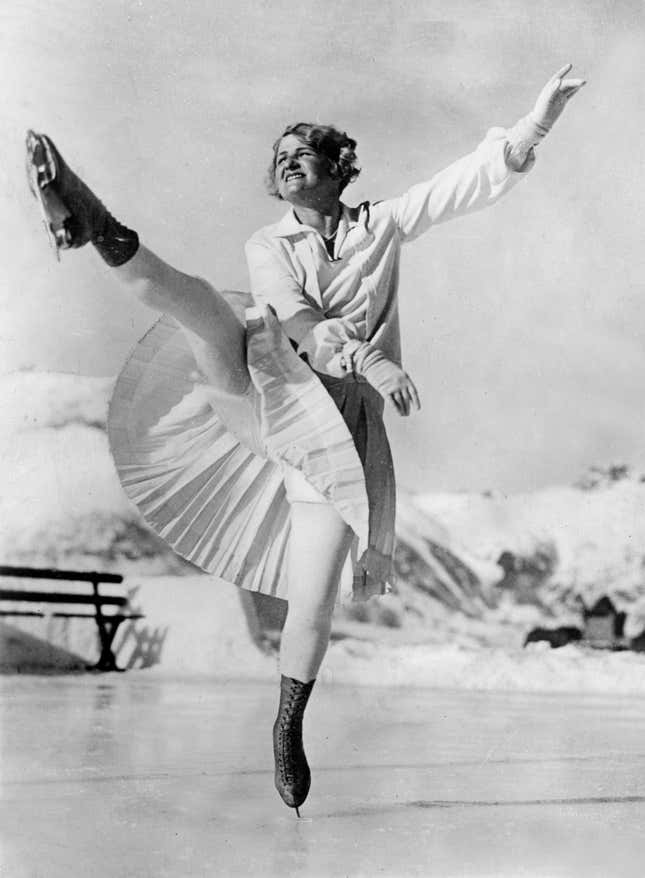 1930: Constance Wilson trains for the world championship in what looks to be an embroidered shearling jacket, velvet skirt, and—yes—some form of pantyhose.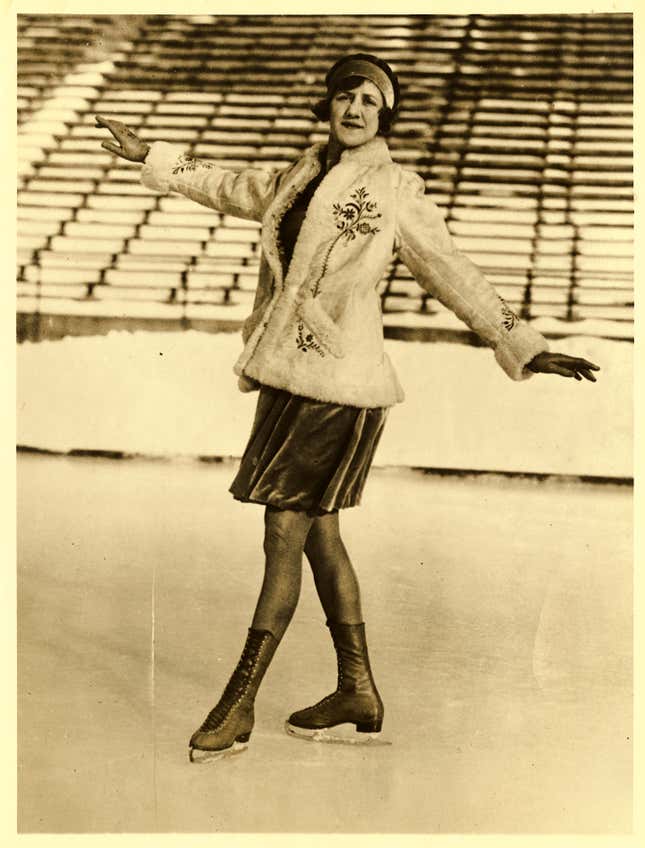 1936: Maxie Herber, in a short dress already starting to resemble today's costumes, and Ernst Baier, in suit and tie, win the Olympic Pairs figure skating gold medal at Garmisch-Partenkirchen.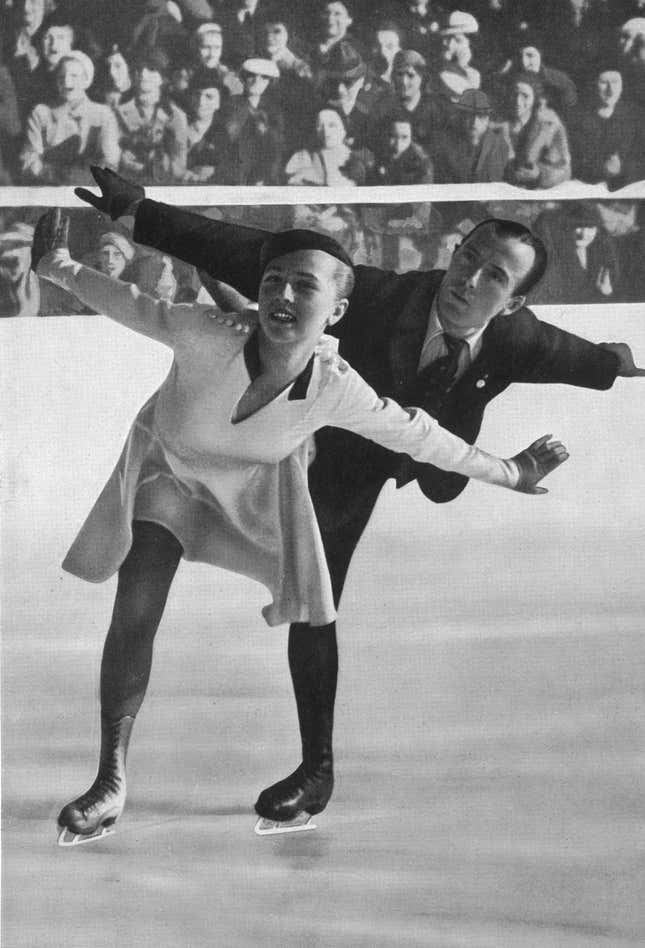 1958: Costumes are clearly looking more theatrical, as shown by Bob Paul and Barbara Wagner during a practice session. He's still wearing a tie, but her short, pleated skirt would be at home on the ice today.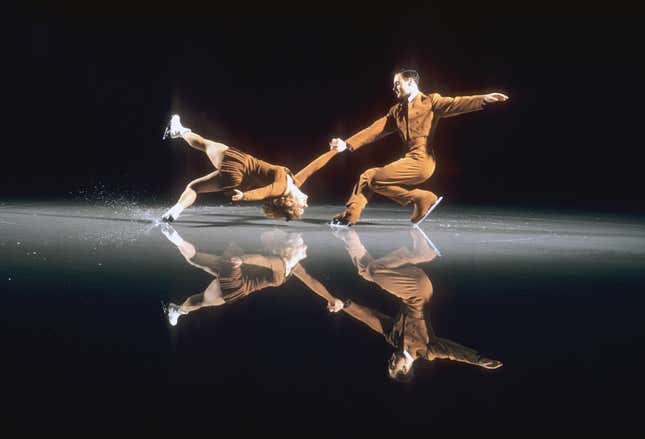 1964: The tuxedo persists in this shot of Oleg Protopopov and Lumilla Belousova of the Soviet Union at the Winter Olympics in Innsbruck, Austria. Pearsall points out that these tuxedoes often used gussets under the arms to allow for more movement.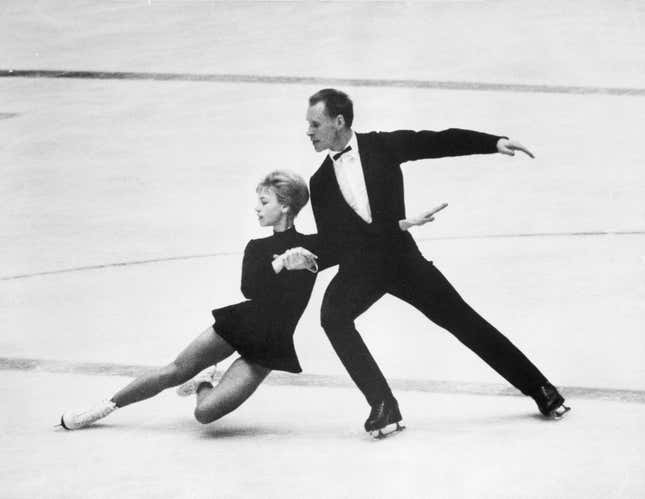 1968: While the silhouette of this look on Peggy Fleming, seen during a Winter Olympics practice in Grenoble, France, is much like what you see at the Olympics today, the fabric was heavier and had less stretch. That was changing, however.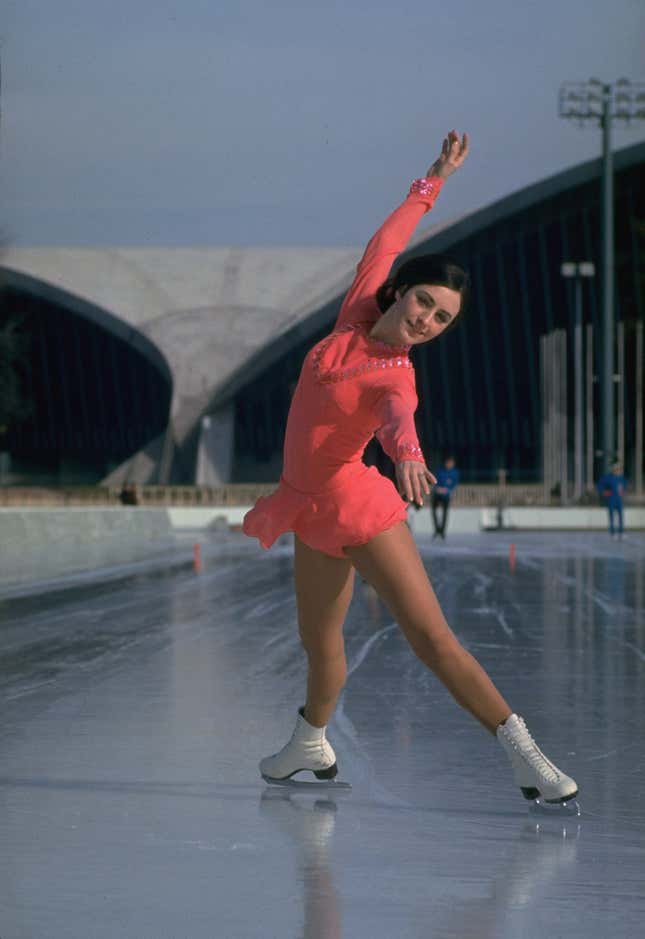 1978: Stretch also gave rise to bodysuits for male skaters, as seen here on Olympic gold-medal-winner Robin Cousins of Great Britain, in a very 1970s look.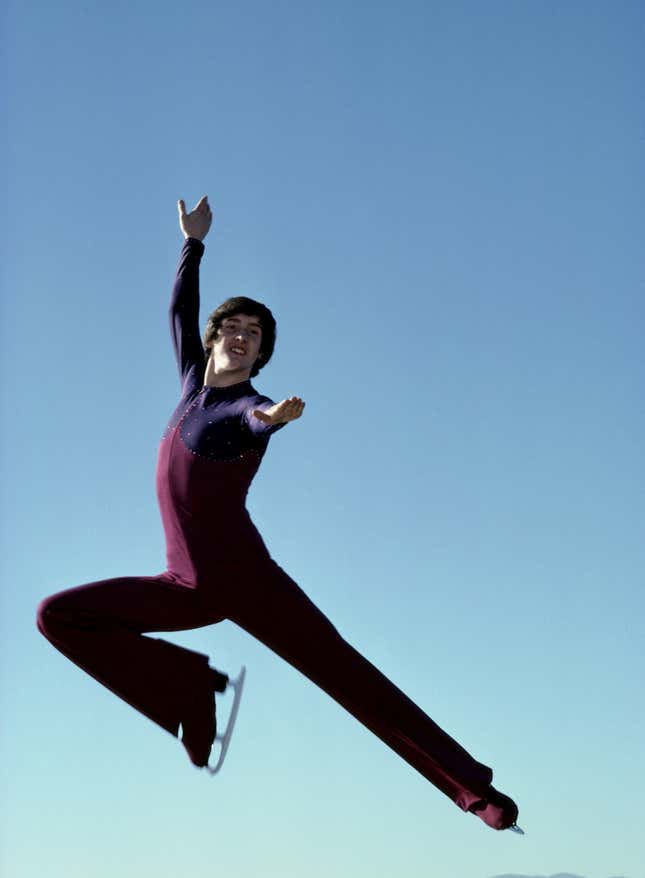 1984: Jayne Torvill and Christopher Dean of Great Britain ice dance in dramatic—and thematic—costumes at the Winter Olympics in Sarajevo, Yugoslavia.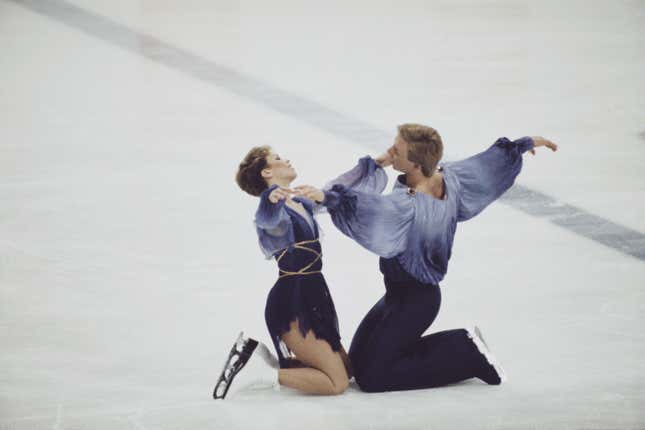 1986: The idea of the tuxedo is still present, only now it has transformed into a shimmering bodysuit on Sergei Grinkov, who performs with Ekaterina Gordeeva of Russia at the European Figure Skating Championships.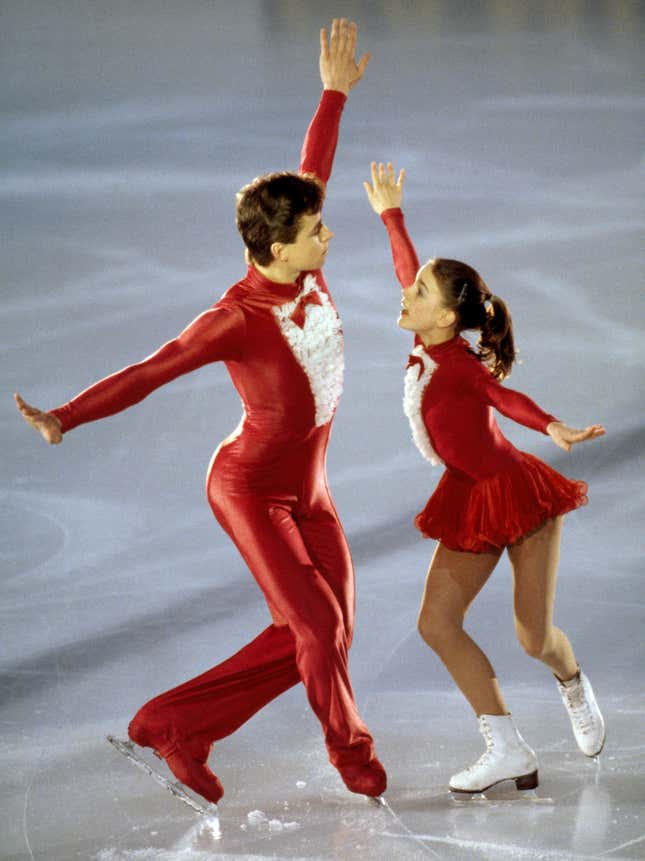 1992: American Kristi Yamaguchi's highly embellished outfit catches the light as she performs a spin during gold-medal winning performance. While crystals add sparkle, they also add weight, so designers need to be measured in how many they use.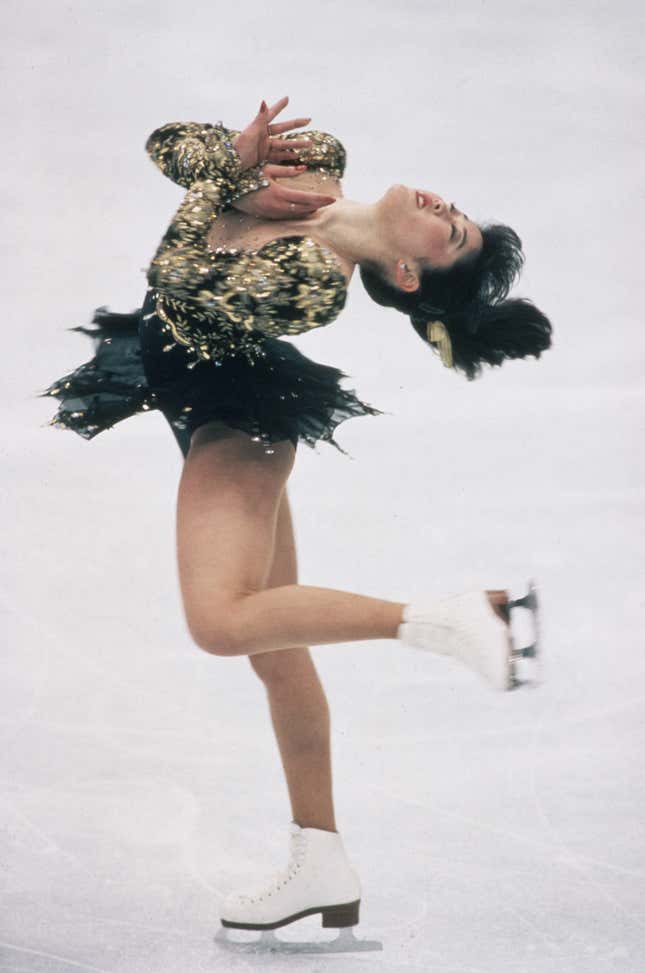 1994: Not all women opt for the typical tiny skirt of modern costumes. Surya Bonaly of France wears a glittering bodysuit at the 1994 Winter Olympics in Lillehammer, Norway.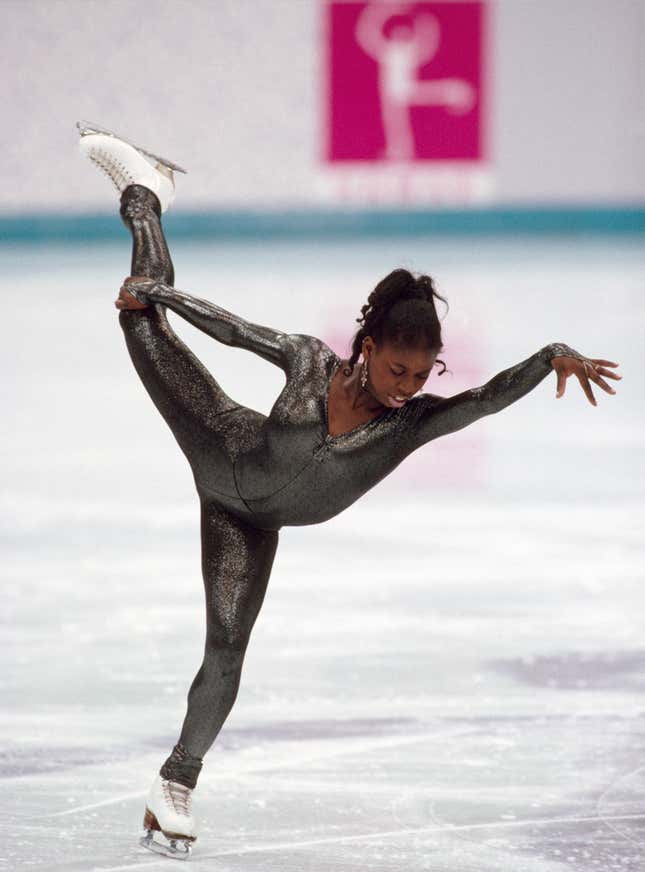 1996: American Michelle Kwan skates in a dress with a bold flesh-mesh midsection at the US national championships. The mesh gives the look of bare skin without the risk of the costume slipping in a way it shouldn't.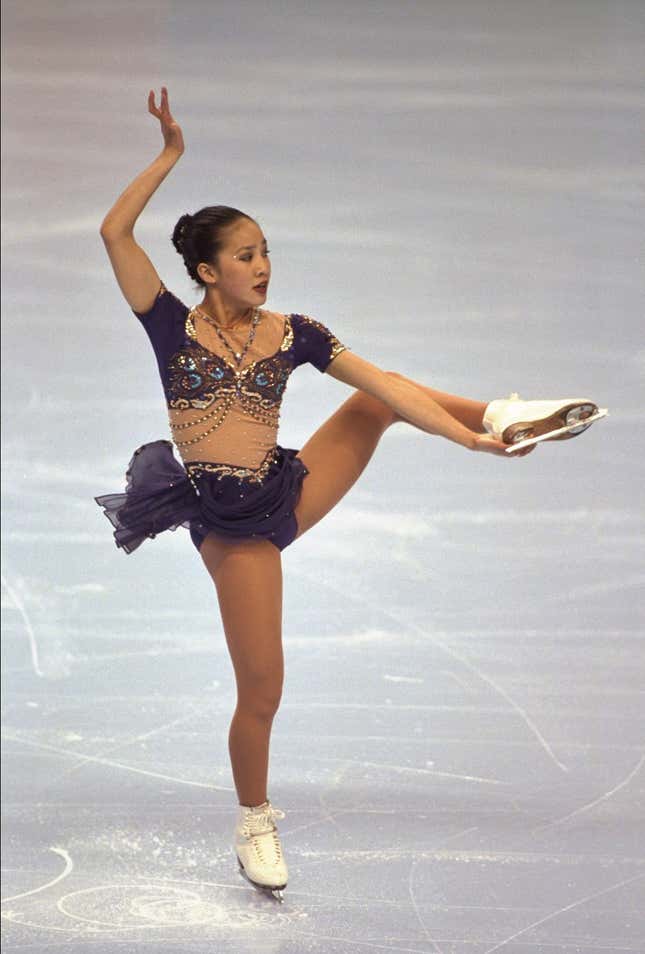 2010: Some costumes go all out to match a theme, like this crystal-covered skeleton suit worn by Kevin van der Perren of Belgium at the Winter Olympics in Vancouver, Canada.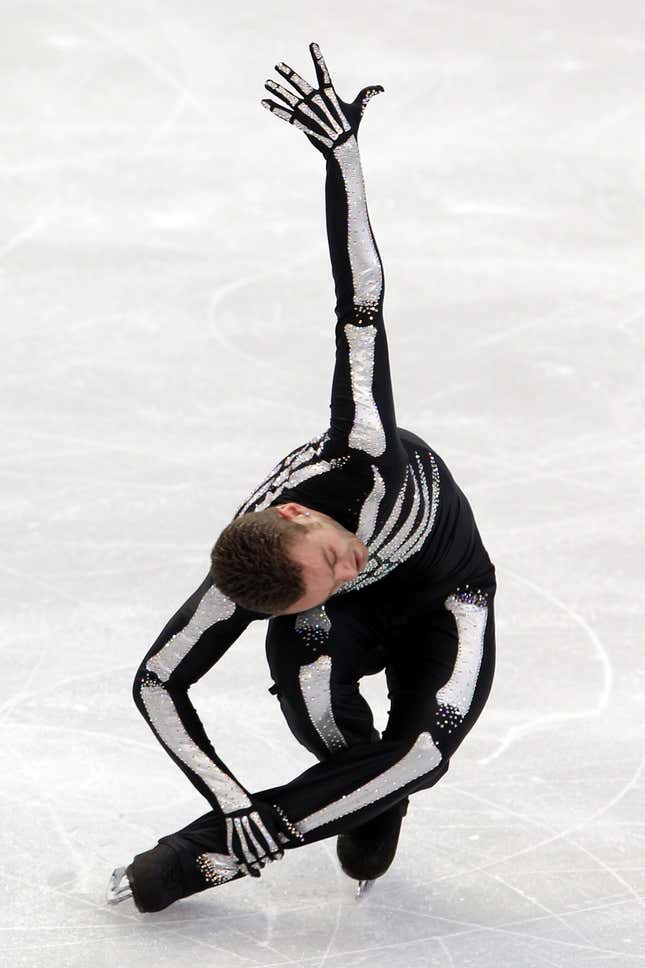 2014: The outfit on Japan's Akiko Suzuki uses flesh-mesh to mimic the look of a strapless mini dress accessorized with a necklace at the Winter Olympics in Sochi, Russia. The image itself was created using multiple exposures.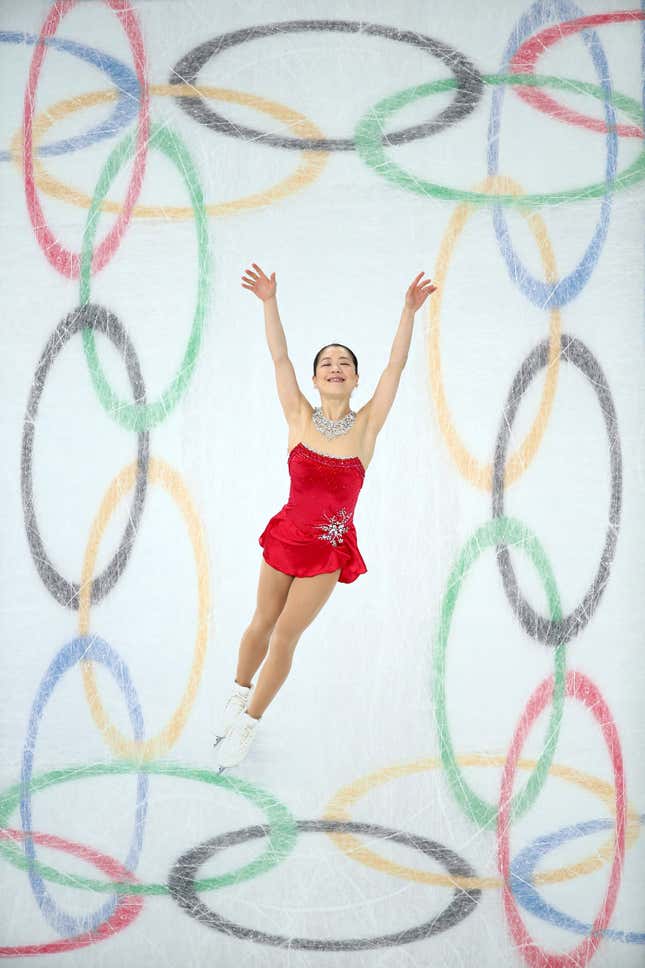 2014: All the hallmarks of modern figure-skating fashion—from the crystals to the cutout to the lightweight, body-hugging stretch fabric—are evident in this stunning shot of American Polina Edmunds competing at the Sochi, Russia, Winter Olympics.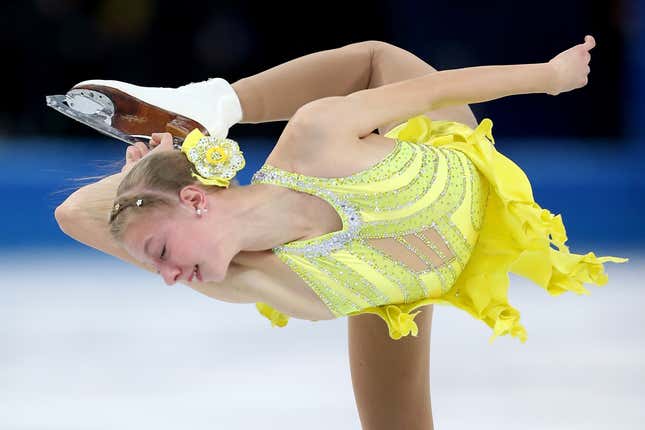 A previous version of this story stated that the International Olympic Committee's photo archive included nearly 80 million images. It is Getty's London archive that contains that number.