When the group Time's Up encouraged all actresses and actors who would walk the Golden Globes red carpet to dress in a show of solidarity against sexual harassment of women in Hollywood and other workplaces, the color it asked them to wear was black. On Jan. 30, a group of women in the US congress followed their lead, donning black for the first state of the union address by president Trump, who has himself been accused by numerous women of sexual misconduct.
There is nothing about black that inherently signifies protest, but really no other shade would have sent so clear a message. There's a reason country legend Johnny Cash also chose to wear black as a reminder to Americans of the everyday injustices in their midst.
Black clothing has an undeniable power. Unlike red or green, which represent specific wavelengths of light, black isn't exactly a color; it's what we see when an object absorbs all visible wavelengths, putting it in a category by itself. Its singular darkness has a unique visual potency, and its adaptability has long made it open to interpretation by the numerous groups that have adopted it. Black connotes seriousness and diligence, as in the black worn by religious orders. It can be sinister or rebellious, like the black cloaks of witches or the black leather jackets worn by biker gangs. In many cultures, it's the color of mourning. But it can simultaneously be the epitome of chic and sophistication, yet charged with eroticism.
All these qualities have given black a distinctive position in fashion enjoyed by no other color. The Little Purple Dress is not famous. "Yellow tie" is not a recognized dress code. Only black will ever be the new black.
Black is in
Among the endless variety of colors and combinations that fashion retailers stock, black is a perennially popular choice. In a recent analysis of more than 183,000 dresses retailing online in the US, retail technology firm Edited found that about 38.5% were some shade of black, making it by far the most common color available. Only about 10.7% of dresses came in the second-most popular shade, white.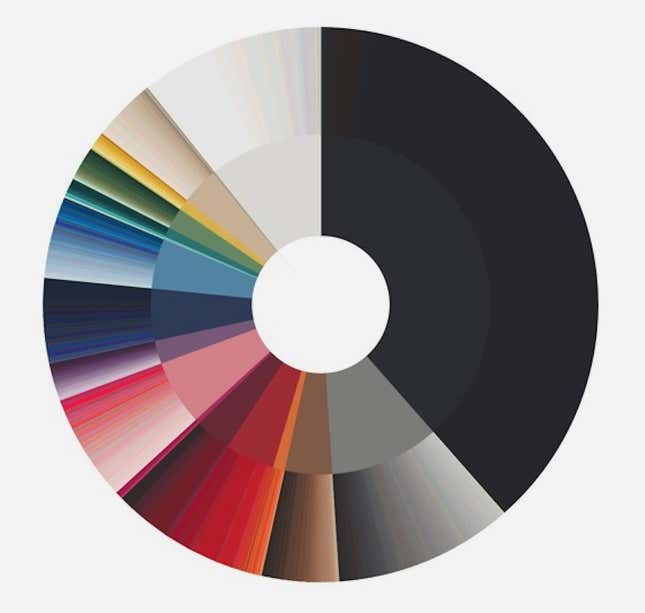 At the moment, black's popularity also appears to be surging. According to Edited's data, black dresses sold out in far greater numbers in the first few weeks of January 2018 than during the same period last year. Edited did point to Time's Up having an effect, though it's difficult to pinpoint exactly what's fueling the trend, since an increase in the availability of black clothing online predates the movement. From the third quarter of 2014 to the same time in 2017, Edited found that black clothing for women grew substantially at a number of fast-fashion brands—by 269% at Boohoo, 145% at Zara, 114% at H&M, and 89% at Forever 21.
Katie Smith, the firm's retail analysis & insights director, attributed it to the brands "using black to try and establish longevity of their ranges, and appeal to a wider customer base."
The numbers speak to the breadth and endurance of black's appeal. It works with every skin tone, every body type, and is generally a safe choice for a purchase—because even if demand for it ebbs, it never goes out of style.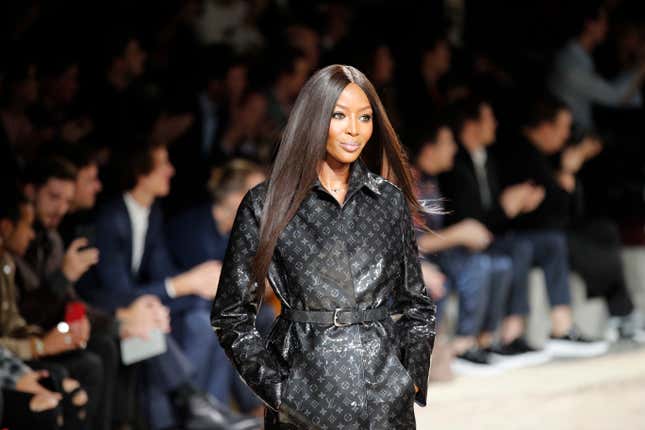 A cultural history
There's no official start to the modern popularity of black in European and American women's fashion. Historically it's been a signifier of grief, dating back to at least the ancient Greeks. But it has also been widely coveted for its appearance. In his book The Story of Black, critic John Harvey notes that, though the Romans principally dyed clothing black for mourning, there are indications they prized it for its stylishness. In the 16th century, there was a vogue for black clothing—then notoriously expensive (pdf)—among Europe's wealthy, from Spanish nobility in the south to Dutch merchants in the north.
But a convenient turning point in black's more recent reign arrived around the early 20th century. That, Harvey writes, is when black "came to centre stage." The spotlight fell squarely on it in 1926, with the introduction of Chanel's famed little black dress.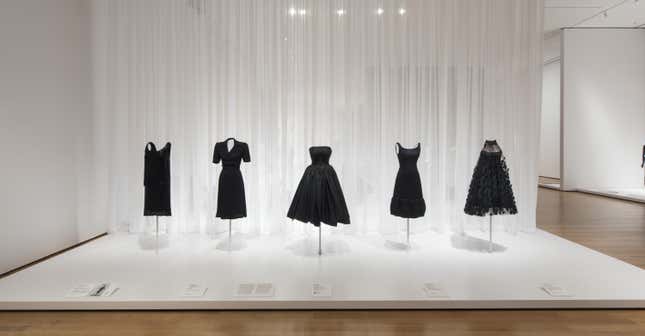 Just prior to that period, black was the standard uniform color for domestic servants and the "shopgirls" who staffed retail shop floors. Social norms, however, were losing their trappings of formality. Sportswear was beginning its rise, and hemlines already climbing higher, as young society women moved away from eras of lavish, restrictive gowns. Shelley Puhak describes in The Atlantic how the upper classes co-opted the easy, modern shopgirl style for themselves. "By the early 1900s, socialites who wanted to appear especially youthful and edgy donned little black dresses," she writes.
When Vogue put a sketch of Chanel's simple, practical black dress on its cover in 1926, calling it "The Ford" of a woman's wardrobe, it seemed to make official a new era in women's clothing. It also promoted black as smart, elegant, attractive.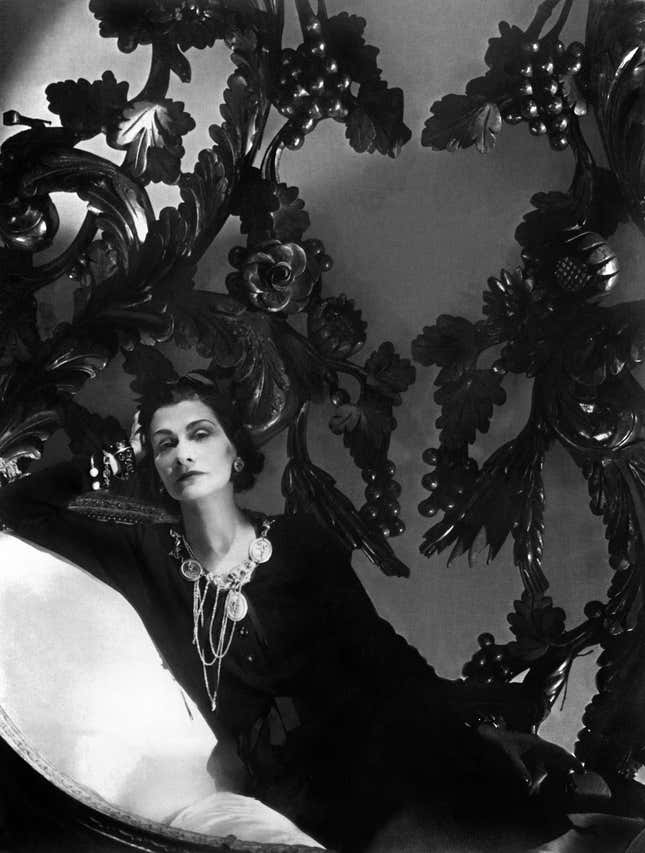 In addition to fashion, black had another powerful force helping it to stand out: film. "The other great promoter of the Little Black Dress was the camera, especially the movie camera," art and costume historian Anne Hollander wrote in her excellent 1984 essay (pdf). A novel world of entertainment, romance, and movie stars was opening up to an eager public—all in black-and-white.
The brilliance of black
Black's effect on the eye gives it an irresistible visual appeal. "A black dress seems to make the body neater and smaller and to unify the parts," Hollander declares. "Since many bodies are not slim and lack either perfect harmony or absolute coordination, a black dress can help give them that delicious resemblance to a stretch limousine that seems so desirable in the present fashion climate."
Yet black has a remarkable tendency to be distinctive without overshadowing the wearer, in a sense amplifying the person. Hollander points to a scene in Anna Karenina, where Anna attends a ball. Tolstoy describes another woman, Kitty, remarking on her black gown. She realizes that Anna could not have worn lilac, that she was most alluring when she stood out from her clothing. "And the black dress with luxurious lace was not seen on her;" Tolstoy writes, "it was just a frame, and only was she seen."
While it's not exactly analogous, a recent study of male birds-of-paradise reveals an intriguingly similar power in their black plumage. The birds are well-known for their bobbing courtship dance, but according to the researchers, it's actually their coloring that determines their success in mating. The mostly black birds raise their wings to form a light-absorbing field, causing their other colors to appear all the more brilliant.
"The juxtaposition of darkest black and colors create to bird and human eyes what is essentially an evolved optical illusion," explained Harvard University evolutionary biologist Dakota McCoy. "This study shows us that black makes us glow."
On male humans, black is often seen as dignified and levelheaded. In his Book of the Courtier, a sort of guide to life in the aristocratic courts of Renaissance Italy, Count Baldassare Castiglione states that black is the preferred color for a man, or at least something dark. Harvey points out in The Story of Black that black has been the standard for men's evening wear since the 1810s, in large part thanks to the advocacy of Beau Brummell. The name may be familiar to some men. He's widely considered the inventor of the modern men's suit and a sort of founding father of contemporary menswear.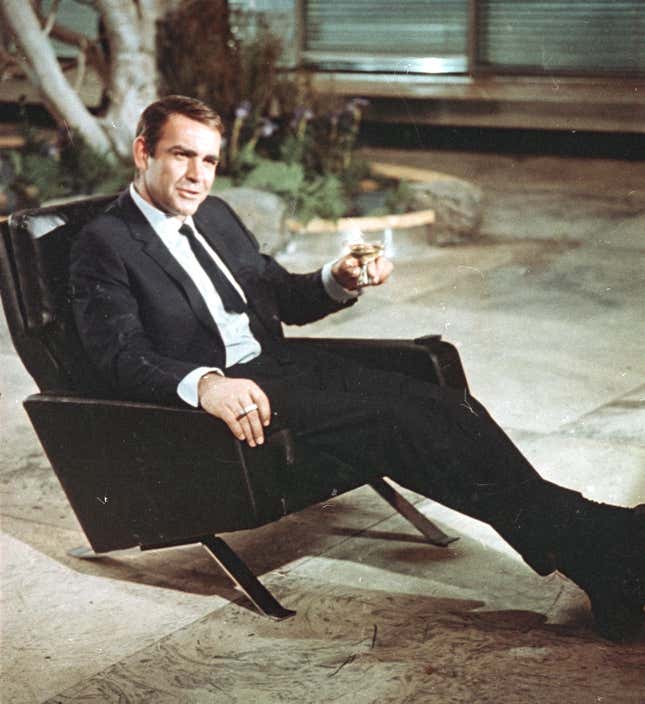 Black's hold on high-fashion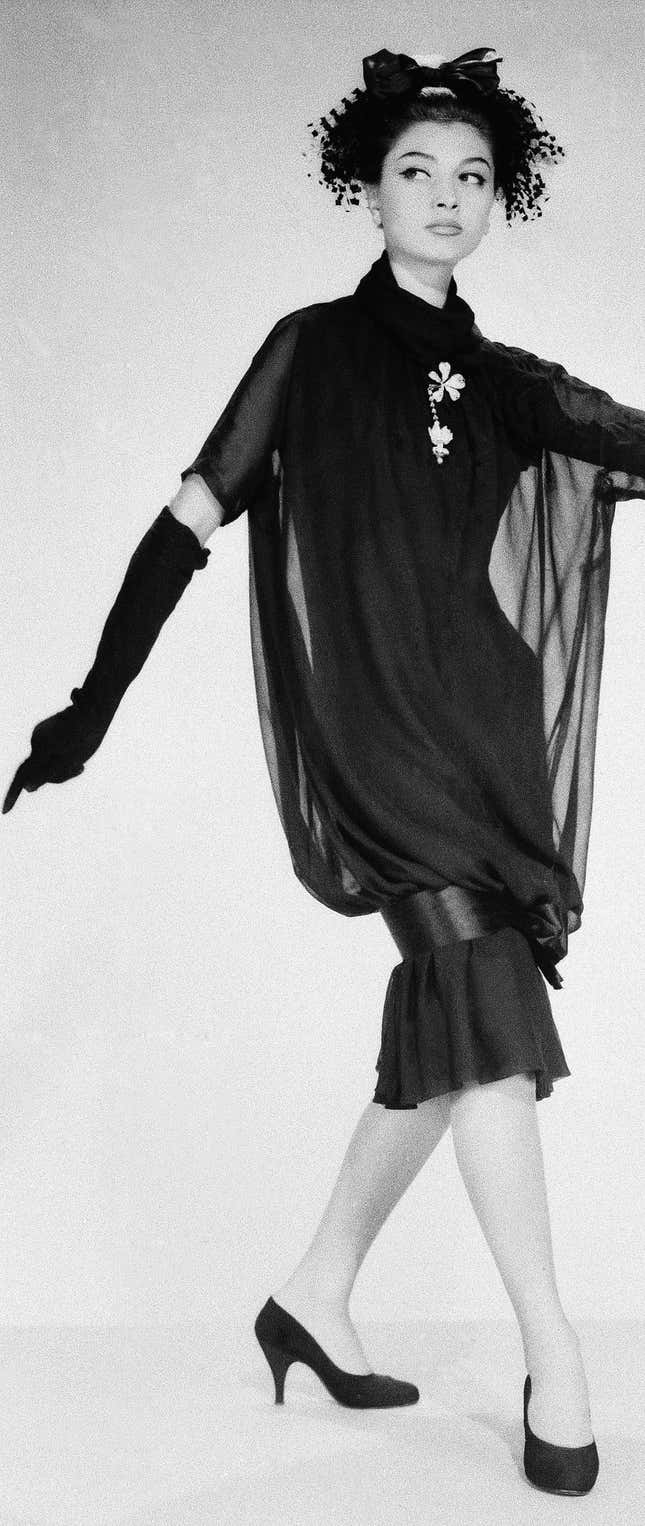 In the decades since Chanel's compact black number graced Vogue's cover, numerous designers have adopted and elevated black for their own purposes. Cristóbal Balenciaga used it for his elegant, architectural silhouettes, and Yves Saint Laurent for his androgynous "le smoking" women's tuxedo. In the latter half of the 20th century, it became closely linked to fringe groups and rebellion. Bikers and beatniks donned black. Then, the Japanese design wave of Issey Miyake, Yohji Yamamoto, and Rei Kawakubo of Comme des Garçons made a new art form of the black look.
Fashion journalist Suzy Menkes asked Yamamoto what was behind his well-known predilection for black in a 2000 interview for the International Herald Tribune. Yamamoto's response has evidently summed up the feelings of black's devotees so well that it has circulated for some time on social networks such as Tumblr and Instagram. "Black is modest and arrogant at the same time," he said. "Black is lazy and easy — but mysterious….Black can swallow light, or make things look sharp. But above all black says this: 'I don't bother you — don't bother me!'"
Given black's adaptability and allure, it's little wonder it remains a popular choice for all sorts of styles today. Black-obsessed artisanal menswear designers deploy it for their exquisite leather jackets. Designers such as Ann Demeulemeester have gravitated toward its romanticism, others like Balmain's Olivier Rousteing to its sleekness. Black colors fancy cocktail parties, and goth kids match their clothes to their black eyeliner as readily as socialites thrown on black for a night out.
By all indications, its attraction isn't diminishing. We'll be flying the black flag for years to come.