Limited-edition sneakers can make people do some idiotic things, and one of the most hyped and limited shoes of the moment comes courtesy of Adidas, in collaboration with singer and producer Pharrell Williams. The most sought-after versions are a take on Adidas' NMD sneaker, and on the resale market, they can go for several hundred or even thousands of dollars.
The line, called Hu—short for "human"—is actually meant to represent "Pharrell's founding vision of energy, color, and spirituality as a unifying force between people," according to Adidas. Though the people who have been lining up for the latest release evidently didn't get the message. Not for the first time, fights have been breaking out as crowds of eager shoppers try to get their hands on a pair.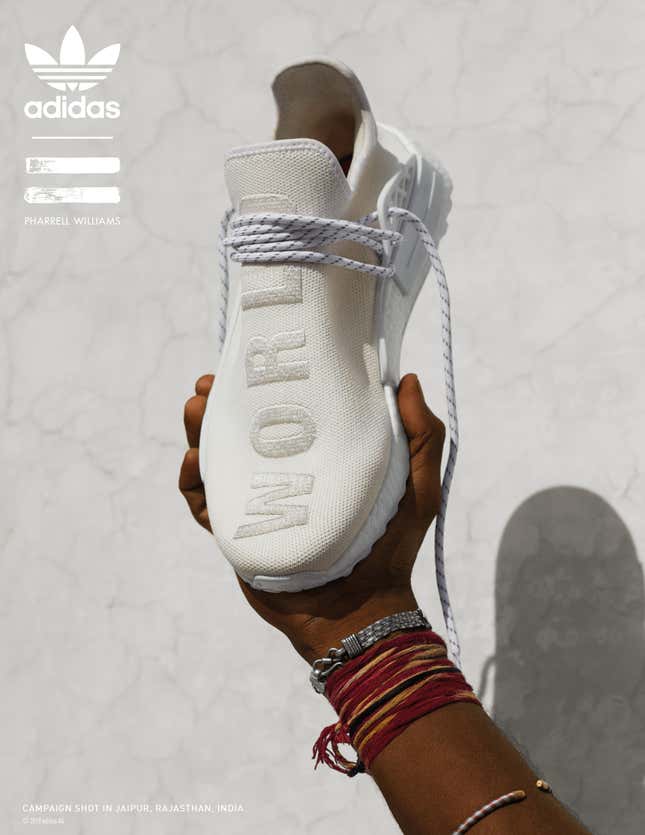 Sneaker and entertainment site The Playbook reports that shoppers got violent in Singapore at the latest drop for the shoes. The crisp white "Blank Canvas" pack, which also includes a few other Adidas styles in addition to the NMD, is meant as a tribute to the Indian festival of Holi, which involves a joyous tossing about of brightly colored powders and celebrates good beating away evil. (Of course it is often marred by sexual assaults and violence.)
At a previous release for various colored editions of the Hu NMD in November, a man in Kuala Lumpur was punched while queueing up for the shoes. There were also reports of brawls taking place in New York and London.
Adidas and Pharrell may want the shoes to signify peace between people, but what they're most effective at is creating hype for the Adidas brand. The shoes are sold in such limited quantities that they're just a drop in the ocean for Adidas in terms of sales. For context, Adidas made 360 million pairs of shoes (pdf, p. 65) in 2016, while releases such as this one generally don't even come close to a million pairs released. But among sneaker fans and on platforms such as Instagram, they serve as status symbols for those who can snag a pair. Adidas and Pharrell succeeded in creating a buzz, though not all of it the kind they wanted.