There were several reasons people were buzzing about Timothée Chalamet at the 2018 Oscars. The 22-year-old actor, who played one of the leads in the visually sumptuous Call Me By Your Name, earned the distinction of being the youngest nominee for best actor in almost 80 years. He also had a turn as an erudite badboy in Lady Bird, another Oscar contender.
And then there was his tux.
The creamy, shawl-collared jacket, contrasting ever so slightly with the stark white shirt and bowtie, and especially the pegged pants hovering atop sleek black boots—rather than the standard lace-ups—made the look distinctively cooler than your average tuxedo. Showstopper dresses on a red carpet tend to communicate in shouts; tuxedos more often do it in whispers, since the classic evening wear follows a fairly rigid set of rules, even in flamboyant Hollywood. It's all in the proportions and small details—and as various outlets and social media users noticed, Chalamet's tux nailed it. It felt as fresh and youthful as the actor himself.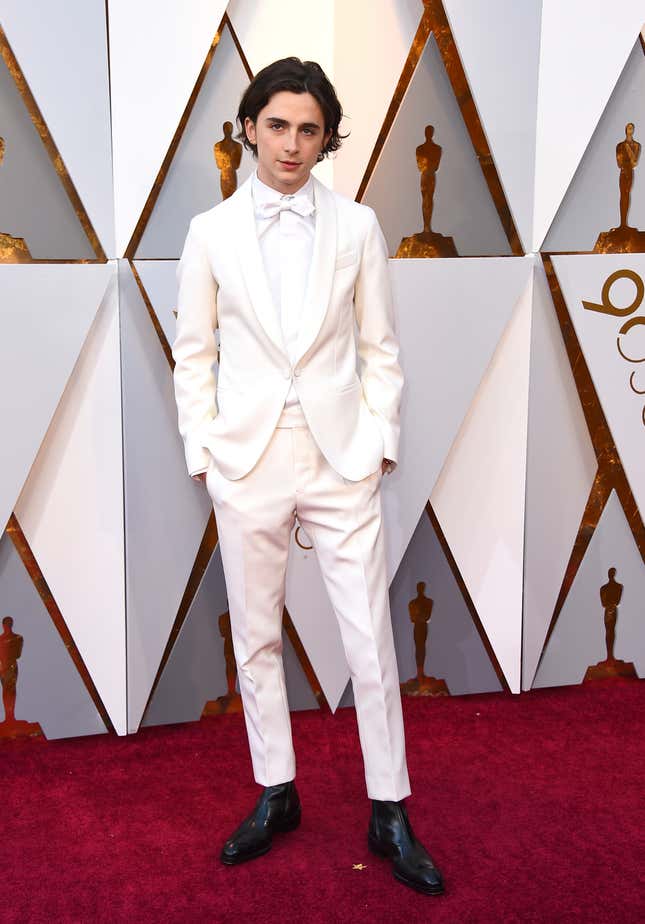 The label that made it, on the other hand, is not so young. It was from Berluti, founded in 1895 by an Italian shoemaker in Paris. Today, its creative chief is Haider Ackermann, one of the cooler names in fashion, known for his uniquely louche-yet-relaxed glam. His celebrity fans range from musician Kanye West to actress Tilda Swinton. He's brought an energy to Berluti that's giving it new relevance.
Just a couple of years ago, the LVMH-owned label wasn't one celebrities would generally turn to for red-carpet clothing. It contributed a suit here and there, but mostly it was known for its legacy of crafting exquisite footwear for clients such as John F. Kennedy and Frank Sinatra.
Ackermann has preserved the luxury craftsmanship, while adding some much-needed attitude and a sense of decadence that's making Berluti a draw for a new generation. At last night's Oscars, the label also dressed last year's winner for best supporting actor, Mahershala Ali, in a green velvet, shawl-collar jacket over a monochrome grey shirt and pants, plus boots again. (Ackermann is partial to shawl collars; they give a laid-back vibe to an otherwise structured formal jacket.) It was another highlight of the evening's menswear.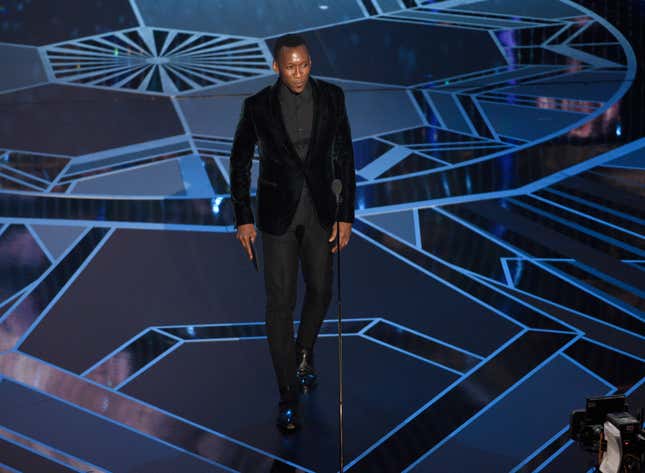 Chalamet, meanwhile, has become something like the unofficial face of the brand. He's a vocal fan of Ackermann's work, and has become a fixture in Ackermann's and Berluti's Instagram feeds.
In fact, the first fashion show Chalamet ever attended was the Berluti presentation at Paris Fashion Week in January, after being introduced to the brand by Swinton. "It was incredible," he told Vogue. "Haider is my favorite designer."
There seems to be some good chemistry on camera, and Berluti must be quite happy to have some of Hollywood's young blood talking up the brand.