Recently, I was invited to a "Women's Circle" hosted by True Botanicals, a Mill Valley, California-based skincare company, at Ojai Vista Farm, a 10-acre estate on an avocado farm north of Los Angeles. Perhaps the event's unusual title or idyllic location should have indicated it wouldn't be the average power luncheon. But I still anticipated the afternoon with a smidge of trepidation.
I pictured an event with name-tags displaying job descriptions, where I would have to carefully pronounce "Quartz" (which becomes oddly difficult for me to say clearly in social situations), and feel increasingly stressed about being away from my desk every time my phone dinged with a message from a colleague. But as a lifestyle writer and relative newcomer to Los Angeles, I had pushed myself to attend.
Instead of furtive peering at name tags, or glances around the room for more valuable contacts, I found women laughing and chatting outside a white walled building with wide doors open to the Santa Ynez mountains. Most adhered to a Silver Lake Shaman dress code: autumnal earth tones punctuated by Georgia O'Keeffe-worthy accessories. Deep mustard shades abounded.
Among us were business owners, marketing executives, writers, and designers—presumably invited because we wielded some influence in the market True Botanicals wishes to reach. The company's founder, Hillary Peterson, thanked us for coming and said we'd be commemorating International Women's Day by "empowering women" and "sharing information."
As I turned my phone off and looked around, it dawned on me that I was simply at a gathering of friendly strangers. It was networking at its most essential—humans, talking. In management circles, it's become fashionable to talk about the power of vulnerability. For an afternoon, I got a very LA introduction to what that can look like.
An age-old ritual for the wellness—and #MeToo—era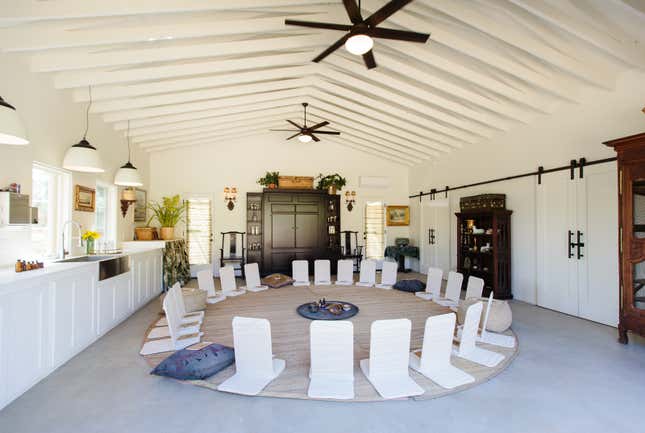 Women's circles—intimate gatherings where women discuss goals, concerns, stories, and advice—have probably been around since prehistory. In societies from the native Yurok tribe of the Pacific Northwest, to the Ulithi of the South Pacific, to the Beng of Africa's Ivory Coast, menstruating women had ritual gatherings. Historically, we've seen women's circles for crafts such as knitting, quilting, and sewing—and also for furthering causes such as emancipation and women's suffrage. (Fun fact: Greta Garbo apparently referred to a group of secret Hollywood lesbians and bisexual women as her "Sewing Circle.")
Today, as political discourse becomes increasingly caustic and we're painfully aware of sexual discrimination and abuse in the workplace, women-only workspaces such as the Wing in New York and Washington, DC are thriving. Women's circles offer a similar safe and supportive space for camaraderie, without the focus on professional identity.
Sometimes they happen informally and are offered for free in women's own living rooms, churches, or recreation centers. Sometimes they're marketed in a manner not unlike a yoga class: WMN Space, a Culver City, CA-based wellness studio that will celebrate its one-year anniversary on Sunday, offers access to women's circles by the 5-pack ($262).
One might side-eye the Instagram-readiness of many such events—including the one I attended. But the power of women gathering to support one another is undeniable.
New-age networking
At Ojai Vista, after we filed inside took our seats in a ring on the floor, a breathwork expert named Ashley Neese began by leading us through a series of exercises—inhaling, exhaling, and pausing between—before instructing us all to open our eyes. Then Erica Chidi Cohen, an LA-based doula and the author of a guide to early motherhood, addressed the group with the demeanor of a Zen camp counselor.
Cohen instructed us to introduce ourselves not by our professional designations, but as daughters and granddaughters, naming the women who came before us in our families, and to each say something we wanted for our minds and our bodies. She gave us a few minutes, and recommended writing down our full script, in case we got flustered.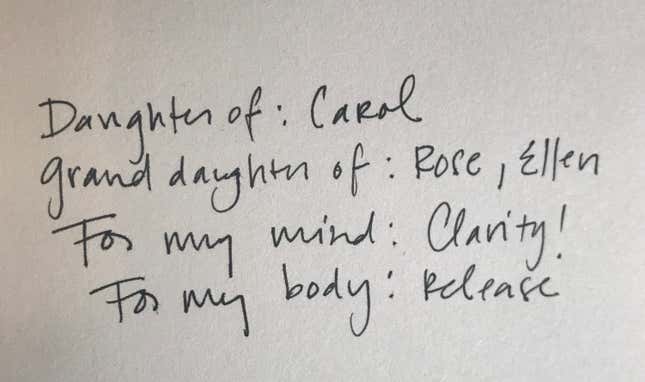 After a few minutes, each of us shared what we'd written. For our bodies we wanted things like strength, sexual exploration, and recovery—one woman specified this in the wake of childbirth, another following multiple reconstructive surgeries of her leg. For our minds we wanted confidence, acceptance, clarity, and quiet. Several women said they wanted to slow down. And for a few minutes, we all had.
Supporting one another
As we walked to lunch at a farmhouse atop a nearby hill, the woman who'd referenced her leg surgeries asked if she could hold my arm. I happily offered my elbow, and we walked, one woman literally supporting another. As we did, she talked about her injury, the healing process, and how difficult it is to be a single mom who can't run up and down the stairs. Another woman offered an introduction to her sister, also a single mom in west LA. It was the sort of valuable connection that might never have emerged if we had led with our job titles.
Over roasted chicken with grapes and cacao-and-avocado mousse, discussions sometimes touched on work, but they were about the lessons we'd learned from different jobs, not humblebrags about successes or complaints about frustrations. There were conversations about child-rearing, career choices, and the perfect straw hat. Questions were asked with genuine curiosity. Answers and advice were offered generously.
By the afternoon's end, as I learned how to assemble a sage bundle that now sits on my desk, it occurred to me that by removing ourselves from the context of work and our professional identities, we had made connections that were deeper, more valuable, and frankly, more enjoyable, than we otherwise might have.
How to bring it back?
Not every day can open with breathwork and close with cacao-avocado mousse. But networking—putting oneself out there—is always an exercise in vulnerability, regardless of your gender and whether you're sitting in a circle on the floor. Even without a high-end skincare sponsor, there are ways to slow your roll in everyday life:
Take a deep breath. 
Set aside a few minutes throughout the day to just be in your body, whether that means breathing exercises, a walk around the block, or popping into a deep, passive squat on the floor. (Our new Quartz for Messenger squat bot will even set an alarm to remind you.)
Ask something besides, "What do you do?" 
Sure, it's an easy opener, but isn't it nice to talk about something besides work? There's a reason the question is considered rude in some parts of the world. Asking about someone's pets, their cool shoes, or what they're reading provides the opportunity to connect on another level.
Get vulnerable. 
Sometimes you might have to reveal a little bit of yourself to get others to do the same.
Create your own special time and space.
For some, this may mean hosting an actual women's circle, aligned with the moon. For others, it may just be a device-free Friday night dinner. It could even be as simple as inviting your girlfriends over for a bite and a bottle of wine, even if your home is a mess: That itself is an exercise in vulnerability.