Dior Homme was once arguably the most influential menswear label in the world. In the early and mid-2000s, under the direction of designer Hedi Slimane, Christian Dior's menswear line was the major force convincing legions of fashionable guys to squeeze themselves into pencil-thin clothes—not least of them Chanel's Karl Lagerfeld, who admitted that the desire to fit into Slimane's stick-figure silhouettes prompted him in 2000 to begin his dramatic weight loss. That influence trickled down to shape clothing from labels like Levi's and J.Crew.
But Dior Homme hasn't set the tone for menswear in quite the same way since Slimane left in 2007. Though his replacement, Kris Van Assche, has ably led the brand through its ongoing global development in the 11 years since, he's kept Dior Homme's focus mostly on slim tailoring—even as men have been ditching their suits for streetwear and casual clothes.
That seems about to change. WWD has confirmed (paywall) that Kim Jones, who until recently was the head men's designer at Louis Vuitton, is the new head of Dior Homme, and will show his first collection for the label in June. Dior also announced the news via its social channels. (Both Louis Vuitton and Dior, it's worth noting, are LVMH brands.)
Jones is probably most famous for putting a Louis Vuitton collaboration with streetwear brand Supreme on the runway. He's also known for his sports influences, having worked with Umbro in the past and collaborated with brands such as Nike more recently. A sneaker fanatic, he has 500 to 600 pairs in his archive. In other words, he's closely attuned to the forces most prominently shaping menswear today, and in the past he's proved adept at working these influences into luxurious, polished menswear.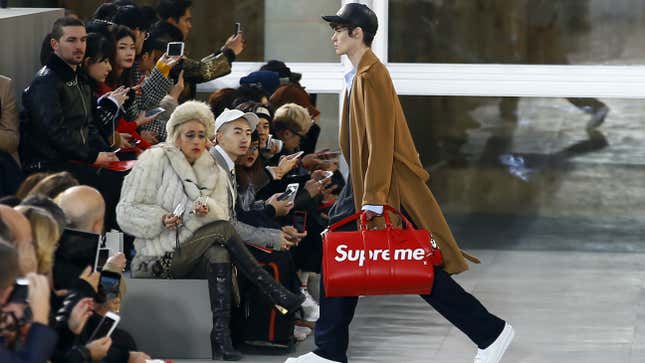 In that regard, the news has echoes of LVMH's decision in 2016 to name Haider Ackermann creative director of Berluti. At his own label, Ackermann helped popularize items such as luxury sweatpants among guys, and while he hasn't gone quite so casual in his work for fancy, prestigious Berluti, he has injected some much-needed youth and attitude that's already helping it gain younger fans. At the recent Oscars, actor Timothée Chalamet wore a white Berluti tuxedo that was one of the menswear standouts of the night.
Jones's appointment to the top creative role at Dior Homme marks the first big move by Christian Dior Couture's new CEO, Pietro Beccari, who joined the label just over a month ago and had previously worked with Jones at Louis Vuitton. Van Assche, meanwhile, will take another as-yet unannounced position within LVMH, according to WWD.