For two breathtaking hours on Thursday night, the United Nations headquarters in New York City was submerged in a "virtual flood." As the culminating event of the intergovernmental organization's World Water Day festivities, waves of blue light designed to vivify the effects of two hurricanes that devastated the New York metro area in recent years enveloped a crowd of 400 gathered on UN grounds that evening. "Waterlicht," sponsored by the Dutch government, was a grand spectacle meant to underscore the urgency of addressing rising sea levels caused by climate change.
The UN headquarters along Manhattan's East River was a particularly poignant venue for Waterlicht. As spectators were bathed in the beautiful blue dreamscape, the trauma of hurricanes Sandy and Harvey also hung in the air. Across the UN is a direct view of Hunter's Point, Long Island City, a waterfront residential community particularly vulnerable to the flooding during heavy storms. The skyline engulfed in blue haze was an indelible and immersive living infographic of the threat posed to cities by rising waters.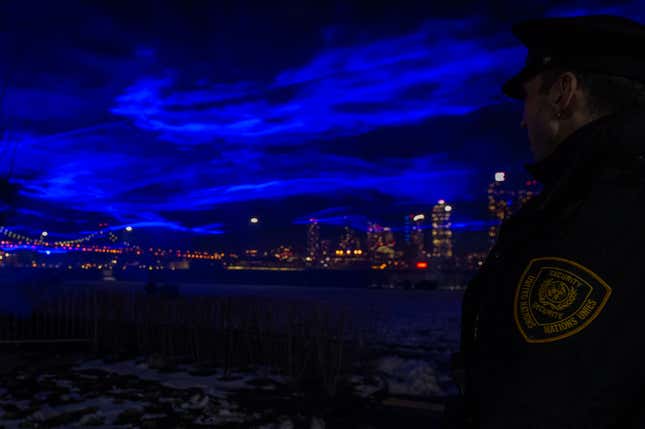 Daan Roosegaarde, Waterlicht's designer, explains that the projection was calibrated to mimic the height of flood waters during those catastrophic hurricanes. "We know that in the coming years, New York is going to get hit again because of rising sea levels and potential floods," he says. "[Waterlicht] is [as much] a memorial as it is a warning."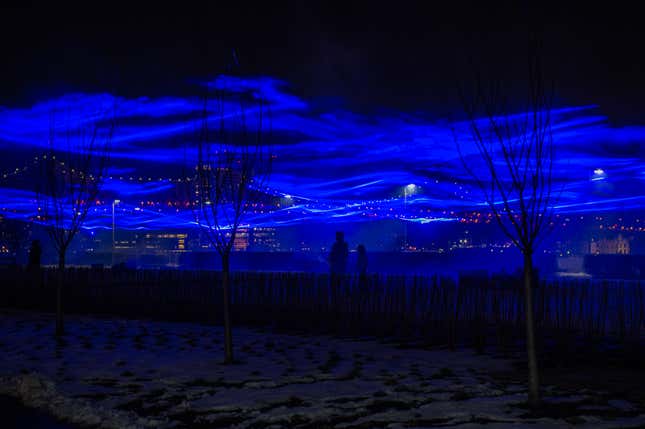 Over the last three years, Roosegaarde has taken Waterlicht on tour all around the world; the New York City projection is his 10th, but perhaps most consequential showing. Determined to bring it to the place where world leaders met, Roosegaarde spent two years convincing UN security officers to approve an installation that must be visited in the dark. Eventually, they agreed—after Roosegaarde got backing from the Dutch government and a team of 300 engineers and project managers. "Having it at the UN was special. You could feel that on a policy level, when they [world leaders] start to understand the issue, that's when we'll feel the real change," says Roosegaarde, who is building a reputation as one of the most active and articulate designers tackling climate change today.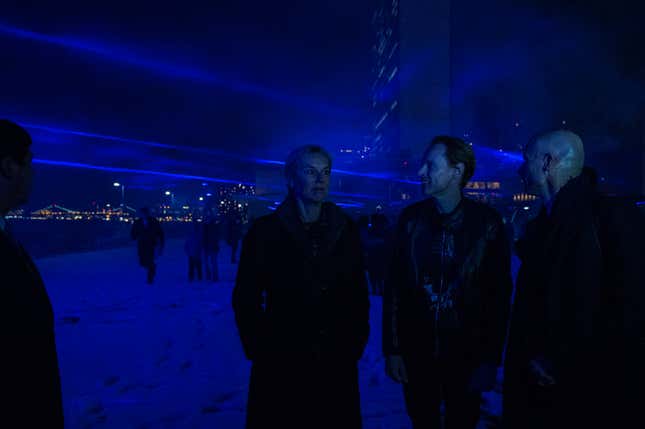 Based on the the number of tweets gushing about the event, Waterlicht's New York City debut was a success, but Roosegaarde believes a designer's role shouldn't end with beautiful provocations. His social-design labs in Rotterdam and Shanghai take what he calls a "bottom-up approach" to issues: they first design a spectacle that brings a problem to life, with the hope that it spurs a local government to work with them to then develop some potentially planet-saving project.
At the moment, Studio Roosegaarde's engineers and designers are seeped in ecology-focused projects that range from purifying the air in congested cities to cleaning up space debris. "I think there's not a lack of money or technology, but a lack of imagination," Roosegaarde says. "It's up to designers to ask questions why we're not investing in it [solutions] and why we're accepting the current situation."
Over the years, Roosegaarde has developed a unique aptitude for navigating government bureaucracies and convoluted RFP processes. "It's not easy," he says. "There's 80% bullshit to get to the 20% beauty. But if it works, it's wonderful."