Officially, the Cannes Film Festival doesn't specify how tall a woman's heel must be to attend its glitzy events.
Unofficially, though, high heels are required for women on the red carpet. In 2015, the festival provoked anger when it turned away a group of women in their 50s who had the temerity to try to attend a screening in flats. (The festival later said staff had made a mistake.) Men, of course, face no such expectation.
This year, actress Kristen Stewart apparently didn't want to play along. On the red carpet for Spike Lee's new movie BlacKkKlansmen, she paused a moment to ditch her black Louboutins, and then proceeded up the stairs barefoot.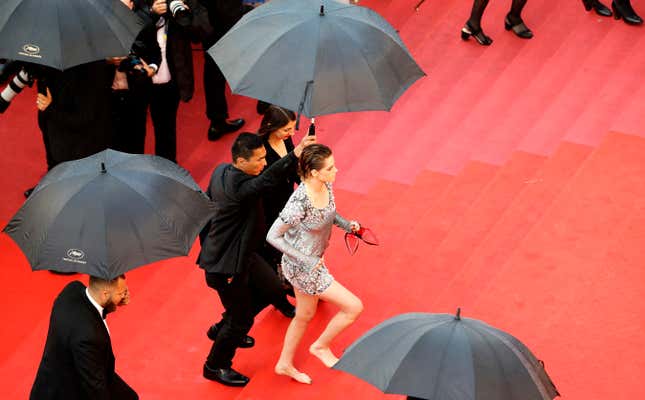 It's not clear whether Stewart was directly protesting the painful tyranny of heels at Cannes, where the dress code remains regulated by tradition, if not by official decree—or if she simply didn't want to risk toppling down those stairs. But the actress is among those who have publicly criticized the pressure on women to conform to this tradition in the past. Julia Roberts also went barefoot in 2016.
"There's definitely a distinct dress code," Stewart told the Hollywood Reporter last year. "People get very upset at you if you don't wear heels."
It wasn't Stewart's only statement-making moment at Cannes. She joined the group of 82 women who protested gender inequality in the film industry, standing on the steps of the Palais convention center to demand equal pay and safe work environments. Though people who recognized Stewart's Chanel looks at both events—Stewart is one of the celebrity faces of the brand—may have experienced some cognitive dissonance, given Karl Lagerfeld's dismissal of the MeToo movement.
Cate Blanchett, jury president of this year's Cannes festival, led the protest. She herself has been criticized for working with director Woody Allen—accused of sexually abusing his daughter, Dylan Farrow—and once seemed to joke in an interview that she named her son Roman after director Roman Polanski—the director who is accused of sexually assaulting multiple girls when they were teenagers.