Once again, Facebook is acknowledging it has a problem. This time, it's with dodgy ads, not fake news.
Sometimes they're scams by retailers—many based in China—that steal photos of workout gear or dresses from other sources and then ship poor-quality substitutes to people who place orders. Other times they're shady dropship arrangements (paywall), or the retailers may be legitimate but poorly run businesses that don't deliver on time, offer terrible customer service, or sell unsatisfactory products.
Either way, Facebook is worried that these problems could sour users on the social media network. "Bad shopping experiences aren't good for anyone," the company says in a press release about a new ad feedback tool it's releasing today.
The tool, which you can get to through the "Recent Ads Activity" link in the "Explore" navigation bar, gives users a way to tell Facebook about problems they've had with things like shipping time and product quality. Facebook can't get customers their money back if they're unhappy, but if a business gets enough negative feedback, Facebook will let it know it has to correct the problems. If the negative feedback continues, Facebook will reduce the number of ads it's able to run on the social network, and might ultimately ban it.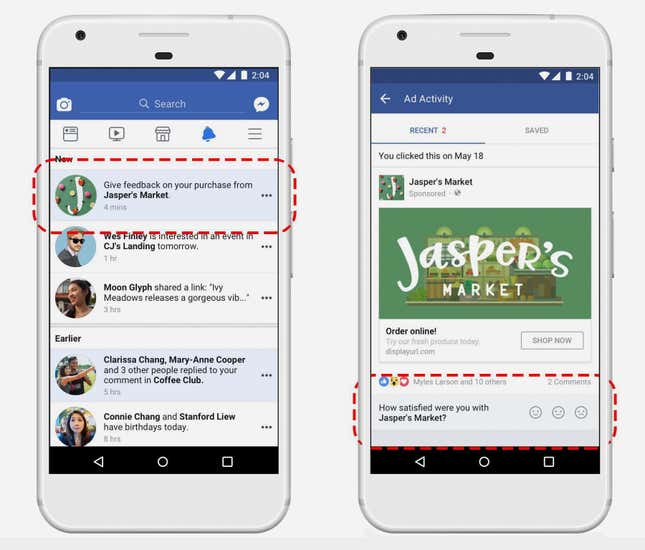 Facebook also put out some guidelines on what to look for when you're deciding which ads you can confidently click through to make a purchase. Generally speaking, they're good tips to keep in mind when shopping on any website or app you're not familiar with, or when buying from a third-party seller on a platform like Amazon's marketplace:
Pay attention to product information and photos
An ad "that relies on blurred, selfie or computer generated product images" is a warning sign, Facebook says. Ideally the seller will provide clear images that show the actual product in detail, preferably from multiple angles. It's also a good indication if the seller provides exact dimensions of a product and a size chart.
That said, professional product shots are no guarantee of a legitimate retailer either. Shady sellers on Amazon sometimes steal photography from other sources and post it as their own, said Stuart Fuller, director of commercial operations and communications at NetNames, a global brand protection firm, in a 2016 interview with Quartz. The same can easily happen on Facebook. One way to check is by doing a reverse image search on Google to see if the product photo turns up at another source.
Read the shipping details
Advertisers that quote inaccurate shipping times were the other big frustration users reported to Facebook, the company says. One red flag to be on the lookout for is when a retailer just provides a "dispatch time." That just means when they say they'll send it out, but it tells you nothing about when you can expect the package to arrive.
Facebook advises looking for door-to-door shipping times that are "clearly conveyed on either the product page or during checkout." Companies should ideally also indicate that tracking will be available for your order.
Know the return policy and how to contact customer service
One thing you'll definitely want to check is what you can do if the product you get isn't to your satisfaction. What you want to see is a clear return policy, and ways to contact the company if you have any issues. In the best cases, the retailer won't charge a restocking fee for returns, or even offer free shipping for returns.
But be on the lookout for international retailers that only offer "free refunds" but say nothing about return shipping. As Facebook points out, the cost to return an item overseas could end up being more than you paid for the product itself.
Skepticism is healthy
"My favorite saying is: If it looks too good to be true, it probably is," Fuller said. And that's worth keeping in mind when shopping on Facebook.
You may find that an advertiser has nice product images, a polished website or app, and promises easy returns. But if they're selling you a $12 dress that looks like it should cost much more, proceed with a healthy amount of skepticism. It's possible that it's for real, but it could also be a low-quality knockoff that looks and feels that way.
Facebook says its feedback tool "will give people more confidence in the businesses they interact with via ads, and help hold businesses more accountable for customer experiences they provide." But it's worth noting that users won't be able to see what others using the tool have said about the advertiser. (Facebook points out that the ratings system on a business' Page still exists.) Facebook has shown in the past that it can't monitor everything happening on its network—just look at its stumbles fighting fake news.
Ultimately, to avoid getting scammed, you have to learn how to protect yourself.
Here's Facebook's full tip sheet: