If there's one worldwide food guide that everybody knows, it's the Michelin Guide. Invented over a century ago at the dawn of the road trip age in France by the two brothers who founded the Michelin tire company, it now guides foodies across 25 countries. Chefs cook for stars—and cry when they lose them.
But does the Guide really get Cantonese food? That's a question many in China are asking after its "inspectors" bestowed its first Michelin stars in Guangzhou, in southern China, the second city in mainland China to be rated after Shanghai in 2016.
Four out of the eight in Thursday's (June 29) list, all of which got one star, are in luxury hotels, and expensive. For example, Jade River, located in the White Swan Hotel and known for its steamed sunflower seed-fed chicken, where the average price for a meal is around 305 yuan (about $50) (link in Chinese) per person. Or Jiang by Chef Fei, the Mandarin Oriental Hotel's Chinese restaurant in Guangzhou, which is famous for dishes like (pdf, p.6) steamed abalone with aged orange peel and roasted Wenchang chicken. A meal for one there is about 438 yuan (nearly $70) per person. One star (out of a maximum of three) indicates "a good place to stop on your journey, indicating a very good restaurant in its category."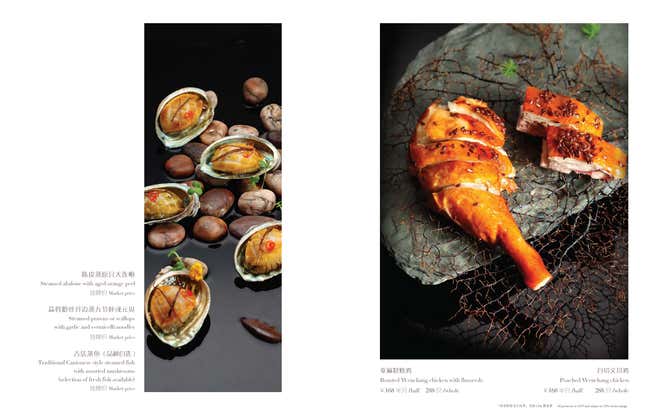 Many locals said that Michelin's focus on high-priced eateries is out of step with the ethos that shapes Guangzhou's cuisine.
In a post titled "He he, Guangzhou people don't need a Michelin Guide," food blogger Jiu Hang noted (link in Chinese) that the Cantonese cuisine of Guangdong province, where Guangzhou is located, isn't about expensive ingredients. Rather, people focus on eating according to what's locally in season. "That's the spirit of Guangdong food," he wrote, racking up some 100,000 views for his post in a day.
"For local Cantonese, a dinner of 3,000 yuan ($450) or private kitchens can never match a drive for pork offal porridge in Panyu district, fish fresh from the ponds in Shunde city, or river food in the countryside… a taste of humanity is the best side dish to go with Guangzhou cuisine," said Jiu Hang. "You might say food in Guangdong hasn't caught up with international trends but why should we? Guangdong locals are just fine with the old-fashioned ways…. Every Guangdong local has their own list."
Some said they would have recommended other restaurants to visitors—and also noted the absence of street food. But then, "How would Michelin understand Chinese street food?" commented a user (link in Chinese) on social media platform Weibo.
"I think food in these restaurants taste okay, they have relatively stable product quality and service, but they are not the best food," commented (link in Chinese) Mr. Sanhuai, a user who appeared to be based in Guangdong province, also on Weibo.
The Michelin Guide's standards might be better suited for Western food than Cantonese, wrote user gnos75 (link in Chinese) on Zhihu, China's Quora, while also wondering if the guide itself isn't out-of-date when visitors can rely on Yelp and other online user-generated review sites.
It's not the first time Michelin has generated disagreement in China. When Shanghai got its first stars in 2016, the only one to get the coveted three stars—awarded to only about 100 restaurants—was T'ang Court. The restaurant serves Cantonese food rather than local Shanghainese cuisine, known for soup dumplings.
But then, in Asia, three stars are rarely awarded mainly for local cuisine. In Hong Kong for example, its half-dozen three-starred restaurants include French, Italian and Japanese restaurants. Still, Hong Kong, unlike mainland China, shows Michelin does have some appreciation for unpretentious but delicious food—a number of hole-in-the-walls and chain restaurants offering dim sum and other local classics boast a single Michelin star.