Liang Jinheng, a male makeup blogger with one million followers on the Chinese social network Weibo, peered intently at one eye as he dabbed at its outer corner with an eyeshadow brush. In the video (link in Chinese), demonstrating how to make eyes look bigger, he warned his audience to not apply shadow beyond the corner of the eye. "Otherwise it will look too girly," he said.
"As a girl, I'm not as good as him," at doing makeup, comments (link in Chinese) one of his viewers on the video posted Aug. 16.
The 27-year-old entered the beauty industry four years ago when he and some friends started a company in the southern city of Guangzhou to sell cosmetics online. Liang began wearing makeup to parties or when modeling the business's cosmetic products, and soon started posting tutorial videos of himself applying makeup. Many of his customers were stunned, he says, to see a man spending more time and effort on his look than some women.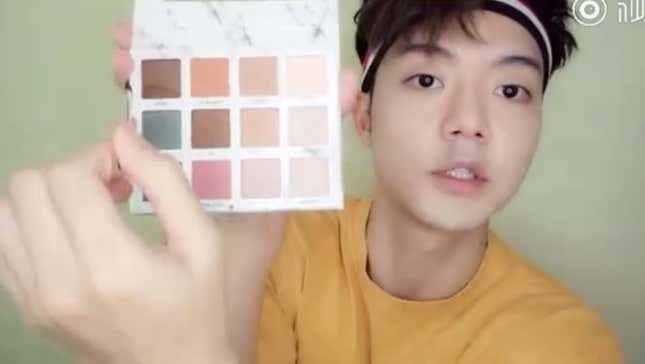 "Doing makeup is a lifestyle," Liang tells Quartz. "It's just about making yourself look clean and neat. It doesn't mean men who take care of themselves are sissies."
In China, Liang is one of a growing number of men who think cosmetic products aren't exclusively for women anymore. Retail sales of the men's beauty market in China will see nearly 7% growth in 2018, to reach about $2 billion, according to market data firm Euromonitor. Overall, the global male grooming market is expected to hit $166 billion in sales by 2022, marking a compound annual growth rate of 5.4% from 2016, according to a report that year by US-based Allied Market Research.
Hello, "little fresh meat"
In the 1980s, the male aesthetic in China was undergoing a change, shaped by the arrival of foreign pop culture as the country began to open up after the upheaval and political chaos of the previous decade. Hollywood movies, and films from nearby neighbors, like the 1976 Japanese thriller Manhunt starring the late Japanese actor Ken Takakura, helped form the ideal of the strong, silent man.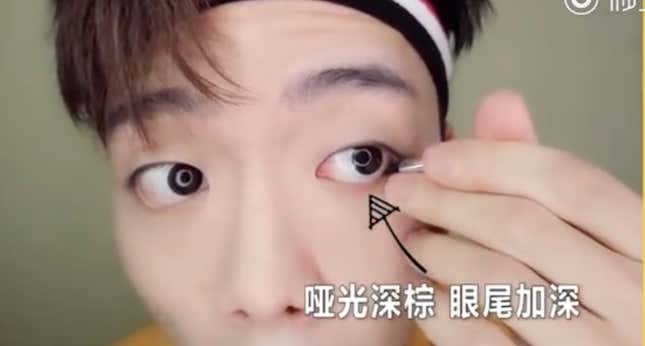 Today, there are some new male species visible in pop culture. For instance, a growing number of educated Chinese women are seeking "little puppies"—loyal, clingy men with docile personalities—as boyfriends. They're a subset of a new type of Chinese male icon referred to as "little fresh meat," men known for their flawless, boyish appearance, a reflection of a change in women's romantic preferences.
Both men and women are delaying marriage, and dating more. At the same time, women have also become increasing economically successful, meaning that factors that were traditionally valued in men, such as a stable career, are no longer as important for some women.
"Chinese women have more alternatives… They want to have fun with a handsome boyfriend," Susanne Choi Yuk Ping, a professor who studies gender and family at the Chinese University of Hong Kong, tells Quartz.
Choi also attributes the rise of men wearing makeup, and blogging about it, to the influence of pop culture from South Korea and Japan—with the boy bands of K-pop a huge force in China. In one case, even a group of women have adopted the look. But another reason for men's increasing preoccupation with their looks, according to Choi, is a changing economy, oriented toward customer service and away from factories.
"Because of urbanization, and the gradual transition from manufacturing to service economy, many [men] in the service economy need to put more emphasis on appearances," she says.
The changing gender norms have even drawn the notice of China's government. This month, the state-run media People's Daily posted an article (link in Chinese) titled "What kind of gender temperament does society need—is the prevalence of yin a worry or a joy?" In ancient Chinese philosophy, the universe consists of yin and yang elements, with yin representing femininity, softness, and being more inward-looking, and yang representing maleness and strength.
Cashing in on male vanity
Major cosmetic brands are looking to capitalize on the rise of "little fresh meat." Last year, French cosmetic company L'Occitane experienced double-digit sales growth for all its cosmetics after using 28-year-old pop star Lu Han as its brand ambassador. Lu rose to fame in 2011 when he was the Chinese member of popular South Korean bouy band EXO, and his meticulously groomed, youthful, innocent image won him a large group of female fans.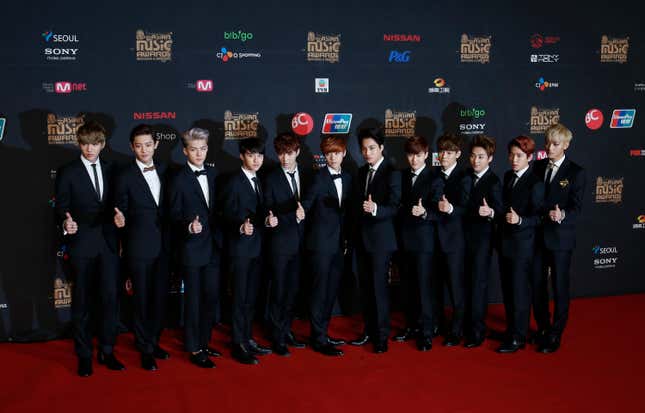 In September, Chanel will launch its first makeup line for men in South Korea. Before that, cosmetic giants such as Estée Lauder, L'Oreal , and Clinique have spent a few years exploring skin-care lines, such as L'Oreal's Men's Expert and Clinique for Men, aimed specifically for men.
"Beauty is not a matter of gender, it is a matter of style," said Chanel.
Still, it's unclear how big a role makeup can capture within the overall male grooming market immediately. Felicia Chan, principal at the consulting company A.T. Kearney, told domestic media Jiemian (link in Chinese), "In the next three to five years, men's growth in skin care products will very good, but it is limited to moisturizing, removing acne, removing oil, etc. When it really comes to male makeup, our prediction is that it will not reach a notable increase in the short term."
You can be masculine and wear makeup
A blog post (link in Chinese) that asked "Are there any 'exquisite piggy boys' around you?" on Weibo last year led to men sharing photos of tables covered with superb collections of luxury cosmetic products (women shared photos of boyfriends or friends with such collections). A popular term on China's internet this year, the label "exquisite piggy" refers to someone who gets a lot of joy out of grooming, as well as the simple pleasures of life, like eating junk food, and watching endless TV. One commenter said her ex-boyfriend, who took two hours each day doing his makeup, taught her how to make up her face. Another said that her male classmate used a facial cleaning instrument, kept dolls in his dorm room, and wore BB cream.
Yuan Xikun is a 20-year-old student who became a part-time male makeup blogger a few months ago. Some of the commenters on his videos have called men wearing makeup "disgusting" and mocked them for not being "real men."
"I can't understand why they were saying that," says Yuan (pictured in the lead photo). "For me, masculinity means that when a girl faces danger, a man dares to stand up to help her. It is not relevant to wearing makeup."
For Liang, makeup is just a part of his lifestyle. "Wearing makeup is a way of being polite," he says. "For yourself, and for others who are seeing you."