Since launching in 2006, three years after Ssense's founding in Montreal, Ssense.com has become one of fashion's premier online retailers by satisfying fast-paced, Instagram-addicted shoppers who can tire of a trend in a moment and are always on the lookout for the next exciting thing. Brigitte Chartrand, its senior womenswear buying director, has guided the women's department for the last four years, and was among the first to introduce brands such as Vetements and Off-White.
This piece, in Chartrand's words as told to Marc Bain, has been edited and condensed.
Our customers are early adopters. They want the new things first. It's great because it allows us to be confident in our guts. The Balenciaga Triple S, it's a great example. Vetements and Off-White, we jumped right in right away. It's instinctive, but also with experience we can find these brands, and see when there's clear messaging and a creative approach. Sometimes you can make a mistake, but we've been pretty good so far with finding and believing in these types of products.
The life cycle of products has shortened quite a bit. I totally believe it's because of the high visibility of luxury goods on social media. The customer just gets bored and wants to see something new. Our customers want the things first, so that's why we're more risky in newness. They want to show that they have it. If they've shown already that they have the product, they want to show their next purchase as soon as possible.
The customer is more demanding in terms of newness. I think it's pushing the designers to a bigger level, to a stronger level, to come up with new and interesting products. Instagram is a platform where you have to photograph the product; on e-commerce it's the same thing. If something is photographed well, maybe now the designers might think about that, where 10 years ago they were not thinking about, "How does this look in a photograph?"
There are things that sometimes we won't buy because it doesn't necessarily translate online as well. I think we kind of nailed the lighting at Ssense, but black-on-black detailing might be a bit difficult. Anything that's not contrasted, for example, we know won't register as well online. Or if it's beaded versus print, and things like that.
Online it's a little bit harder to buy a very tailored dress or a suit. It's just easier to click and checkout with something that is a little bit more casual.
The Ssense point of view is really to merge luxury and emerging talents. Eye-catchy products, but easy to wear. A lot of the things can be worn with a pair of sneakers or heels, and at the end of the day it's the same products. It's more of a mindset, I would say. For example, one day I could be completely dressed in a more minimal way, and the other day I can show up and people think I'm going to play basketball. Streetwear, luxury, and emerging and established, mixing that all together makes a more interesting dialogue.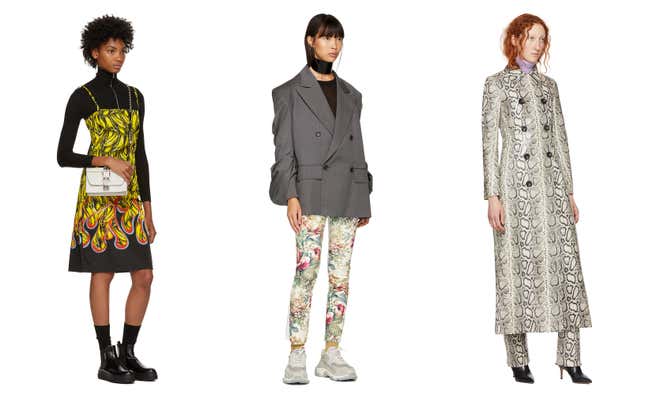 The most personally interesting part of my job is really to find new and emerging talents. Establishing direction for the season, working with our team and the alignment, saying "This is what we're going to do," and being in the field. Connecting with the people that we work with and developing the relationships is something that I truly enjoy.
We're quite helpful with these brands too. Sometimes we'll give business advice or connect them with other people. Then we get very solid relationships with them, because that's part of our job as well, to build and have strong relationships with the partners that we have.
Ten years ago, research was like buying directional publications—forward-thinking magazines with a strong point of view. Today, obviously, with Instagram, a lot of our buyers will do research on Instagram, will find new brands on Instagram, instead of buying magazines. I'm not saying we've stopped buying publications, but it's created another layer.
The drop system, where brands do small, limited releases of new products on a regular basis, is also something that's quite recent and that we're seeing more and more. The customer sees a product and wants it now, so the customer is more and more demanding, because I guess the high visibility of a product on Instagram.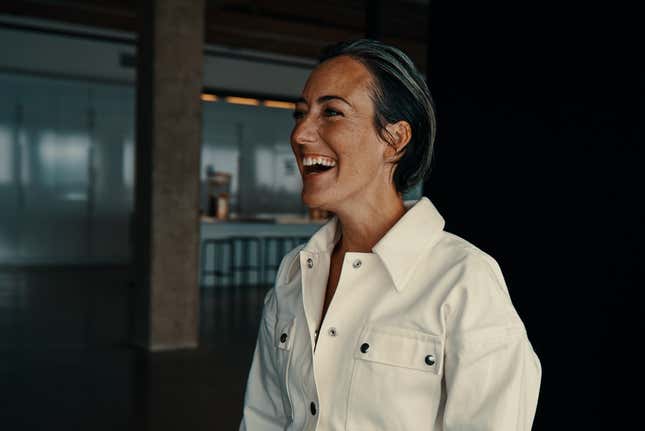 Collaborations are extremely important, and it's a priority at Ssense to develop special capsules and collabs and exclusives. It's a way to express our point of view. Ssense is a brand as well, because of our point of view, the curation, the cultural platform. It gives us the opportunity to also create some story that will speak to our audience.
We can optimize a lot more with data than just being a brick-and-mortar store, a small boutique, that doesn't necessarily have the type of reports that we have. It allows growth, I would say. We look at many different types of data: We'll look at how quickly a certain product sold. The margin, the price point. We make connections between certain products. We make connections between certain brands. We look at a lot of different types of attributes, colors. All of these things will influence the amount of units we'll put behind a certain product. A brand name, the recognition, awareness, the traffic, where it's sold, which country it's sold in.
It's important that buyers look at all of those things. But at the end of the day, we also want to believe in it. It's just a good balance of data and instinct.