Shops that cater to sneaker obsessives can feel as unwelcoming as uptight luxury boutiques—with their own dress codes, their own jargon, and a culture that can require deep insider knowledge to navigate.
"There was a time when you'd walk into a sneaker boutique, and if you didn't fit the part you might get laughed out the door, or you wouldn't get help," said John McPheters, CEO and cofounder of sneaker reseller Stadium Goods, at the WWD Digital Forum on Sept. 13. "It never felt comfortable, even if you were a consumer that was supposed to be there."
Stadium Goods, which grew from a single New York store to an international business and recently got the financial backing of the luxury megaplayer LVMH, could have been exactly that sort of shop: It sells plenty of rare, extraordinarily expensive sneakers to a high-end clientele. But McPheters explained that part of its success stems from an early lesson it learned about how to make people feel included as customers, whether they're sneakerheads or not. That lesson came from, of all places, DJ Khaled.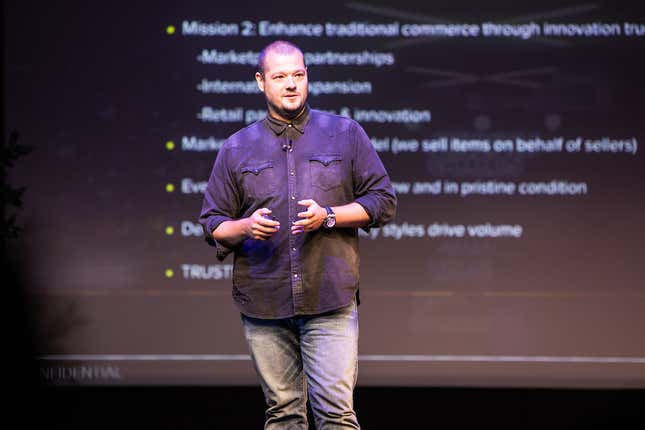 Khaled, a music producer, social-media star, and emoji popularizer, enjoys a lavish lifestyle. He'll post about the importance of getting a mani-pedi once a week with a picture that shows off his fancy jewelry.
But when Khaled did an event with Stadium Goods that drew huge crowds, McPheters recalled, he noticed that Khaled didn't come across as untouchably distant to his fans.
"A huge reason why DJ Khaled is successful is he's able to bridge the gap between the elite luxury brand persona that he presents, but at the same time he's super accessible to his fans," he said. "He stayed there for hours that day, talked to every single person that was there coming to see him. He took photos with them, he talked to them, he engaged with them on their own social media channels." (This is consistent with Khaled's persona on social media, where he regularly shows gratitude for his "fan luv.")
McPheters realized that Stadium Goods had to make sure all its customers felt just as included—"no matter who they are, where they're from, what they're looking for, whether it's a $10,000 sneaker that we have in the trophy case or a $50 sneaker that we're selling in the store," he said. "You have to be able to have those different conversation touch points at all levels with all types of people: the grandmother shopping for her grandson, the young teenager, the 40-something guy who's looking for a pair of sneakers."
To that end, Stadium Goods has tried to make sure its store experience and the content it shares feels welcoming to its consumers—a strategy that traditionally exclusive luxury brands are using more now too. It appears to be working: Stadium Goods, which opened in 2015, hit $100 million in gross merchandise volume last year.