Kevin Ma doesn't want to discuss his shoes. In fact, he'd rather talk about just about anything else.
The Hypebeast founder and I met during New York Fashion Week in the library of his friend's penthouse apartment near the Hudson River in Soho. He's been living in Hong Kong for some time now, but Ma wasn't here to see runway walks—he had actually just turned down a seat at that night's most sought-after show, Calvin Klein's Jaws-themed 2019 collection.
Ma, it seemed, was a bit bored with fashion. He wanted to talk about reading instead.
Ma started the sneaker blog Hypebeast back in 2005 when he couldn't find intel on new kick releases. A student in Vancouver at the time, he grew the website so quickly that he soon left his cushy finance career to dedicate himself to the platform. Just over a decade later—and with a thriving e-commerce arm and more than 5 million Instagram followers—he listed Hypebeast Limited on the Hong Kong Stock Exchange's Growth Enterprise Market; it was the best-performing Asian IPO debut (paywall) of 2016.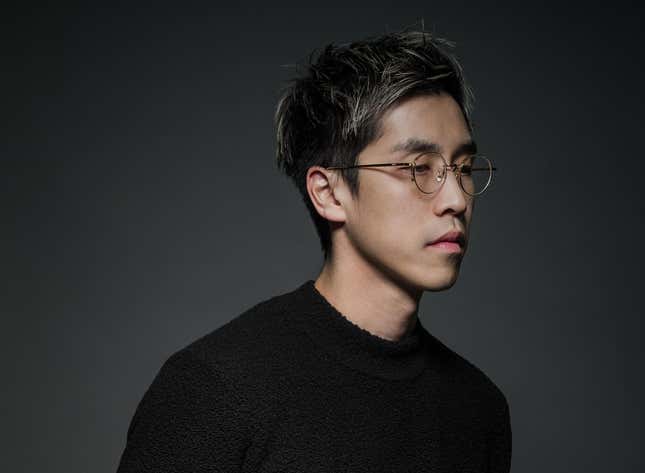 But that was the old Ma—and the old Hypebeast. Now with sneakers, high fashion, and music under Hypebeast's (presumably Off White) belt, Ma wants to expand his personal horizons, along with that of his readers. As part of this new direction, he's just announced Hypefest, a two-day festival that will take place in New York on Oct. 6-7. The event was co-curated alongside Harajuku godfather Hiroshi Fujiwara and former Collette creative director Sarah Andelman, and will feature talks, music, food, and, of course, a whole bunch of streetwear.
Hypebeast has evolved beyond being the internet's welcome mat for sneaker heads. In this interview, Ma talks about the power of community, diversifying your interests, and why he's not just doing it for the 'gram anymore.
(… and, for the record, he was wearing a pair of understated checkered Vans.)
Quartz: Culture is form of personal expression. What's the relationship between fashion and identity?
Fashion is definitely a part of your identity and how you want to express yourself. But to be honest, I don't really think about it that deeply. I just think, "That's a cool shoe: It looks good." Some people tend to overanalyze things. I think it's just fashion—it's clothing at the end of the day. You have people who want to really express themselves through clothing, which is fine, and some people on the other spectrum don't give a shit about clothing at all. And I think that's equally as cool. Like, I don't care about clothing: I care about other stuff. I feel like other stuff is more important than clothing.
As illustrated by New York Fashion Week, which I just walked through on my way here. Everyone walking up and down your street was hoping a street-style photographer was going to snap them.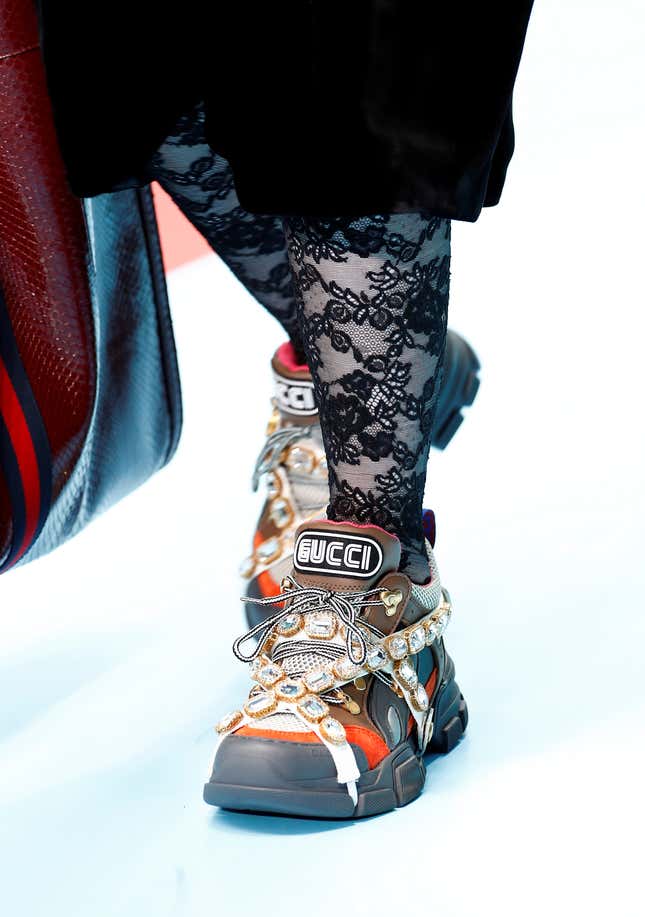 I mean, that's cool if they want to do that. Nothing against that! But for me, I don't care. In the beginning when I started, one of the things that attracts you to this culture is like, "I bought these sneakers, and other people gravitate toward them." Then you have a topic—cool sneakers—and it becomes a community. When you wear sneakers, you can connect with other sneaker heads and have a common topic. Products are just a way to communicate with other people. They're an icebreaker.
But nowadays, it's overboard. There's too much happening. It's lost that purpose of the "club" mentality: connecting with people who have the same interests. It still happens, but I feel people just do it for the 'gram now. That's cool, but that's not me, y'know? I don't really care anymore. I'd rather join a book club, because it makes me learn more. I don't care about what color your sneakers are; that doesn't fulfill or enrich my life. Instead, I'd rather learn about what book you're reading, and hopefully get more educated through what you're learning.
Well, what are you reading right now?
There are a couple of books! I hadn't finished it, honestly, but I'm reading Sapiens [by Noah Yuval Harari]. That's a really good book.
How does the internet play into all of this? Sneakerheads used to meet offline through swap-meets and such. Then the internet came along, and the street community really took to blogging early on. That was underground—but now you're more likely to find out about a new shoe release through a major website, not a friend in real life or through a small online community.
It's so easy nowadays. We've lost touch with the hunt—that special feeling of, "Oh man, that guy on the street has those sneakers. He must know his shit." But nowadays everyone knows his shit. It's not special anymore. So for me, it's about trying to discover new stuff: new books, old music, trying to learn about that. There's a lot to learn in the world that doesn't have to revolve around fashion all the time.
How does the future of Hypebeast tie into that? Are we going to see a book review section?
Maybe you could! We don't say that Hypebeast is a sneaker site or a fashion site. For us, it's a lifestyle. When we first started with sneakers, that was cool because we were discovering this specific topic. Then we started gravitating toward street style, expanding it out—because we got kind of bored, maybe. And then we started talking about high fashion. Hypebeast in general is about learning what's happening in the world—not only in North America, but global. There are so many people, and there is so much to learn that you could get inspired by. It's endless.
Is that part of the reason why you're based in Hong Kong rather than North America?
Not really. I grew up in Vancouver and studied there. It was a beautiful city and I love it, but when I graduated, I wanted to go to Asia to explore. I was born in Hong Kong, so it was easy.
American-centricism can really swallow up culture. Not only does it exert a huge influence, but a lot of other cultures often look to America for their own inspiration, which can create a feedback loop.
I think people are gravitating toward North America for inspiration less often. Like, I was just in Tokyo for a month and was super inspired. I'm just always looking for cool shit everywhere in each city. Hong Kong is another place that has cool stuff happening. Seoul as well. Shanghai, too. It's really dependent on the people who are in these cities and what they're creating. For me, I'm just trying to go to these places, meet these people, get inspired by these communities, and hopefully we can take this inspiration and spread it through Hypebeast.
I mean, it's a bit of a double-edged-sword with Instagram and the internet: Yes, it can become vapid and means you lose the thrill of the chase offline. But the internet has also given a platform to a lot of communities who would have otherwise never had a voice.
That's the role that we play in this kind of culture or society, you know? We could just keep talking about the same old Hypebeast stuff that you'd expect, and while that's tempting as it could get a a ton of likes, if you're just doing it for the 'gram, that gets boring. So we try to balance it with things that we are actually interested in. If people don't like it, that's OK. But I think that's our responsibility.
You've just launched a new offline festival. Can you tell me a little more about why you decided to start that?
We've been digital for the most part. We started off as a blog, then down the line we did e-commerce, then we have our social media accounts. Our physical magazine was the only tangible thing. So last year we started doing more activations; you can reach a lot of people online, but then you've missed the experiential element. You can't really taste or smell or party in an online setting. So we started testing out events in 2017, and people actually showed up.
People probably want an excuse to connect outside of your comment section.
Hopefully. So we thought, why don't we hold a big festival where we bring together all the brands that we love? We'll have more than 50 brands from all over the world come to New York, allowing people to have an experience of what the brand is about physically. We'll also have live music performances, talks, art. We thought it'd be cool to bring all these elements together. It's a big project.
It's also a chance for people to express their identities and make connections with others—the chance for that "Oh shit, we're wearing the same sneakers!" moment you were talking about before.
The hope is for us to create a platform where people can not only get educated or inspired, but also connect with each other. At the end of the day, we're just all people, and we need to communicate—and we can provide a place for likeminded individuals to communicate. It could be random people that come: It's not exclusive, everybody can be a part of this. Kids and visitors will have a chance to talk to the designers. Maybe they'll get inspired to one day become a designer themselves. I call it a big potluck: Everyone we invite brings their little bit, but visitors also bring whatever knowledge they have to share with other people, too.
How else are you hoping to get people excited about non-sneaker topics? How would you plan to get your community interested in Sapiens, for example?
Yeah, that might take a little bit of time. We've got to start at Hyperbeast Book Club first! Or maybe it's not Hypebeast's. Maybe it's someone else's book club—someone who is super interested in books. Then we can shine a spotlight toward those guys who are doing really cool stuff.
It's not always just about the Hypebeast community: Many communities form this culture we all live in. We don't have to do everything. We can't do everything: We don't have all that knowledge. I'm not an expert in reading books, you know. I'm sure there are a lot of other people way more educated about books or music or fashion. And that's great. We don't want to be experts in anything.
Honestly, I did not expect to walk into an interview with you and end up talking about starting a book club.
Personally, my interest is more than just sneakers. I'm a big sponge. I like to learn about stuff.