On a long-haul flight from Tokyo yesterday, a woman next to me pulled out some unusual travel gear. Instead of headphones, a tablet, or books, she had an oversized sketchbook and a pouch of brush pens. I watched her sketch every morsel of food and drink that arrived on our trays over the duration of the 13-hour journey: the cans of Asahi beer, a pack of rice crackers, tea poured in flimsy paper cups, and the two bento box meals. She drew each element slowly and deliberately—like a kind of pre-meal meditation.
My seatmate's ritual echoes the spirt behind Inktober, an annual month-long challenge designed to encourage anyone to pick up drawing as a daily practice. Conceived by Utah-based illustrator Jake Parker in 2009 as a way to improve his own inking skills, the drawing challenge has now been taken on by tens of thousands of artists around the world. Three days into this year's challenge (Oct. 3), more than 750,000 entries have already been posted on Instagram under the hashtag #inktober2018.
Akin to 36 Days of Type, a challenge for type designers and calligraphy nerds, Inktober participants post one drawing a day responding to a word prompt that Parker sets. Knowing that agonizing over what to draw is often the hardest part of the process, Parker creates an annual "Prompt List" for each day of the month. The list is available in several languages—including Japanese—which my seat mate may have appreciated.
Here's this years's list: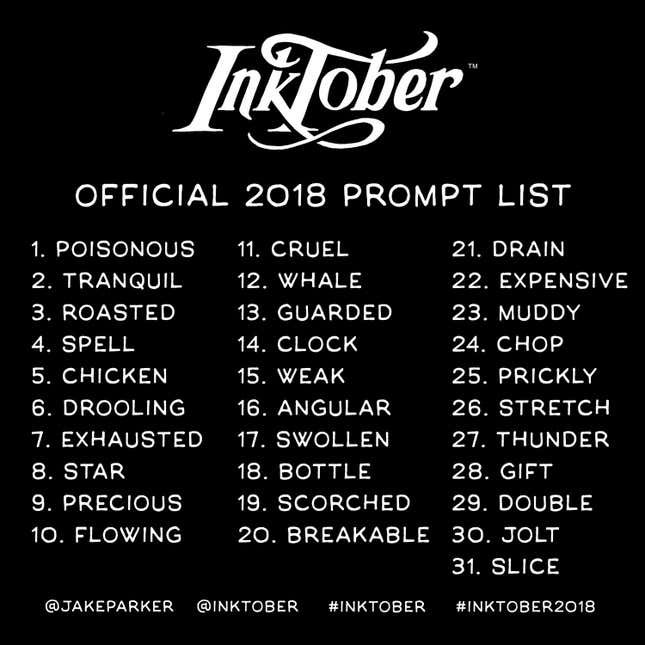 Today's theme is "roasted," and the entries do not disappoint:
Inevitably, some artists circumvent Parker's prompts and use Inktober as an excuse to draw whatever they want, which is perfectly fine. It's all about nurturing the habit of drawing.
Parker says he's moved by the feedback he gets from people who complete the 31-day challenge. "They say it helped them form positive drawing habits… other people tell me it's boosted their creativity and they're thinking more creatively now." he says on his YouTube channel.
Open to anyone with a pen and a piece of paper, Inktober echoes the notion that drawing isn't necessarily only for artists. As D. B. Dowd argues in his book Stick Figures, the practice of drawing is a vital educational method that can teach us about close observation, patience and humility.