This story includes plot details about the new film, A Star Is Born.
There's a moment towards the end of Bradley Cooper's new musical drama, A Star Is Born, when Sam Elliott, in his booming, leathery drawl—perhaps the world's coolest speaking voice—breaks it all down for us.
"Music is essentially 12 notes between any octave," he explains to Lady Gaga's character, Ally, a pop star at the dawn of her career. "Twelve notes, and the octave repeats. It's the same story told over and over, forever. All any artist can offer the world is how they see those 12 notes. That's it."
Elliott's line delivery is so beautifully rugged, so perfectly earnest, that the film saw fit to include it as a track on its soaring, 34-song soundtrack. And why wouldn't it? The moment may not be set to song, but it's still its own kind of music. It's the extravagant spectacle that is A Star Is Born distilled into a pithy bit of wisdom: All we have, really, are our voices. All we can do is use them to say—or sing—something true.
A Star Is Born, the third remake of the 1937 film of the same name, is one of Hollywood's most indelible properties. That probably won't change after Bradley Cooper, in his directorial debut, put his spin on the age-old story of love and music. Cooper stars as Jackson Maine, an alcoholic rock star mostly going through the motions of his fading stardom, who meets Lady Gaga's Ally, a supremely talented musician, at the drag bar where she performs after her shift waiting tables. Captivated by her gift, Jackson encourages her to write more of her own songs and aspire to something more than late-night bar performances for her friends. Ally isn't interested in Jackson's fame, instead she asks him about his life and his childhood, seeing him as an actual human being. Naturally, they fall in love.
Jackson's tragic story informs so much of his musical philosophy, which he tries to pass onto Ally. His mother died as a teenager in childbirth; his father's only offering, before he died when Jackson was 13, was to teach his son how to drink heavily. He was raised by his much older half-brother, played by Elliott, who doubles as the rock star's tour manager.
The rocker has an almost pathological need to spill his guts via his music. It's his preferred method of communicating. He cannot physically hold his lifetime of pain inside—he drinks to dull its blow, and then sings to let it all out. Performing, for Jackson, is an act of catharsis every time. He doesn't live to sing, he sings to live.
Eventually, this compulsion puts him at odds with Ally, who after signing with a record label and a slimy manager, begins to lose some of herself over to stardom. Jackson thinks she's starting to waste her talent because she's not using her voice to tell her story. There are a lot of talented people in the world, Jackson drunkenly mansplains, but none of them are worth a damn if they don't use their talent to say something—anything—as long as it's their truth.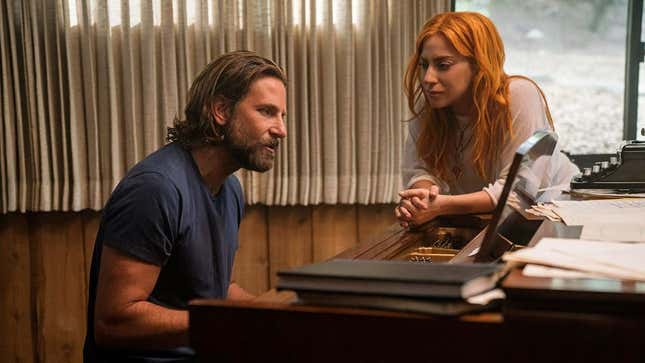 Around this point about halfway through the film is when A Star Is Born goes from a rousing, mellifluous crowdpleaser into a deeply heart-wrenching nosedive into Jackson's substance abuse and flailing career—while Ally gets her own tour, books appearances on Saturday Night Live, and is nominated for a Grammy. Both halves are effective, though it's reasonable that after the immense highs of the first half that the second feels like a bit of a letdown. But all will be forgiven by the final act when Lady Gaga, inhabiting Ally and showing off her voice—her true voice—for the first time as a professional artist, brings it all home.
Gaga's otherworldly vocals and fearless artistry are a given. She finds a new, powerful voice, however, in her acting. A Star Is Born is the pop star's first featured film role, but it's not evident in her performance. She comes off as a seasoned naturalistic actor, able to dive deep and rise to the surface with genuine emotion without once seeming studied or coached. It's one of the best film performances of the year, full stop.
Cooper finds a new voice too, as a director. The actor understands how to stage a scene (as well as stage a literal stage—the concert scenes are stunning) in ways that, like the acting, feel instinctive. One sequence early on, when Ally and her friend are invited to see Jackson perform backstage, and then Ally is brought on stage to sing her song for the audience, is remarkably orchestrated. Cooper is also his own best friend—his performance as the hard-drinking but well-intentioned Jackson burns bright and then flitters, like a lightbulb about to go out, not a false note on display.
Perhaps that's because Cooper himself has dealt with substance abuse. One doesn't necessarily need to experience something firsthand in order to portray it convincingly on screen, but Cooper's performance feels lived-in and acutely understood. (The character also has debilitating tinnitus; Cooper punctured his eardrum when he was young and required several surgeries.)
It would make sense. In a recent profile in the New York Times, Cooper was reluctant to talk much about himself or his past. He, like Jackson, prefers to let his art do the talking. Jackson's reasoning, which he appears to share with the man playing him, is that the process of expressing oneself to the world is art in and of itself. Telling someone something can't really reveal the whole story. It's got to be set to some unique combination of those 12 notes.