For nearly 100 years, Hilton hotels have been synonymous with American hospitality. Whether you checked into one in Dallas, Manhattan, or Cairo you knew what you would find: big, comfy beds, top-notch customer service, and the feeling that you were right at home.
But in a world where hotels want to look like Airbnb, and Airbnb is increasingly acting like a hotel, it's easy to see why Hilton would want to try something new. For its latest hotel concept, announced today, the quintessentially American brand is looking for inspiration from somewhere unexpected: hostels. According to Tripp Mclaughlin, the global head of what's being called Motto by Hilton, the brand is best described as "micro hotels, with an urban vibe, in prime global locations."
As Quartzy has noted before, though they are often looked down upon, a growing crop of lean luxury hostels offer some appealing benefits, even for travelers who have aged out of hemp bracelets and overstuffed rucksacks. They are perfect for travelers who want to really see the place they're visiting—rather than lap up the luxury of a cushy bed or hotel pool—because they are more often than not located in the thick of things, for a cheaper price than traditional mid-range hotels. In addition, they usually offer an appealing place to hang out in more casual communal spaces than a hotel lobby (with way cheaper beer).
That being said, there is one key way that Motto by Hilton is decidedly not like a hostel: no dormitories or sleeping in a room with strangers. Mclaughlin told Quartz that the flexible and communal feel of a hostel is reflected in other ways, such as four different types of rooms (which will be an average of 163 square feet each) that can be "linked" together for group bookings, as well a "flex room" which has a stowable bed designed to maximize space to hang out in. This stripped-down, micro-hotel concept—which gives you the amenities you need, and charges for the ones you don't—is becoming more and more popular throughout the industry as brands like Hilton try to stay relevant to millennials and provide an answer to the affordable option of Airbnb.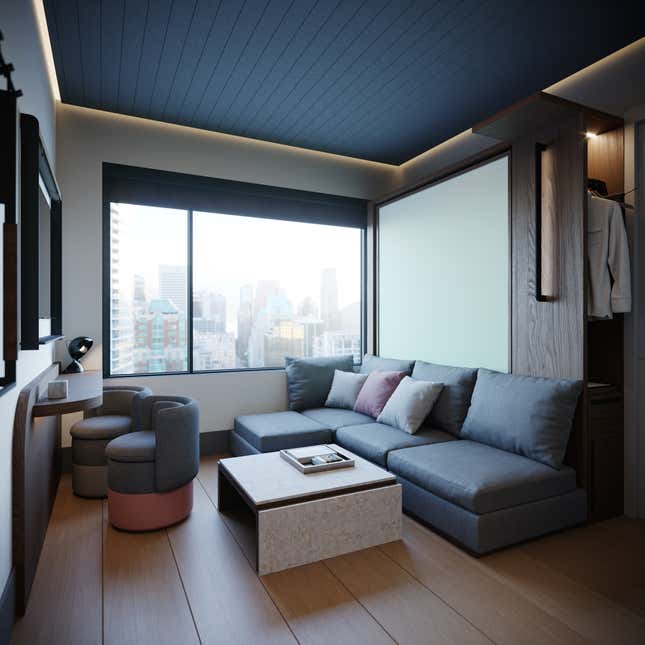 In addition, Hilton will look to local food and beverage vendors to inform what they stock in their casual lobbies (or "Motto Commons") in the hope that these spaces will attract both tourists and locals.
"This will be Hilton's first brand that's very focused not just on urban locations, but being in the right neighborhoods of urban locations," McLaughlin said. "Hostels are often the most affordable product on the market. The baseline we're building off from is that these types of guests often have a trade off between value experience and location. So how can we develop a product that can deliver on all three?"
McLaughlin said Motto will begin opening in cities including New York, Boston, San Diego, London, Dublin, and Lima next year. Average room rates have not been made public, but they are intended to be more affordable than an upper mid-scale Hilton brand, such as Hampton by Hilton.
In keeping with current trends in hospitality, Motto staff will be called "hosts" and interestingly, Hilton's branding will not be prominent throughout the properties. The aim, instead, is to attract the type of "connected and confident" traveler that may have previously never thought to stay in a Hilton.