The fitting room of a Victoria's Secret store holds a special place in the mental landscape of the American teenage girl. There's the mall-boudoir aesthetic (hot pink doors, brocade wallpaper, plush upholstery). There's the smell (fruity and candy-sweet). And, for many, there's the profound discomfort that designer Becca McCharen-Tran describes in a powerful essay for Out magazine this week:
"It was in [Victoria's Secret's] fitting rooms, squeezing my teenage ribcage into a too-small bra, my arms covered in their sparkling body lotion, that something changed in me," she wrote. "I was no longer a girl simply trying to become a woman. I became, instead, someone who learned how to hate herself."
McCharen-Tran goes on to explain that her swimwear label, Chromat, was conceived after decades of trying—at great personal cost—to reconcile herself, and her body, with the narrow idea of beauty that Victoria's Secret has pushed. Similarly Heidi Zak, founder of direct-to-consumer lingerie brand ThirdLove, says that the seeds of her company's body-positive approach were planted during a shopping trip to Victoria's Secret:
"I walked into the store, and there were the angels and the feathers and the smell… And I found myself with a bra that didn't really fit," Zak told an audience at the WWD Apparel + Retail CEO Summit in New York last month. "So I walked out of the store with a bra that didn't really fit, with the pink-striped bag… And I took the bag and I stuffed it into my backpack. And the reason I did that was because I was embarrassed to be shopping there. And that was a moment of revelation for me."
Now Chromat, ThirdLove, American Eagle's Aerie, and a slew of other body-positive underwear brands are cutting into VS's market share. And in a sense, Victoria's Secret has been the architect of its own demise, which hit a low point this week when its CEO of two years, Jan Singer, stepped down. Singer's departure comes just a week after its witheringly reviewed annual runway extravaganza, and after a slew of store closures, rock-bottom price cuts, and a stock drop of over 40% for VS's parent company in just the past year. Then there was the recent train-wreck of a Vogue interview with VS executives, who—in defending the the brand's decision to double down on its dated brand image—managed to be offensive about transgender people and the plus-size industry, among others.
Victoria's Secret is down but not out—it still accounts for almost a third of the US women's underwear market. But even if it eventually ends its run, it will live on, in the DNA of these upstart underwear labels, many of which were launched as a response to the approach of the undies giant.
The rise of body-positive intimates
That fateful shopping trip was what helped Zak see the gap in the market for underwear that fits a range of bodies, and doesn't sell the old-school, porny fantasy that makes shopping at VS such a cringe-y experience. When Zak founded ThirdLove in 2013, VS still had a near-monopoly on the lingerie market (pdf), but the brand had already started to decline, data from YouGov now show.
From its inception, ThirdLove has run an inclusive, body-positive marketing campaign. While ThirdLove's bras are pricier than VS's, the company has seen tremendous success: It was just named a Forbes billion-dollar startup, and it recently raised over $8 million in Series A funding. One of its investors is Lori Greeley, the former CEO of Victoria's Secret stores.
And ThirdLove is not the only bra brand backed by a Victoria's Secret renegade. Lively, a direct-to-consumer intimates startup that recently raised $15 million in VC funding, was founded by former Victoria's Secret senior merchant (video) Michelle Cordeiro Grant, who makes a point of distinguishing her company's offerings from those of her former employer.
"[Victoria's Secret] was always about the angel and the fantasy and a lot of push-up and wire, so women's bodies could conform to a marketing campaign" she said in an interview with TechCrunch this year, adding that Lively, like ThirdLove and fellow lingerie startup True & Co., champions comfort and inclusivity over looking sexy.
For her part, McCharen-Tran goes on to explain how the body shame that Victoria's Secret sold to her as a teen helped her solidify a brand identity for Chromat that embraced everything that VS isn't:
"I've refused to compromise on inclusivity as a pillar of [Chromat's] business model," she wrote, "Chromat has always designed for a wide range of sizes… And for all different bodies, ages, abilities and places on the gender spectrum… I want our clothes to empower anyone who wears them to harness the strength and beauty within themselves."
Meanwhile, superstar-entrepreneur Rihanna hasn't said a word about challenging VS, but the New York Fashion Week debut of her lingerie line Fenty X Savage was enough to put it on notice. The show, with its physically and racially diverse cast of models, presented itself as a clear foil to a standard VS fashion show, which has historically featured slim, buxom, mostly white supermodels on the runway.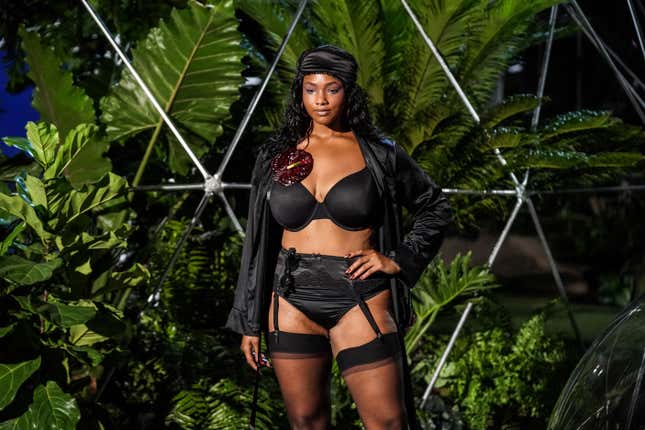 Perhaps it's no surprise that women are at the helms of the companies sinking Victoria's Secret. Unlike the boys' club that led the intimates industry for decades, women tend to have breasts, and want bras that really fit. These new brands are finding success by satisfying a demand VS has failed to meet, for design that prioritizes fit and comfort. ThirdLove, for instance, was the first bra brand to offer half cup sizing, while newer brands offer extended cup sizes and engineer products based on customer feedback.
Victoria's Secret's fantasy of feather-winged, stiletto-heeled "angels" is no longer compelling to many girls and women. And the failure to replace it with a more appealing idea has fed the rise of this new generation of underwear brands—including some that got their start in Victoria's Secret's plush, pink fitting room.