While season five of Netflix's sci-fi anthology Black Mirror isn't expected until 2019, a feature-length Black Mirror film titled Black Mirror: Bandersnatch is poised to usher fans into the new year with fresh fears about society's relationship with technology.
According to a report first released by the Independent, the film will debut this Friday, Dec. 28. The report is based on a page surfaced from the Korean Media Rating Board (link in Korean). Netflix has not confirmed details about the film outside of its landing page, and did not respond to a request for comment.
Per the report, Bandersnatch has 312 minutes of footage (over five hours), leading fans to believe that it's the notorious Black Mirror "choose-your-own-adventure" experience that was initially thought to be a part of the series' fifth season. The show will allow viewers to interact with the storyline and dictate events using their remote control.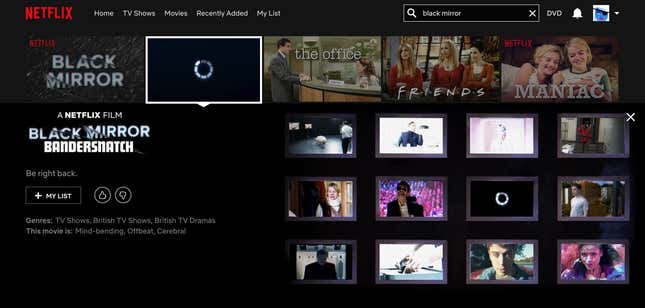 Netflix has experimented with interactive TV before (mostly with children's programs), but the upcoming interactive version of Black Mirror marks the platform's biggest foray into the emerging storytelling format, as Quartzy reported in October.
The leaks covered by the Independent revealed additional tidbits about the cast and plot of Bandersnatch. Firstly, an image showing actors Fionn Whitehead, Will Poulter, and Asim Chaudhry appeared on Reddit, initiating speculation that the three will star in the film. Whitehead, who had a breakout role in the 2017 film Dunkirk, was revealed as the main actor per the Korean Media Rating Board, which also noted that Bandersnatch is set to be directed by David Slade, the man behind Black Mirror's post-apocalyptic "Metalhead" episode from season four.
Furthermore, a Reddit user translated the film's plot as "a young programmer makes a fantasy novel into a game. Soon, reality and the virtual world are mixed and start to create confusion." Indeed, some fans have speculated that "bandersnatch" refers to a character of the same name in Lewis Carroll's Alice in Wonderland, a story about the blurred lines between reality and fantasy.
While the film's title appeared in the season 3 episode "Playtest," the video-game storyline seems to be linked to a 1984 video game called Bandersnatch that was never released to the public:
Indeed, a now-removed Netflix title card confirmed that the film is "set in the 1980s." In April, Twitter user spotted "Bandersnatch" on a poster giving notice of filming in the One Croydon shopping center in London.
Photographs later emerged showing retro-looking replicas of shop fronts at One Croydon.