Something very strange aired on American network television last night. This thing included what I think was NFL legend Terry Bradshaw wearing a head-to-toe Satanic deer costume straight out of Mad Max while belting the hit song "Thunder" by Imagine Dragons for a studio audience. Jenny McCarthy may have been there? I'm not totally sure. The whole thing doesn't seem real.
But it was real. Too real.
The show, of course, was The Masked Singer, on Fox. Its conceit is as simple as it is silly: 12 celebrities dress up in insane animal costumes and sing for America. Every week, one performer is eliminated and unmasked. A panel of marginally famous judges—singers Robin Thicke and Nicole Scherzinger, actor Ken Jeong, and the aforementioned (and notable anti-vaxxer) McCarthy—guess who's singing underneath each mask along with viewers at home.
Based on the South Korean show The King of Mask Singer, the series is the kind of experimental, circus-like program that US networks mostly abandoned in the 2000s in favor of safer, more reliable reality TV formats like dating, cooking, and survival shows (and singing competitions that don't involve elaborate deer-antler crowns.) But the risk appears to have paid off handsomely for Fox—the premiere of The Masked Singer scored huge overnight ratings:
The precise allure of The Masked Singer is difficult to describe. Vulture came close, dubbing the series a reality-TV fever dream. "The vibe of the whole thing is 'what if Gritty walked out on a soundstage made to look like an arena concert, belted out Sam Smith's 'Stay With Me,' was described as 'a professional' by Jenny McCarthy, took off his head to reveal he was Joey Fatone, and the entire experience felt three clicks away from an episode of Black Mirror?" wrote Vulture's Kathryn VanArendonk. (That's a hypothetical. Joey Fatone isn't on the show—or at least, not that we know of. But be aware, there are spoilers from episode one below.)
A fever dream indeed. It really does feel like something you'd conjure up when sick in bed, slipping in and out of a turbulent sleep, while visions of places and people and creatures you can't quite explain swirl around. It is at once a funhouse and a haunted house. A carnival and a cult ritual. A daydream and a nightmare. It's all far too much, and yet I—and apparently the rest of America—can't look away.
There is something genuinely compelling about the mystery of which B- or C-list celebrity is beneath each costume. (The unmasked hippo was Pittsburgh Steelers wide receiver Antonio Brown; I think former teen idol Donny Osmond is the Peacock and Rumer Willis may be the lion. Against my better judgment, it appears as though I'm already invested in this insanity.) The costumes are also a riot: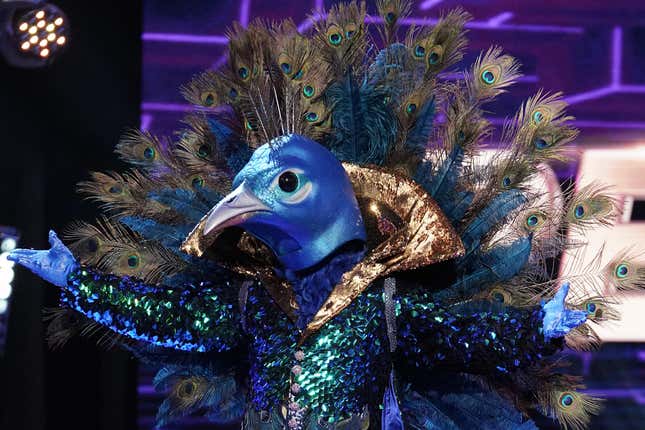 The Masked Singer seems tailor-made for 2019 internet meme culture. The show has already gotten its own Twitter moment, is a popular topic of discussion on Reddit ("Who is PEACOCK?", "Who is UNICORN?",  and "WHO IS HIPPO?" are some trending threads), and the performances are accumulating millions of views on YouTube. If you think the majority of TV singing competitions have become stale and predictable, then The Masked Singer, at the very least, offers you something weird and different.
What could eventually slow the show's momentum is its insufferable panel of judges, who add nothing of substance to the proceedings and serve only as a distraction from the madness happening on stage. At one point McCarthy earnestly suggested that one of the masked singers was Lady Gaga, outing herself as someone who has never heard Lady Gaga sing. Jeong is mostly there to tell jokes, Thicke boringly plays the role of the voice of reason, and Scherzinger—the lead vocalist for the defunct girl group The Pussycat Dolls—imparts ample Pussycat Doll references. Nobody is watching for the judges, though. We're here for the monster and the peacock.