Everything you need to know about Valentines Day gift-giving is contained within the artfully arranged, carefully shaped and speared fruit of an Edible Arrangement.
In case you're not familiar, this is an arrangement of strawberries, pineapple, grapes, melon, and other fruit, sometimes interspersed with cake balls, sometimes dipped in chocolate, and arranged with kale leaves to look like a bouquet of flowers. It's a lovely thing, a thing you might want, a thing you might enjoy giving to someone. It's over-the-top, kitschy, and a bit funny. But it is certainly not a thing you need.
When Tariq Farid, the company founder, went looking for investment in the idea in the late 1990s, the bankers he pitched his idea to didn't get it. He described the fundraising process to Connecticut Magazine:
"I looked like I was on some type of drug like speed or something. I'm going, 'THIS IS GONNA BE BIG,' and they're like 'it's fruit, in a basket.'" Not hearing the lack of enthusiasm in people's voices, Farid responded with unabated passion, "Yeah, it's fruit in A BASKET!"
Twenty years later, Edible Arrangements has more than 1,000 stores worldwide, and more than half a billion in annual revenue. People are obsessed. There is something inexplicably delightful about them, and, according to a former delivery driver, they are a popular courting gift, as well.
"A lot of guys would use Edible Arrangements to hit on girls," the driver told Vice Munchies in an as-told-to. "They'd write notes like, 'Saw you at the club the other day, you told me where you worked…' They'd tell me to go into a Macy's and find a girl named Rachel, black hair, pale skin."
And if there's ever a day to give someone something they absolutely do not need, like an extravagant bottle of champagne, a tin of chocolate sardines, or a giant bouquet of fruit cut to look like cartoon flowers, it's Valentine's Day. That's what this most consumerist of holidays is all about.
One of the secrets of Edible Arrangements' success is that they're an affordable luxury—Farid told Vox that their $25 arrangements are best sellers. Their inexplicably broad appeal though, has inspired a host of far more niche edible bouquets. From pickles to salami, there's a fancy arrangement out there for every foodie.
One problem with these bouquets is that they don't really work as a complete eating experience. No matter how delicious the selection of cured meats in your charcuterie bouquet, unless you also choose a cheese, a loaf of bread, and maybe a bottle of wine to go with it, it just feels like a grocery haul.
And there's also something a little dour about these expensive, gourmet bouquets. There's a wink with an Edible Arrangement, an acknowledgment that they're fun because they're cheap, cheerful, and a little useless. These god awful foodie bouquets are completely earnest. They challenge you to eat them before they wilt or crumble. And they lack the loveliness of even the simplest bunch of flowers.
The cold cooked bacon coil bouquet
I get it, I get it, everyone loves bacon. It is delicious. But are these bouquets (starting at $50) beautiful? Does this tightly coiled nugget of bacon seem like it tastes as good as it would freshly cooked in your kitchen? They're sold out for Valentine's Day deliveries, so clearly a lot of people will be opening up a box of bacon rosebuds.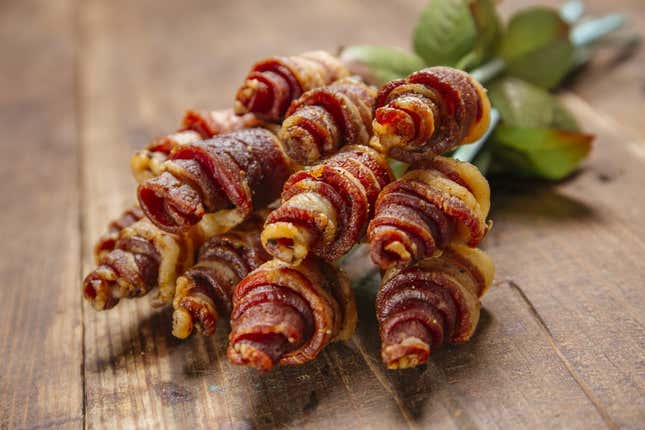 The doughnut bouquet
As with bacon, the deliciousness of doughnuts declines, steeply, over a relatively short amount of time—both are at their best when still warm. And if you are buying a foodie bouquet for the person you love, why would you get them something that is less good than it usually is? Why buy a doughnut bouquet from Harry & David for $50? A single Krispy Kreme heart doughnut and a simple bunch of tulips would be a far superior, and cheaper, gift.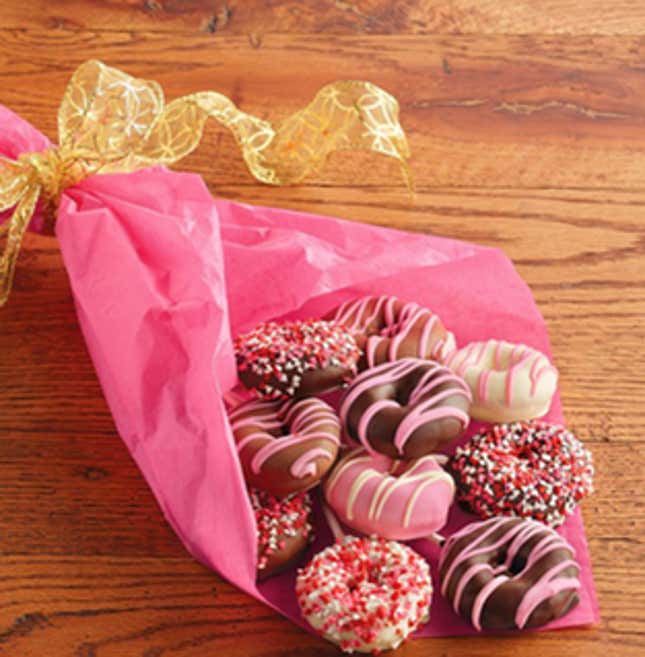 The charcuterie bundle as a bouquet
When you think exotic sampler and Valentine's Day, a parcel of exotic meat jerky sticks probably isn't the first thing that comes to mind. But this $55 bundle of venison, elk, and bison jerky exists.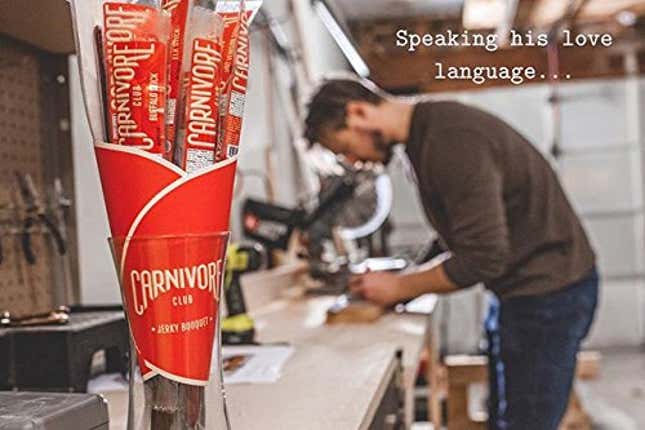 You could also spend up to $85 on a salami bouquet from Olympia Provisions, which makes delicious charcuterie. Here is the problem: Most of these just look like a handful of sausage. To call them a bouquet seems an awful lot like looking at the mug filled with pens on my desk and referring to it as an "arrangement."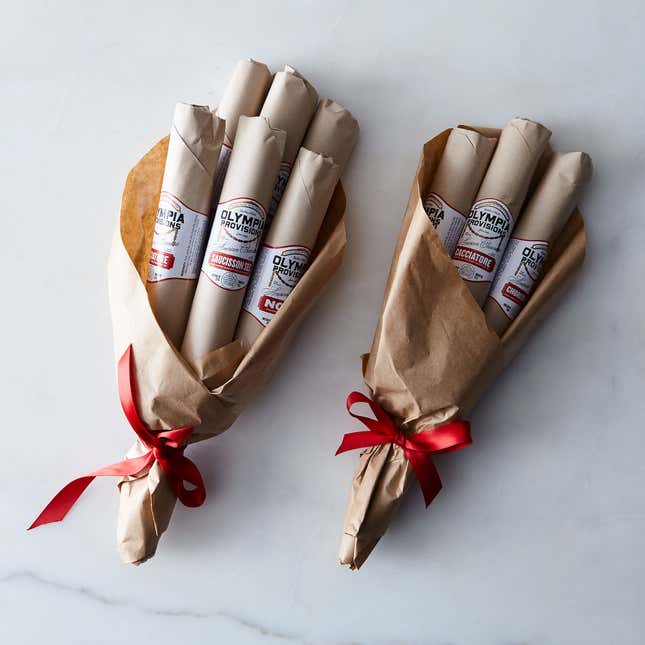 The jerky bouquet
At the same time, I would take a handful of sausage over this awful jerky bouquet ($50) any day. The nicest thing that comes to mind when I look at this picture is that these appear to be high-end dog treats. It's just an aesthetic nightmare that gets worse every time I see it.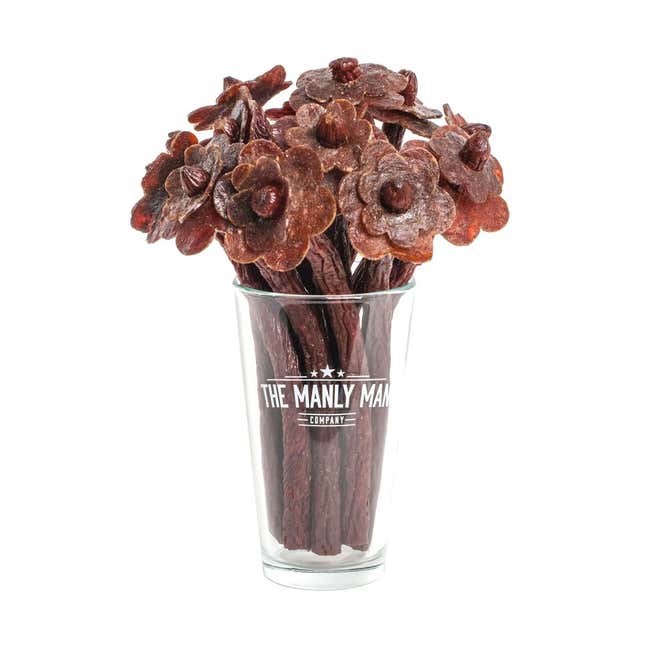 The eat-your-greens bouquet
I actually really love these wacky Etsy bouquets ($60). And honestly, if a friend made one and brought it over for a centerpiece for Thanksgiving I would be thrilled. But a bouquet that involves potatoes is not romantic. And one made from broccoli and Brussels sprouts seems to me to carry a slight shamey undercurrent, like, hope you weren't expecting chocolate or wine, because you got deconstructed green juice. For health.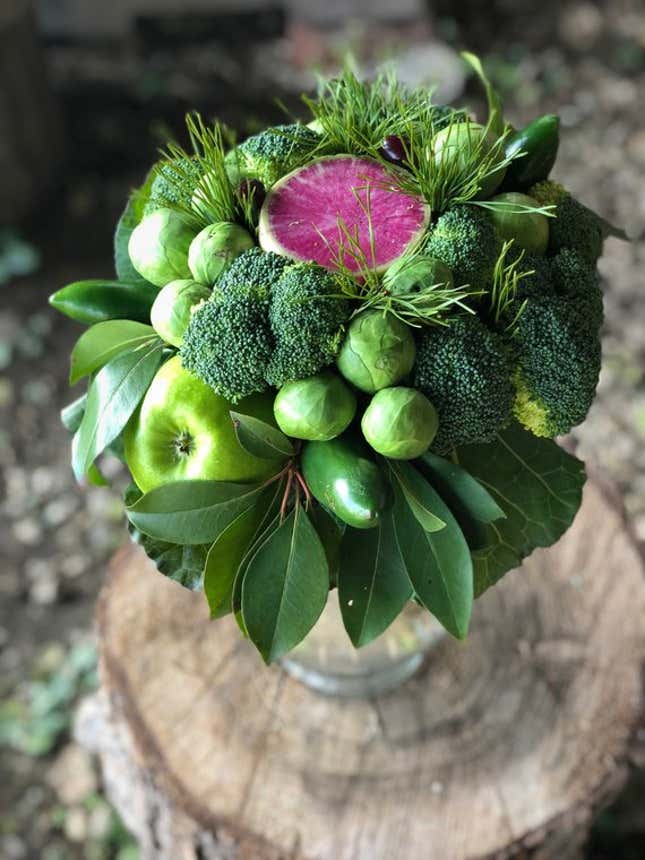 The pickle bouquet
Okay, yes, this DIY pickle bouquet from Grillos Pickles is amazing. And for folks in the Boston area, you can order one from the company for Valentine's Day, for just $45. I can vouch for the excellence of these pickles, too—I would be delighted to find this bouquet on a wedding appetizer table, and honestly tickled to receive one. But what comes next? How long can it stay fresh? You either have to disassemble it, eat all the pickles, or let it slowly dry out. A task is not a good present.