Karl Lagerfeld, who served for more than three decades as artistic director at Chanel, one of the world's largest and most profitable luxury houses, and as creative chief of Fendi for more than five decades, has died.
"It is with deep sadness that the house of Chanel announces the passing of Karl Lagerfeld," the company said in a statement. It did not reveal the cause of death.
The prolific couturier was reportedly 85, though his true age was always a bit mysterious, apparently owing to a change his mother made to his birth certificate. "[H]e admits to sixty-eight," the New Yorker wrote in a 2007 profile of the designer, which would put him at 80 in 2019.
To Lagerfeld, though, the number was hardly relevant, as he never had any intention of hitting a certain age and then retiring. He, and Chanel, always made clear that he intended to work right up to the end, denying rumors year after year that he would soon step down. Asked by the New York Times in 2015 if he foresaw a time when he might stop working, Lagerfeld replied, "No. I would die on the spot. Chanel died in the middle of a collection when she was in her nearly 90s." (Coco Chanel was 87, but again, what did the exact age matter so much as the work?)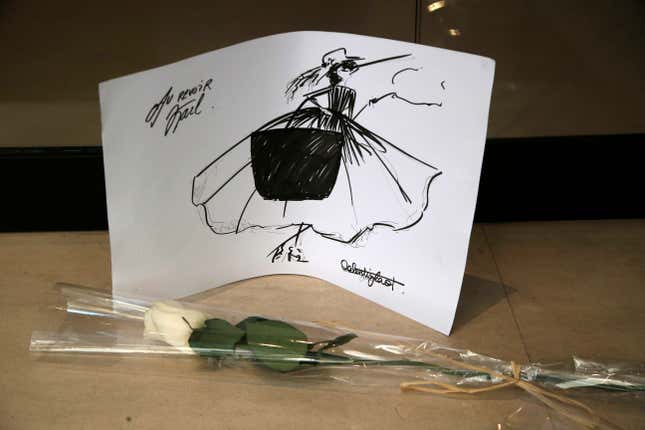 Lagerfeld's longevity and restless creativity were renowned in fashion. Many designers half his age have their hands full creating two or four collections a year. Lagerfeld was hitting double digits, doing collections for Chanel, Fendi, and his eponymous label. For Chanel alone he said he made 10 collections a year. As much of the industry has talked about designers burning out from the workload, Lagerfeld shrugged off the idea that work could ever be a burden. "If you are not a good bullfighter, don't enter the arena," he told WWD (paywall). "Everybody is allowed to show a collection. There may be too many—but that is not my problem." Those are the words of a person who said doing his job was like breathing to him, and that he hated leisure (paywall), except for the extensive reading he was known to do.
Lagerfeld even seemed to keep reaching new creative heights as he kept getting older. He first achieved recognition in 1954, when he won the coats category of a design competition sponsored by the International Wool Secretariat; Yves Saint Laurent won for dresses. It sparked a rivalry between the two, one in which Saint Laurent took a lead as he became regarded as possibly the most important designer of the time. But while Saint Laurent achieved superstardom in his twenties, he declined after, struggling with depression for years. He announced his retirement from fashion in 2002 and died in 2008.
Lagerfeld, meanwhile, started designing for labels including Balmain, Chloé, and Fendi in the 1960s, taking over as creative director at Fendi and remaining in the role until his death. But he didn't work on his first collection for Chanel—the gig that propelled him to his current renown—until 1983 (paywall). He steadily and successfully resuscitated the house, which had become considered old-fashioned.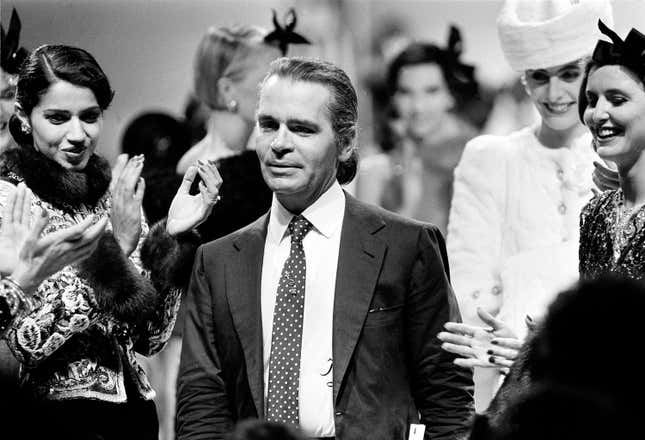 His star had only risen since, especially in recent years as he staged ever grander and more elaborate presentations for the house. His much-talked-about runway shows have included a merry-go-round, a feminist rally, a detailed recreation of a supermarket, and not least of all, a simulated launch of a rocket into space. "I refuse to be impressed unless it actually takes off," one fashion editor declared during that latter show. And then it did.
Lagerfeld, however, could have his own old-fashioned notions at times. In the wake of the #MeToo movement, he dismissed the allegations by models who said they had been sexually harassed on the job in an interview with Numéro, saying:
I read somewhere that now you must ask a model if she is comfortable with posing. It's simply too much, from now on, as a designer, you can't do anything. As for the accusations against the poor Karl Templar [creative director at Interview magazine], I don't believe a single word of it. A girl complained he tried to pull her pants down and he is instantly excommunicated from a profession that up until then had venerated him. It's unbelievable. If you don't want your pants pulled about, don't become a model! Join a nunnery, there'll always be a place for you in the convent.
The designer would never have admitted that his head could be stuck in the past, though. Though an assiduous reader of histories, he prided himself on never looking back. It was, perhaps, part of the reason for his endurance, along with his healthy lifestyle, which included no smoking or partying and a healthy diet that he began in the early 2000s, to fit into the stick-figure clothes of designer Hedi Slimane. "I don't even have archives, myself. I keep nothing," he told the New York Times. "What I like is to do—not the fact that I did. It doesn't excite me at all. When people start to think that what they did in the past is perhaps even better than what they do now, they should stop."
Lagerfeld never stopped looking forward, or working. Just about the only sign that his health was failing came in January, when he failed to take his customary bow (paywall) at the end of Chanel's couture show. Instead, Virginie Viard, director of Chanel's creative studio, came out. After announcing his death, Chanel said Viard would take over as Lagerfeld's successor.
He leaves behind a vast legacy at Chanel. Last year, for the first time, the privately held company revealed its earnings. In 2017, it brought in $9.6 billion in sales, helped by its large fragrance and makeup business, and putting it in contention with Louis Vuitton for the title of largest luxury fashion house in the world. The company is recognized as well as a creative giant, and practically unrecognizable from the outdated version of Chanel that Lagerfeld took over more than 30 years ago.