Riley Morrison probably doesn't have a resume. Nine-year-olds generally don't. If she did, she could honestly state on it that she contributed design touches to Under Armour's newest signature sneaker with NBA star Stephen Curry.
For International Women's Day today (March 8), the company released its latest version of the Curry 6 sneaker, in a color combo of purples and white, and more importantly, featuring a lining designed by Morrison. It shows two girls playing basketball, surrounded by phrases such as "Girls Hoop Too," "Girl Power," "Be Fearless," and "Be the Change."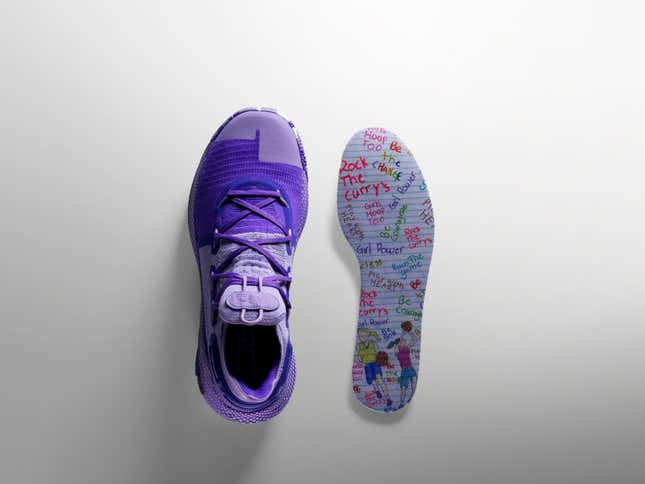 A few months ago, Morrison had written to Curry lamenting that girls' sizes for his Curry 5 sneaker weren't available on Under Armour's website. She's a fan of Curry and the team he plays for, the Golden State Warriors, and wanted the sneakers for her upcoming basketball season. "I hope you can work with Under Armour to change this because girls want to rock the Curry 5's too," it said. Morrison's father posted the letter to Instagram.
Curry (whose daughter is also named Riley) has talked about the need for women to be treated and paid equally and supported programs for young female athletes. When the letter came to his attention, he posted a reply to Twitter, saying he was talking to Under Armour about fixing the issue. "Unfortunately, we have labeled smaller sizes as 'Boys' on the website," he explained. "We are correcting this now!"
An Under Armour spokesperson described it to CBS News as a "simple yet critical error." The boys' and girls' shoes aren't actually shaped any differently. Under Armour just hadn't put them in the girls section of its site.
It was a lapse that critics could argue points to a deeper set of assumptions about who plays sports and is worth serving as a customer. In fact, sports brands including Nike and Adidas have stepped up their efforts to serve women over the past few years, acknowledging that they hadn't done enough previously, while more recently both Nike and Under Armour have come under fire for the boys-club cultures of their corporate workplaces.
In his Tweet, Curry wrote, "Appreciate you helping us get better Riley!" and asked her to celebrate International Women's Day with him. In a press release for the new shoe, Under Armour said that it asked Morrison "to add her personal design touch" to the Curry 6 "United We Win" colorway to honor her actions. He also surprised her at a pop-up in downtown Oakland, where the Warriors play, to present her with the new shoes.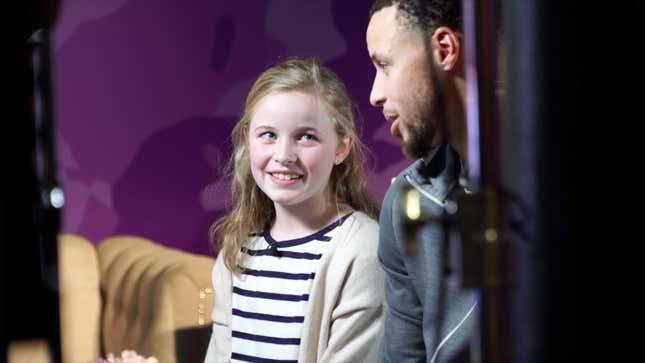 "I've been kinda blown away, and certainly grateful for the opportunities that Stephen has given me, including sharing inspiration for other girls through the sockliner art," Morrison said in a statement shared by Under Armour. "This has been such an incredible experience."
The sneaker is perhaps a more important step than it may seem. Matt Powell, the sports industry analyst for research firm NPD Group, told ESPN that typically only female athletes, such as WNBA stars, have marketed their shoes specifically to women and girls. More often brands have just sold smaller sizes of men's shoes to women. Curry and Under Armour, with help from Morrison, are taking a step in the right direction.