The sneaker business has long revolved around men. The shoes available to women are too often just styles originally created for guys, then resized and recolored. "Shrink it and pink it" is the shorthand for the lazy practice. For the sorts of limited-edition collaborations sneakerheads go crazy for, there may not even be a range of women's sizes.
Brands are realizing, though, what an opportunity they've been missing by not serving women better.
Nike has announced a new approach in designing and selling shoes to the growing number of female sneaker fans out there. It includes expanded, unisex sizing on some of its classic Jordan styles and hyped designer collaborations, a push for more partnerships with female creatives, and Nike Unlaced—a retail concept aimed squarely at women.
Nike described Unlaced as "fantasy sneaker destination for women" at a preview (paywall) held at Paris Fashion Week today (Feb. 28). It will sell curated selections of shoes from among Nike's performance products and its sought-after collaborations—in an expanded range of sizes, of course. It will also feature local offerings, created with help from "influential creatives and stylists" in cities such as New York, Paris, London, Shanghai and more, tying into its strategy of focusing on key cities around the world. Unlaced will launch first as a digital platform (paywall) on March 27, before Nike builds it out to physical stores through the year.
As part of its more considered approach to women, Nike's next release of its line with fashion designer Virgil Abloh will include more women's sizes, and in the fall, it will expand the sizing of classic franchises such as its Air Force I and Air Max lines. Importantly, Nike also promises to work with more women on collaborations, saying "an increase in female representation is poised to manifest new ideas not just for women but all sneaker enthusiasts."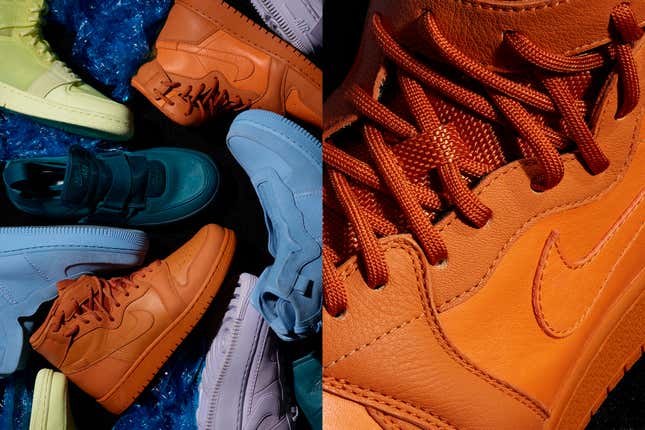 The emphasis on women is long overdue. For one thing, women are already a major segment of the sneaker market. The best-selling sneakers of 2016 and 2017 in the US—the world's most valuable sneaker market—were the Adidas Superstar and Nike Tanjun, respectively, both of which got to the top spot in large part because of their popularity with women. Skechers has built a highly successful business because of the attention it pays to women's sneaker needs.
Women are also one of the forces driving the rise of sneakers and activewear in fashion. "We've been watching women over the last few years, talking to our consumers, and we've really seen [them] fueling the sport and fitness lifestyle overall," Amy Montagne, general manager of Nike Women, said at the Paris event (paywall).
Nike knows there's a valuable opportunity in reaching more women. In 2015, when it announced an ambitious plan to increase its sales from about $30 billion to $50 billion in 2020, it identified its women's business as one with huge potential to grow. It planned to nearly double sales from about $5.7 billion to $11 billion. Last year's women's sales were about $6.6 billion, meaning Nike still has a lot of room—if it can deliver what women want.