Beets don't get enough credit. Sliced and roasted, their roots are earthily satisfying. Their tender greens are toothsome in a salad, and quicker cooking than kale or chard when sautéed. Pureed, beets can add silky depth to chocolate cake, and I recently made a beet pie that will replace pumpkin pie on my holiday table from here on out.
As for beet juice, it isn't just for smoothies. It also makes delicious cocktails.
I've started keeping a bottle of beet juice in the fridge to experiment with at cocktail hour. Knudsen's makes a beet juice that is sweet, earthy, and plays well with vodka, gin, and tequila.
And beet kvass makes a mean Bloody Mary base. Traditionally brewed in Eastern Europe and the Baltics, Kvass is a fermented drink that has recently gotten wellness buzz for its probiotic qualities. The most basic kvass recipes are essentially low-alcohol beers made from stale bread with a little sugar to help the fermentation along, sometimes with herbs or berries for flavoring. You can make kvass at home, or look for it near the switchels and kombuchas at the store (where most are non-alcoholic). The one I've been buying from Real Pickles is salty, tart, and deeply savory.
One word of warning: Beet juice has incredible staining power. (It can even be used as a fabric dye.) As an ingredient, that can be useful: Half a teaspoon will turn pretty much anything, from lemonade to a gin and tonic, bright fuschia, with no artificial coloring.
Here are two drinks I've added to my personal house cocktail list. One is sweet, one savory.
On the Beet
This is like a Margarita and a Moscow Mule, all dressed up and attending a gala together. The beet juice is earthy and sweet, the mezcal is a little smokey, the lime brightens, and the ginger adds spice.
Ingredients for one drink:
1 ounce beet juice
1.5 ounces mezcal (or substitute tequila)
The juice of half a lime
3 ounces ginger beer (Reed's has a good balance of sweetness and spice)
A lime wheel (optional)
Instructions:
Combine the beet juice, mezcal, and lime in a cocktail shaker with ice and give it a vigorous shake—about 20 seconds or so. Strain over fresh ice and top with ginger beer. Garnish with lime, if you like.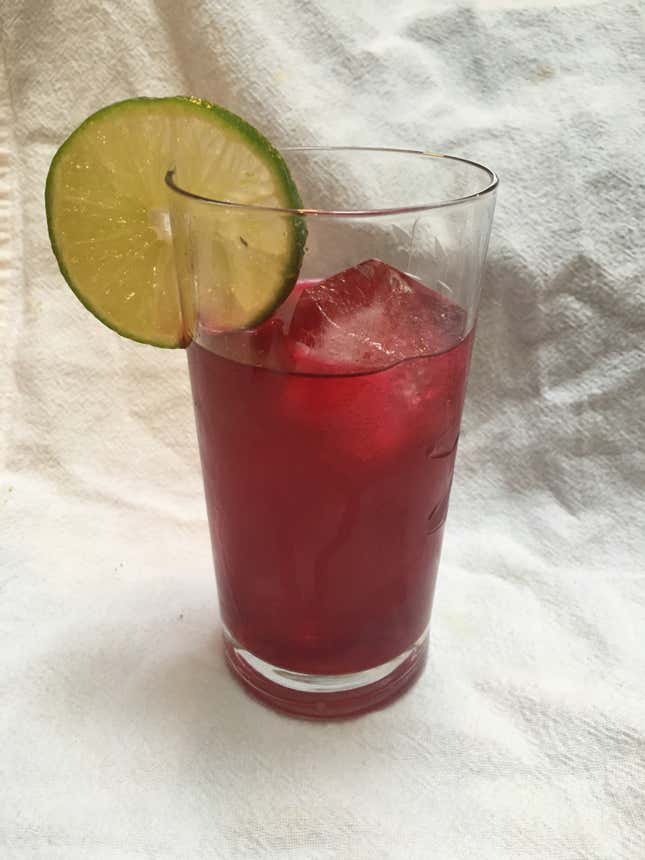 Beet Bloody Mary
Bloody Marys are a personal drink—I always order them with extra lemons, and I usually spend the first couple minutes getting the balance of acidity and savory saltiness just right. This Bloody Mary can be customized and easily scales up to make a jug. As long as you keep the kvass to veggie juice ratio at one-to-one, you can determine how boozy and spicy you like it. It's also delicious made virgin.
Ingredients for one drink:
4 ounces vegetable juice (I used Knudsen's Very Veggie, V-8 would also work, or straight tomato juice)
4 ounces beet kvass (see explanation above)
2 ounces vodka
1 tablespoon sriracha
Black pepper
Lemon wedges to taste (optional)
Pickled vegetables to garnish (optional)
Instructions:
Pour the vegetable juice and kvass into a tall glass filled with ice. Add sriracha and stir to combine. I like a good squeeze of lemon and a couple grinds of black pepper to finish, and dilly beans and pickled beets as a garnish.
Variation: The sweetness of sriracha works nicely with the earthiness of the beets here, but if you're a die hard Frank's Red Hot or Texas Pete fan, go ahead and use that instead. Another nice variation, for all the fermented flavors, is to add a tablespoon or two of kimchi juice to the mix.