Adidas has introduced a new sneaker that it's calling the first of its kind. Named the Futurecraft.Loop, it's a performance running shoe that can be 100% ground up and melted back into raw materials for a brand-new shoe—without any waste.
The sneaker is part of Adidas's attempt to address the grave environmental threat posed by plastic, which increasingly clogs landfills and suffuses our oceans. At a presentation in New York today to reveal the shoe, Eric Liedtke, an executive board member in charge of global brands at Adidas, noted that every piece of plastic ever made is still around. "We need to innovate our way out of this mess," he said.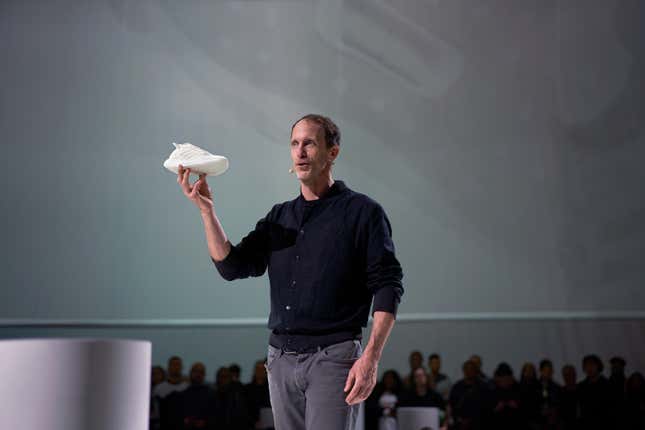 In 2015, Adidas took the step of partnering with the group Parley for the Oceans to collect ocean plastic and turn it into sneakers. Since then it has been scaling up that project, and plans to release 11 million pairs of shoes made from recycled ocean plastic this year. But recycling, while a step in the right direction, isn't enough, Liedtke noted. Eventually those shoes will still be thrown away.
Futurecraft.Loop is a shoe that was "made to be remade," he said, calling it a milestone not just for Adidas but for the entire industry. Awareness has been growing among fashion and footwear brands that their overproduction is a major strain on the planet. Besides the tremendous natural resources all these items consume, they can leech microplastics into the environment, and once the products have been used, they're generally discarded. Massive volumes of them wind up in landfills, where anything made of plastic, which includes polyester and other synthetics used in running shoes, doesn't break down. (Though even cotton won't quickly biodegrade unless it's properly composted.)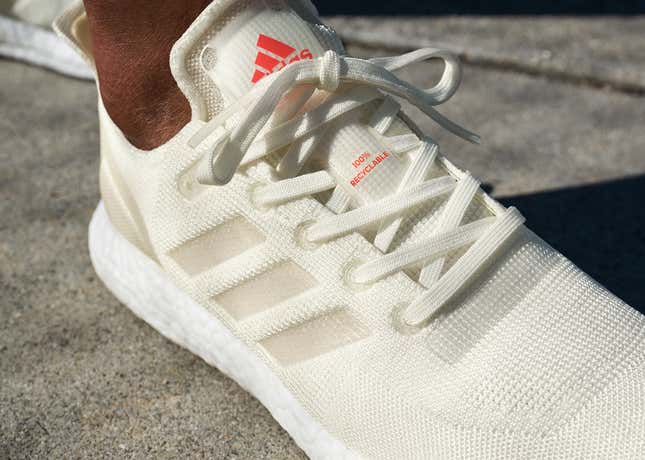 One benefit of plastic, though, is that it's comparatively easy to recycle, since it can be melted and reused. But most running sneakers are made of more than a dozen different components that can't easily be taken apart, broken down, and reused.
Adidas's innovation was to make its shoe entirely from one variety of plastic. The knit upper, the spongy midsole, the durable outsole, and even the laces are all plastic. The whole shoe can be washed, ground into pellets, and melted back into raw material.
Adidas is describing the launch, which it partnered with singer and actress Willow Smith on, as being in "beta." It says it has a lot to learn, such as how many times over the same material can be used. If the quality degrades each time, it might need to use plastic that's been recycled repeatedly only in certain components of a new shoe.
It's not releasing the shoe to the general public just yet, either. It has given the sneaker to 200 of what it calls "leading creators" from across the world's major cities. Adidas "will challenge them to run, return the shoes and share feedback on their experience, ahead of the second-gen drop." What it gathers from that testing will shape how it approaches a bigger commercial release that it currently has planned for spring 2021.
Looking for more in-depth coverage of the fashion industry? Sign up for a free trial of Quartz membership, and read our premium field guide on how fashion and luxury are getting redesigned.