Underwear, denim, and a celebrity—for decades, those have been the main ingredients in a successful Calvin Klein campaign. The trend goes back to at least the 1990s, when campaigns featured Mark Wahlberg and Kate Moss; more recently, Justin Bieber and Kendall Jenner have stripped down for the brand.
After a brief detour into more conceptual territory under artistic director Raf Simons, who parted ways with Calvin Klein in December, the company is refocusing on that formula: Its latest underwear campaign is with Shawn Mendes, a young Canadian singer and songwriter. The images Mendes posted on Instagram this week have already racked up more than 5 million likes and nearly 200,000 comments—far more than his typical fare—and received positive reactions from various celebrities. Calvin Klein also posted images of Mendes to its own Instagram account. Despite the company's origins as a runway brand and its recent attempts to revive that business, the success of the Mendes campaign reinforces the fact that Calvin Klein is a jeans and underwear label now.
Before Simons left Calvin Klein, the company's management made clear their dissatisfaction with financial returns under his stewardship. Simons, a revered figure in fashion who had recently served as the designer of Dior, was hired in 2016, and became the first person since Klein himself to have complete creative control over all aspects of the brand. It was an unexpected move, given that Calvin Klein's jeans and underwear—not its runway line, which was effectively a marketing expense—were responsible for the bulk of its revenue.
Simons staged big, well-attended runway shows for a revamped high-end collection called 205W39NYC, and worked imagery from artists such as Andy Warhol, Sterling Ruby, Richard Prince, and Dan Flavin into campaigns filled with symbolic Americana. He didn't totally abandon celebrities in underwear: He used the cast of Moonlight in a campaign, and did another with the Kardashian-Jenner family. Plenty of toned, attractive people in underwear continued to fill Calvin Klein's Instagram feed.
But under Simons, Calvin Klein's advertising leaned toward the cerebral, portraying Calvin Klein's underwear on wispy guys standing next to contemporary art for instance. "It's a celebration of Calvin Klein's iconic underwear and jeans, acknowledging their status as Pop and showing them in the world of art," Simons explained of one campaign (paywall).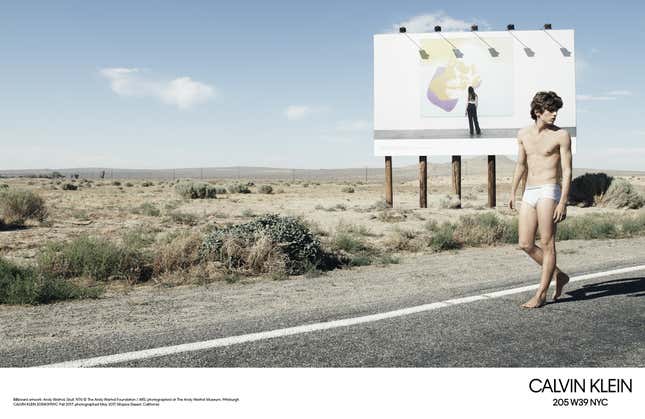 In December, Manny Chirico, CEO of PVH Corp., which owns the Calvin Klein brand, announced that they would cut back on investments into the runway line, adding that they would "shift the focus of our marketing campaigns going forward, as they have been too skewed towards our higher-end '205' line and the high-fashion consumer." Simons departed, and not long after, Calvin Klein announced it would end its luxury line entirely.
Now Calvin Klein appears fully focused on giving the mass market what it wants to see: Shawn Mendes in his underwear.