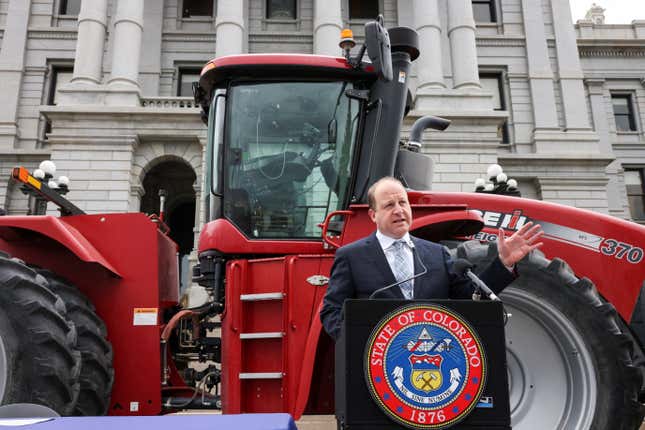 Colorado governor Jared Polis signed a "right to repair" bill on Tuesday (April 25), ensuring the rights of farmers to fix their own tractors and combine harvesters. The law also mandates that manufacturers of farm equipment provide the necessary manuals, tools, parts, and software to their customers.

Eric Beiley Part II: Where rates are heading
Currently, only official service technicians licensed by the manufacturer are given the proprietary information needed to work on popular farming technologies. This prevents farmers from making fixes themselves and effectively creates a monopoly in the repair process, allowing the manufacturers to charge above-market rates for the repairs.
"This bill will save farmers and ranchers time and money and support the free market," Polis said after signing the bill, posing with a tractor parked outside the state house.

State rep. Matt Soper, an opponent of the bill, said the law posed a threat to tech innovation, adding that "forcing a business to disclose trade secrets, software and jeopardize consumer safety is poor public policy."
Similar laws targeting farm equipment restrictions have been introduced in a dozen other states, including New Jersey, Texas, and Vermont.
New York passed a similar law targeting cell phones
It's not just farm equipment. At the end of last year, New York passed a state law that intended to protect consumers' right to repair their own personal technology, like cell phones and laptops.
While somewhat limited in its scope, it's the first state law to broadly enshrine the right in an industry that has historically been a perpetrator of planned obsolescence, the term for intentionally designing a product to stop working properly after the warranty expires. The law gives consumers the right to access all manuals, diagrams, diagnostics, and parts from the original manufacturer.
Currently, roughly two-thirds of Americans get a new cellphone every three years, mostly because they stop working or don't have the capability to handle new software updates. For example, Apple and Samsung were forced to pay a €10 million ($11 million) and €5 million ($5.5 million) penalty respectively in 2019 after an Italian court found that it forced software updates onto phones, slowing them down and forcing consumers to replace a product they wouldn't have otherwise replaced.
But it's not just replacing the product. Just like with farm equipment, companies like Apple and Samsung have historically made a huge profit on proprietary repairs, with most warranties prohibiting the consumer from repairing the device or using any unauthorized third-party support. Now, with pressure from lawmakers like this new law, that's beginning to change.
Lina Khan's campaign against planned obsolescence
The US Federal Trade Commission (FTC) is also looking to expand federal regulations on the right to repair after president Joe Biden included restrictions on planned obsolescence in his sweeping 2021 executive order targeting anti-competitive business practices.
In the years since, Lina Khan—the chair of the FTC—has worked with state legislatures to craft "right to repair" bills. The agency also published the "Nixing the Fix" report to Congress, which dispelled safety and privacy concerns about third-party repairs.
"These types of (repair) restrictions can significantly raise costs for consumers, stifle innovation, close off business opportunity for independent repair shops, create unnecessary electronic waste, delay timely repairs, and undermine resiliency," Khan told the AP in 2021.
Last year, the FTC penalized four companies—including Harley-Davidson and grill-maker Weber-Stephen—for illegally restricting customers' rights to repair their purchased products. The companies were ordered to inform customers that their warranties will remain in effect even if they buy aftermarket parts or use third-party repairers.
Related stories

🚜 Farmers want the right to jailbreak their John Deere tractors
📱The Federal Trade Commission wants to make it easier for you to cancel subscriptions
⚖️ Why it's so hard to hold companies accountable when they break their ethical promises