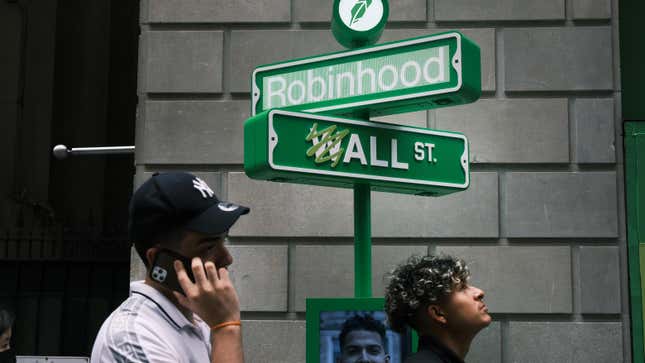 Robinhood, the brokerage that pitches "financial democratization, shot to fame in the early days of the 2021 meme stock frenzy. After many highs and lows, the business has started to find a stable footing. Now, for the first time since the financial trading firm went public in July 2021, Robinhood clocked a profitable quarter.
Should you keep investing in Big Tech?
The company's net income was $25 million for the quarter ended June 30, the company said in its earnings release yesterday (Aug. 2). "The increase was driven by higher interest-earning assets, short-term interest rates, and securities lending activity," chief financial officer Jason Warnick said during the Aug. 2 earnings call.
Robinhood earnings, by the digits
$486 million: Total net revenues in the quarter ended June 30, up 10% from the last quarter
$0.03: Earnings per share in the second quarter, beating analysts' average estimate of a loss of $0.01, according to Refinitiv data
$26 billion: Value of interest-earning assets in the second quarter, billion, up 16% or $4 billion sequentially, primarily driven by Gold subscribers. The $5-per-month membership services is designed for experienced traders with access to advanced market research, in-depth stock data, large instant deposits, and even margin trading.
$15 million: How much Robinhood anticipates net interest revenues will increase in the third quarter versus its second quarter. That's assuming securities lending revenue stay in line with Q2, the addition of X1—a platform that offers a no-fee stainless steel credit card with rewards on each purchase that Robinhood acquired last month—and that balances, deposit rates, and Fed fund rates, hold steady at current levels.
$84: Average revenue per user in the quarter ended June 30, up from 77% last quarter and the highest level since 2021
3.2 million: Loss in monthly active users (MAU) compared to a year ago, dropping to 10.8 million
7%: Decrease in transaction-based revenues quarter-over-quarter, to $193 million, as retail traders pulled back. Options fell 5% to $127 million, cryptocurrencies decreased 18% to $31 million, equities slipped 7% to $25 million
7%: Fall in Robinhood's stock during after hours trading, largely due to the shrinking user numbers
Charted: Drop in Robinhood users

Quotable: Life after profitability
"Guided by our bold product roadmap we're continuing to innovate for our customers, grow assets, gain market share, and change the industry for the better."—Robinhood CEO Vlad Tenev in a statement on Aug. 2. 
A non-exhaustive list of Robinhood's business moves
Taking advantage of rate hikes. When the Federal Reserve announced its 10th consecutive rate hike to 5-5.25% in May, Robinhood Gold raised its rate for interest earned on uninvested cash swept from the client's brokerage account to partner banks to 4.65%—its highest rate yet. "At Robinhood, we're always looking for ways to help our customers make their money work for them," the company said in its release announcing the decision.
Diversifying via acquisition. In a bid to diversify its business as user traction falters and crypto interest dips, the Menlo Park, California-based company agreed to buy financial technology firm X1 Inc for $95 million in June. The deal is expected to close in the third quarter of this year. Its fate, though, hangs in the balance. While the brand alignment between the two is strong, X1 "doesn't have a lot of customers (did it ever even fully launch?) and none of its features are revolutionary," fintech analyst Alex Johnson tweeted on the news.
Offering lucrative retirement accounts. In January, the app started offering individual retirement accounts (IRA) with a 1% match for those joining and no employer requirement. "We believe retirement can grow into a much larger part of our business, especially as we add additional products, like advisory," CFO Warnick said on the call, adding that Gold customers are eligible for a 3% match on IRAs.
Reducing headcount. In June, Robinhood announced it would cut some of its full-time jobs to offset costs. It laid off 150 employees, or 7% of its workforce. This was the third round of job cuts at Robinhood in the past year, which has affected some 1,000-odd roles.
Related stories
🤙 Robinhood's $35 billion IPO is a bet on Gen Z
🤪 How Robinhood became a target of the retail-trading hype it helped create