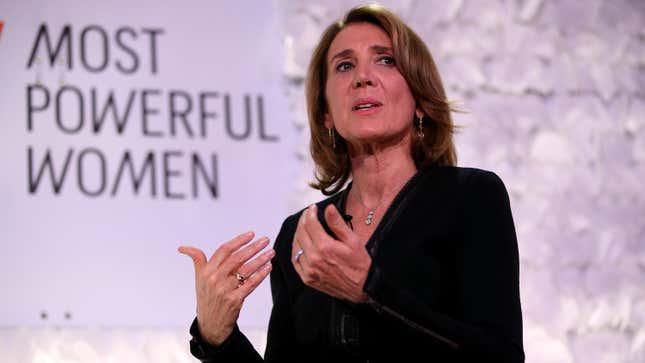 Ruth Porat is stepping down as chief financial officer at Alphabet, Google's parent company—but only to step up as president and chief investment officer. Porat has been serving as chief financial officer of Alphabet and its subsidiary Google since she joined the company in 2015. She's the company's longest-serving CFO, Alphabet said in its earnings press release announcing the promotion yesterday (July 25).
Porat will be responsible for Alphabet's investments in its Other Bets portfolio, which include an array of Alphabet subsidiaries like self-driving arm Waymo, internet firm Google Fiber, and life sciences division Verily, R&D company Calico, smart home products like Nest, and more.
Porat's new appointment will be effective Sept. 1, 2023. The company is still searching for her successor.
A brief summary of Ruth Porat's new responsibilities
A big part of Porat's new role will be to "focus on engagement with policymakers and regulators regarding employment, economic opportunity, competitiveness, and infrastructure expansion," the company stated in its press release states.

Top of her agenda is likely to be artificial intelligence (AI)—the emerging tech that's been the subject of regulatory scrutiny and rule-making world over. Google's Bard chatbot and Search Generative Experience, an experimental version of Google search are both big bets. Currently, 80% of advertisers use at least one AI-driven search product, chief business officer Philipp Schindler said during yesterday's investor call.
Porat told CNBC's Deirdre Bosa her new remit will include investment across the board, in areas such as infrastructure, real estate, data centers, and efforts to expand in the India region.
Quotable: Sundar Pichai wants Ruth Porat to collaborate with policymakers
"Ruth has worked to drive financial discipline and returns for shareholders, while spearheading investment to create sustainable, long-term value. In her new role, Ruth will strengthen our collaboration with policy makers and shape our corporate investments to have maximum economic impact for people and economies around the world." —CEO Sundar Pichai, whom Porat reports to and will continue to report to.
Company of interest: Morgan Stanley
In 2015, Porat came to Google from financial behemoth Morgan Stanley, where she spent almost three decades. The economics graduate from Stanford who started out as a dot-com-era-dealmaker moulded and remoulded herself into key finance positions, becoming one of the highest-ranking women on Wall Street.
When she jumped ship from the finance giant to the tech behemoth, James P. Gorman, then Morgan Stanley's chairman and chief executive, praised Porat for playing a key role in leading the firm though the 2008 global financial crisis.
Porat, together with colleague, Robert Scully, was tapped to advise the Treasury Department on the bailout of insurance giant AIG and the federal takeover of home mortgage companies Fannie Mae and Freddie Mac during the 2008 financial crisis.
Morgan Stanley named her chief financial officer in January 2010. In 2013, Porat apparenly made it to then-president Barack Obama's shortlist for deputy treasury secretary until she withdrew her name, reportedly over concerns of how bankers were being treated by politicians.
"In the midst of tremendous disruption and market turmoil, Ruth's judgement and experience are invaluable," Stephen Schwarzman, cofounder and CEO of Blackstone, told Forbes in September 2020. "It is rare to find people who have operated at the highest levels on Wall Street and Silicon Valley and that combination is exceptionally powerful."
Related stories
👀 Google's AI-powered search engine is very nearly almost here
😮 A Google AI model developed a skill it wasn't expected to have
🍎 How to prompt ChatGPT like a pro, according to an AI advisor