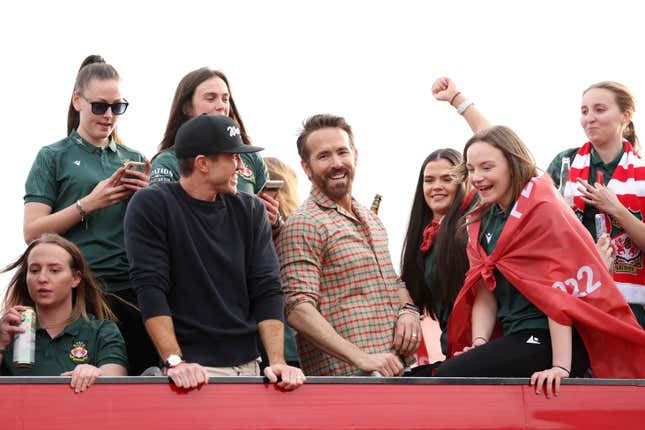 Actors Ryan Reynolds and Rob McElhenney have found another European sports team to support. Their soccer loyalties still lie with Welsh team Wrexham FC, but in the Formula 1 world, it's the French Alpine team owned by Renault Group that won their favors—and cash—this time.

Should you keep investing in Big Tech?
Reynolds and McElhenney brought fellow Hollywood star Michael B. Jordan along for the ride as part of the Maximum Effort Investments' part of the deal—a €200 million ($218 million) investment for a 24% stake of the F1 team. The investor group also includes US firms RedBird Capital Partners and Otro Capital.
The F1, a traditionally overlooked sporting event in the US, has recently seen a surge of interest in North America, partly thanks to the success of Formula 1: Drive to Survive, the documentary that the racing championship produced with Netflix.
Quotable: Eyes on North America
"We believe that, along with our partners RedBird and Maximum Effort Investments, we can add value to Alpine's business operations and brand building, especially in North America." —Otro Capital's Alec Scheiner, a former partner at RedBird who has been involved with French soccer team Toulouse FC and NFL teams Cleveland Browns and Dallas Cowboys, in the press statement dated June 26.
One big number: Alpine Racing's valuation
$900 million: Alpine Racing's valuation following this investment.
Company of interest: Maximum Effort
Maximum Effort, led by the Deadpool star, is a production company and marketing agency that has made viral ads for a number of companies, including his own Mint Mobile, which T-Mobile bought just this March.
It forged a first-look deal with FuboTV in 2022, which went live in the US this month. The Maximum Effort Channel has been curated by Reynolds and the Maximum Effort team as a "calming antidote to the dumpster fire of our world." It launches with Bedtime Stories with Ryan, with at least four more originals debuting in the coming months, alongside a bunch of licensed content.
"The channel will also roll out non-traditional content breaks, with partners like Autodesk, Betty Buzz and Mint Mobile, designed to make every minute spent on the channel as entertaining as possible," FuboTV's press release noted.
A brief list of Ryan Reynold's sprawling investments
⚽ Wrexham FC: Along with McElhenney, Reynolds acquired a fifth-tier Welsh football club for around $2.75 million in November 2020. In 2022, the pair produced a documentary series about the former National Club Team, which had been fan-funded since 2011, called Welcome to Wrexham. In April, the team has been promoted back to the English Football League (EFL) tier for the first time in 15 years, a position that will bring the team a financial windfall in the form of TV rights and other payments.
🍷 Aviation Gin: Reynolds bought a stake in the boutique liquor company in 2018 and became its creative director. In August 2020, Reynolds sold the gin company to Diageo, the European beverage giant, for an estimated $610 million.

🖥️ 1Password: Reynolds is a prominent investor in the popular password management software, who starred in its first ad and several commercials since. The cybersecurity company was valued at $6.8 billion as of January 2022.

🤑 Wealthsimple: Reynolds is one of a number of celebrity inventors, including rapper Drake, in the $5 billion (as of 2021) wealth management service.
🐶 Sundays For Dogs: Reynolds backed the direct-to-consumer dog food startup in March 2022. Reynolds and his wife, Blake Lively, have four dogs together named Penny, Baxter, Billie, and Boots.
📱 Bending Spoons: The Hollywood actor participated in a $340 million funding round for the Italian app developer behind Splice and Remini in September 2022.
Related stories:
⚽ Marvel's "Deadpool 3" teaser nods to Ryan Reynolds' "Ted Lasso"-like soccer club investment
🎞 Bollywood actor Ajay Devgn is investing in small-town India's cinema-going experience