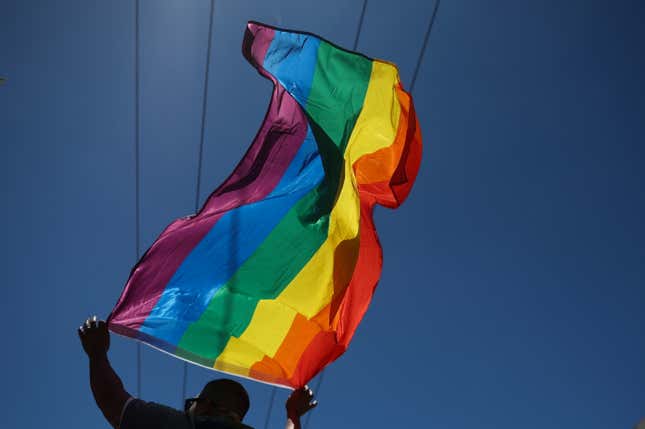 San Francisco announced yesterday (May 18) it appointed D'Arcy Drollinger as the first-ever drag laureate in the nation.

In her ambassadorial role, Drollinger will be tasked with preserving and celebrating drag culture at a time when drag bans and anti-LGBTQ legislation have been on the rise across the US.
"While drag culture is under attack in other parts of the country, in San Francisco we embrace and elevate the amazing drag performers who through their art and advocacy have contributed to our City's history around civil rights and equity," San Francisco mayor London Breed said in a statement.
The joint program, developed by the San Francisco Public Library (SFPL), mayor's office, and the city's Human Rights Commission, grants Drollinger a $55,000 stipend over an 18-month period to invest in community events and support her role as an LGBTQ spokesperson.
"My goals are to make San Francisco sparkle," Drollinger said in an interview with the Associated Press. "There's a lot of power for the drag community in San Francisco. I feel very honored to be able to take that one more step."
San Francisco has long held a reputation as one of the most LGBTQ-friendly cities in the US, if not the world. It was the first city in the country to host Drag Queen Story Hour, an initiative where drag queens read books to children in public libraries, started by author Michelle Tea in 2015.
Who is drag performer D'Arcy Drollinger?
Drollinger is the owner and artistic director of a cabaret and nightclub in San Francisco called OASIS, and executive director of the nonprofit Oasis Arts, a residency program for LGBTQ artists in the San Francisco Bay area.
Aside from her drag career, which dates back to the early 90s, Drollinger has also written and performed in over a dozen original works including Bitch Slap (2017), Shit & Champagne (2021), and the YouTube series HOT TRASH.
States across the US states are seeking to pass anti-drag legislation
Several Republican-governed states have targeted LGBTQ rights in recent years. LGBTQ advocates see restrictions on drag performances as an additional way to target trans rights.
Just yesterday (May 18), Florida governor Ron DeSantis enacted several pieces of anti-LGBTQ bills that place restrictions on drag show attendance, gender-affirming care for minors, and transgender rights. A pride event in Tampa was canceled following the passage of the legislation, over safety concerns.
Since the beginning of 2023, over 30 bills targeting drag performances have been introduced in nearly 20 US states. Tennessee became the first state in the US to ban drag in public spaces in February.
Related stories
💅 How "RuPaul's Drag Race" changed the way we speak
📖 Susan Sontag's 54-year-old essay on "camp" is essential reading